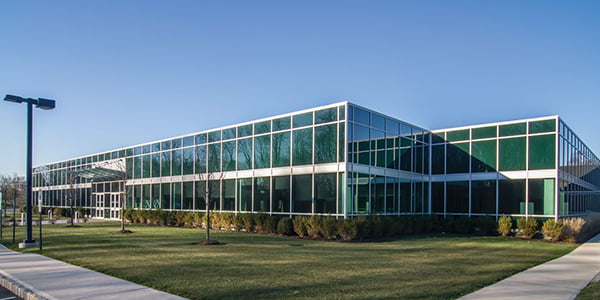 2015 was a landmark year in the history of the dental industry. Zimmer Dental and Biomet 3i joined forces to become a leader in oral healthcare as the Zimmer Biomet dental division. Clinicians around the globe have since had access to a new level of customer service and extensive product portfolios that include a broad spectrum of surgical, restorative, regenerative, and digital dentistry solutions designed to improve the quality of life for patients.
The Zimmer Biomet dental division is now uniquely positioned to provide continuing education programs that combine cadaveric and simulated patient training with didactic clinical presentations — all in one training center. Recognizing that education is critical to the advancement of dentistry, the dental division focuses on strengthening and enhancing the profession by offering industry-leading, scientific educational courses to dental clinicians from around the world through the Zimmer Biomet Institutes. The Zimmer Biomet Institutes in North America train more than 1,000 dental clinicians through more than 65 courses offered annually.
The quality of the curriculum offered as well as the sophistication of the equipment and overall facility is outstanding. The simulation lab is the finest one I have ever experienced. It is impressive to see such a commitment made in the advancement of education in our field. I applaud the team at Zimmer Biomet.
— Howard Drew, DMD, professor, Rutgers School of Dental Medicine
General Manager of the Zimmer Biomet dental division, David Josza, remarked, "At an educational level, we strive to offer programs that complement skill sets and help clinicians achieve unprecedented levels of professional satisfaction and success, regardless of whether they are new to dental implantology or a seasoned practitioner."
In February, the dental division celebrated the grand reopening of the Zimmer Biomet Institute training center in Parsippany, New Jersey. The newly enhanced 20,000-square-foot dental training center provides professional educational courses for dental clinicians who are interested in restorative, surgical, and regenerative procedures. Training programs at this facility provide optimal hands-on experience and support to clinicians as they strive to refine their clinical skills.
"We are thrilled to reopen our doors as the Zimmer Biomet Institute and excited to build on the foundation of our ability to provide dynamic professional training," said Ken Varner, the Director of Institutes for the Zimmer Biomet dental division. "During our reopening in Parsippany on February 10, clinicians were able to see firsthand the best-in-class dental training offerings available in our new facility."
Courses offered at the new center include simulation workshops in a proprietary, state-of-the-art patient simulation laboratory. Real-life, simulated patient scenarios are reviewed and practiced during hands-on sessions with lifelike mannequins and anatomical models. This gives clinicians the unique opportunity to learn complicated implant procedures, including regenerative techniques, provisional and definitive restorations, and immediate implant loading. The simulation lab is equipped with all the tools and supplies that a clinician requires when treating a patient. Each learning station has a computer for accessing reference materials and simulated patient materials, including radiographs, CT scans, and models that are specific for the exercises. The mannequins feature soft tissue and bone that have cortical and cancellous layers, soft-tissue lined sinuses, and wired inferior alveolar nerves.
Ideal for clinicians skilled in basic implant surgery who want to refine their surgical knowledge and techniques, on-site cadaveric workshops enable clinicians to immediately implement what they've just practiced in the simulation lab on human tissue.
Howard Drew, DMD, a professor at Rutgers School of Dental Medicine, attended a course at the new Parsippany Institute and commented, "The quality of the curriculum offered as well as the sophistication of the equipment and overall facility is outstanding. The simulation lab is the finest one I have ever experienced. It is impressive to see such a commitment made in the advancement of education in our field. I applaud the team at Zimmer Biomet."
In addition to simulation and cadaveric training, didactic lectures and case reviews are given by guest speakers who travel from across the world to present on current and emerging procedures, technologies, and products. The Institute is equipped with advanced audio and visual technology, such as wireless projection and the ability to stream live presentations and demonstrations from one training room to another and to various locations around the globe for an optimal educational experience.
"Having lectured in many centers around the world, the Zimmer Biomet Institute offers a one-of-a-kind learning experience in a center designed specifically with clinicians' needs in mind," confirmed Harold S. Baumgarten, DMD.
Courses range from a basic restorative program for clinicians who restore fewer than five implant cases each year to advanced surgical cadaveric workshops designed for clinicians who are actively placing and restoring implants. Depending on the course level, clinicians learn everything from basic dental implant restoration and associated techniques to advanced surgical procedures and the use of regenerative materials. Restorative topics include impression making, anterior esthetics, provisional restorations, fixed versus removable dentures, and full-arch restorations. Surgical topics range from soft-tissue grafting procedures, suturing techniques, sinus lifts, and socket procedures to ridge augmentation. Courses typically last 2 to 3 days and are approved for continuing education credits.
Building on the momentum from the New Jersey facility, plans are in order to meet the growing demand from clinicians and the expanding global business of dental implantology. Construction is in progress for two new facilities — one in Carlsbad, California, on target to open in the third quarter of 2016, and another in Shanghai, China, scheduled to open its doors by the end of this year. Plans are also being discussed to open a new Institute in Palm Beach Gardens, Florida, in 2017.
In addition to keeping global education a priority, the Zimmer Biomet dental division, says Josza, will continue to focus its efforts on challenges faced by clinicians to meet patient expectations. "Implantology is about the solutions that you are ultimately offering clinicians so they can provide exceptional outcomes to patients. It's not just what we make; it's what we make possible."
As an affiliate of one of the largest musculoskeletal companies in the world, the Zimmer Biomet dental division has access to the latest technology, talent, and resources to drive growth and accelerate the development of innovative solutions. Groundbreaking technologies such as the Zimmer® Trabecular Metal™ Implant, the 3i T3® Implant, the BellaTek® Encode® Impression System, and the Zimmer Dental 3.1 mmD Eztetic™ Implant System are a sampling of the comprehensive range of products that address clinicians' daily clinical challenges.
Collectively, the Zimmer Biomet dental division has conducted more than 175 pre-clinical and clinical research studies in the past 10 years, and there are more than 650 published articles on the surgical, restorative, and regenerative products. They have operations in 25 countries around the world and sell products in more than 100 countries.
For more information on the Zimmer Biomet dental division, call 1-800-342-5454, or visit www.zimmerbiometdental.com.
This information was provided by Zimmer Biomet Dental.
Stay Relevant with Implant Practice US
Join our email list for CE courses and webinars, articles and mores