Empathy and implants are the focuses of J. Stuart Williams' ADI practice in North Carolina. Read more about his compassionate care here.
Changing lives through compassion, empathy, and implants
For children of doctors, so goes the story of following in your parents' medical footsteps. Dr. J. Stuart Williams is no exception.
His father was the only cardiologist in the town of Laurel, Mississippi. As the youngest of five children, with none before him having traveled the medical road, Dr. Williams grew up thinking that was his course. Not that there was pressure to do so. In fact, he felt it was quite an honor.
As a child, Dr. Williams would accompany his father on Saturday mornings as he made his rounds at their town hospital. He'd visit his patients, many of whom were dying of congestive heart failure. The young Dr. Williams looked and listened and, more than anything, learned about true meaningful care.
"My dad would sit on the edge of their hospital bed, and he'd hold their hands because he knew they were terminal," Dr. Williams remembers. "I'd see him hug the families; he was just the sweetest, kindest, most gentle doctor, and patients adored him."
Other than witnessing compassion and care, Dr. Williams also noted his father's sporadic and lengthy schedule — one that involved being "gone a lot, getting up in the middle of the night, missing church, and missing school plays." He prepared himself for a life that revolved around a doctor's schedule.
Dr. Williams attended William Carey University, graduating with a degree in biology. Adhering to the plan, he began studying for the MCATs and applied to medical school, but his heart wasn't in it. Upon a recommendation from his orthodontist, he instead turned his attention to dentistry and a path that, though requiring much hard work, allowed for life beyond the practice walls. Dr. Williams received his DDS from the University of Tennessee at Memphis and began his career in general dentistry.
"For the first little bit out of dental school when someone said 'Dr. Williams,' I'd turn around and look for my Dad," Dr. Williams remembers, "That was him. That wasn't me." Now he too could hold this prefix and "had big shoes to fill" as he embraced the values that his dad upheld with each and every patient he treated.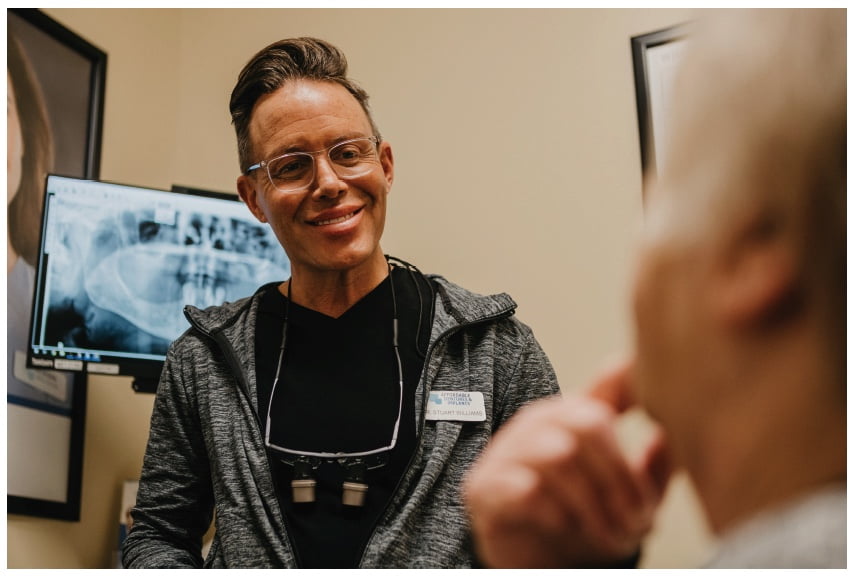 During Dr. Williams' first 2 years in general dentistry, the bulk of his time was spent with denture and immediate denture patients; from this experience, he became extremely proficient in this aspect of dentistry. Over the next 17 years, Dr. Williams opened two private practices — the first in the Charlotte, North Carolina area, and the second in Asheville, North Carolina. Dr. Williams and his family returned to Charlotte in 2018; he had no plans to open another practice of his own.
At this point in his career, there were two things he knew: First, he didn't want the responsibility and headaches that accompany the management of a private practice. Second, he sought to treat a specific patient sector — those requiring not a repair but a transformation.
Those early mornings and late night hospital visits by his father's side secured a deep sense of empathy and compassion in Dr. Williams, attributes that prove quite helpful when treating patients who are both vulnerable and in pain. Those were the patients Dr. Williams wanted to treat — those who allowed him to lean in to his strengths and make an impact.
After almost 2 decades in general dentistry, Dr. Williams, who had become highly versed in the surgical aspects of dentistry, joined Affordable Dentures & Implants (ADI) in August 2018. He was hired as an Associate Dentist, responsible for the surgical needs at the bustling Charlotte, North Carolina-affiliated practice.
"Here, I'm able to really interact with patients," Dr. Williams recalls. "I wanted to go with a brand that is solid. You can't miss that ADI is the brand that's been out there for years."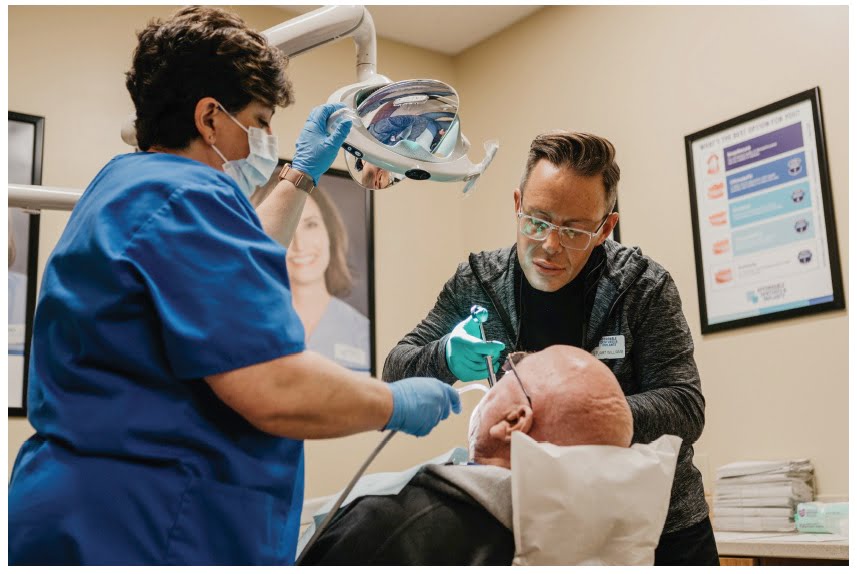 He was more than content as an Associate Dentist in Charlotte, yet realized through his experience there that the ADI model allowed for everything he was seeking. In the spring of 2019, opportunity knocked. ADI was seeking a practice owner for a new location in Monroe, North Carolina. Though Dr. Williams hadn't planned on returning to this role, he says, "When the opportunity came up, I was like 'YES!'"
The ADI model is what sold him. First, he is able to practice his specialty, as ADI dentists focus strictly on dental extractions, implants, and dentures. Second, dentistry is all there is to it. The ADI Support Center handles all of Dr. Williams's business operations from patient scheduling to marketing to payroll and beyond.
"I feel like I'm able to just truly focus on dentistry, and I have to because [patients] are counting on me to do it right," Dr. Williams says. That nonexistent list of business to-dos leaves more time and space to properly plan, to hone his skills, and to interact with his patients.
Dr. Williams opened the doors to his new ADI-affiliated practice in October 2019 and exhibits a bedside manner much like his father's. Patients in dire need of extractions, dentures, and implants come to him brimming with embarrassment and pain. In return, he showers them with innate tenderness.
"I feel people's pain. And that can be physical pain, but also an emotional pain. I just try to look them in the eye and say we're not here to judge; we're here to improve your life," Dr. Williams says.
Though he is gentle, he is equally honest.
"I tell my patients, 'You're going to get frustrated. You're going to struggle. You're going to have to learn to eat again, to talk again; but we're going to be here with you. We're going to walk you through this journey, and we're going to be here to lift you up when you need somebody to lift you up.' "
The relationships Dr. Williams cultivates with his patients mirror what he has built with his practice staff. There is respect and consideration, whether intentional or innate. Being called "Doctor" by them stirs him for another reason; it makes him feel elevated, something he finds unwarranted as he believes that "everybody is valuable. Everybody is an integral part of the team," and the team is what makes the practice what it is.
"I don't like when you have tiers or hierarchies. Sure, I'm the dentist, but I couldn't do what I do without the help of everybody here. I'm just another human here. I just happen to be the leader," Dr. Williams says.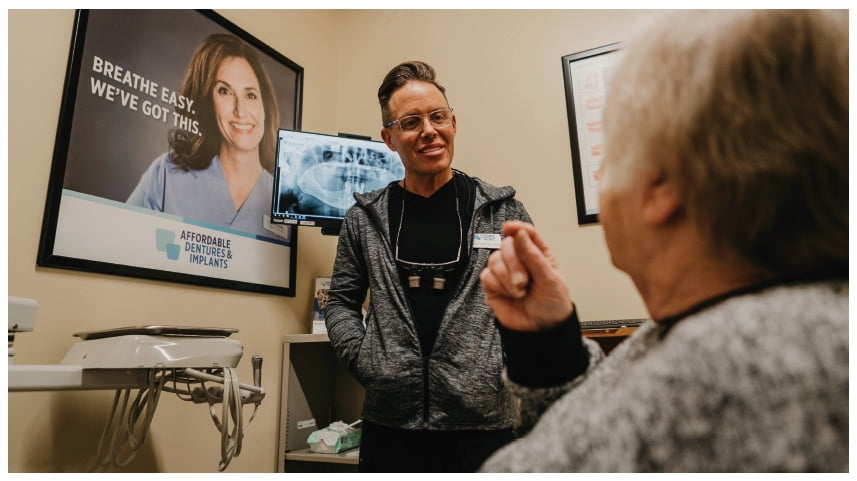 He supports a practice atmosphere that is comfortable, collaborative, and enjoyable. And he says that the patients see it. "They see the fun, the warmth, and family-like atmosphere that we have," Dr. Williams says.
After being open for business only 5 months, Dr. Williams and his practice have taken off. They are swamped, preparing to regularly take on 15 morning consultations, while afternoons of surgeries and deliveries promise transformation after transformation.
"This job has shown me that we can literally change people's lives," Dr. Williams continues, "I love what I do, and I owe it all to those along the way who inspired me. Most importantly, my Dad."
This information was provided by Affordable Dentures & Implants (ADI).
Stay Relevant with Implant Practice US
Join our email list for CE courses and webinars, articles and mores