In this conversation, Dr. Louie Al-Faraje discusses how the Novadontics comprehensive software platform can result in a stress-free and perfect outcome for implant patients.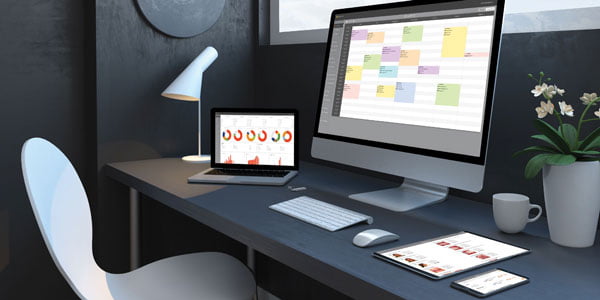 Founder and CEO of Novadontics, Dr. Louie Al-Faraje, informs Implant Practice US about "the world's first implant practice management software." In this interview, he explains how implant dentists can benefit from this comprehensive software platform.
Dr. Al-Faraje, can you familiarize our readers with Novadontics software and its impact on implant practices?
Dr. Al-Faraje: As a Board-Certified oral implantologist, I have experienced the challenges and understand dentists' needs. None of the current practice management softwares are implant-oriented. All of them are either geared toward general dentistry or toward such specialties such as endodontic, orthodontics, OMS, etc. None is designed with implant dentistry in mind. The company has been founded and structured upon knowing the important details of everyday life and workflow in the implant dental practice: although the software can run a general dentistry office as well. As a result, I am proud to say that Novadontics has grown to become the number one cloud-based dental implant practice management software in the industry. Novadontics' popularity stems from its many improvements to the daily office workflow, including scheduling, charting, imaging, compliance, and billing.
There are many choices for treatment in the implant space right now. What applications does this software have to help dentists and staff navigate through it all?
We have created a technology-enabled, data-driven proprietary process called Digital Treatment Optimization to ensure that clinicians have all the necessary information at their fingertips to ensure a stress-free process and perfect outcome. This includes a specific data collection and data analysis method that is very useful for implant patients/cases. From this, providers can make quick, informed decisions about dental treatment options to fit specific patients' needs. Whether on the desktop or app, the smart checklist streamlines and foolproofs the implant treatment process, and the software enables clinicians to tackle complicated dental implant procedures in a predictable fashion. It simplifies the amount of data, and the way that it can be organized in the software will help tremendously in minimizing the room in error for diagnosis and treatment planning.
The software includes the proprietary, technology-enabled, data-driven method called Digital Treatment Optimization™. This process provides the necessary information, which I explained earlier, at the dentists' fingertips to ensure a stress-free and perfect outcome.
How does Novadontics help dentists closely monitor their patients?
Novadontics Nova Intellechart™ brings cloud-based electronic medical records technology to each clinician, enabling accurate and faster charting. Every detail about the patient and treatment is maintained in the software, facilitating a continuity of care among providers. The information, including patient history, is easily accessible and well-defined, and practitioners can share this information in their absence seamlessly and quickly. Providers can manage their practice from wherever they want, whenever they want, and sync changes to any device for real-time information. Of particular interest is the innovative iPad application that enables users to work from any location — with a swipe of a finger, dentists are able to quickly review patient charts and notes, and refill prescriptions. The iPad version of the software is 100% like the desktop version. This means that, while you are on the go, if you have your iPad with you, then you have practically the entire office at your fingertips.
How do you achieve that sharing of information?
Nova Shared Care feature can import and share clinical information with other dental care providers in the Novadontics Shared Care Community worldwide. This allows comparing multiple diagnostic images from various practices in a secure, HIPAA-compliant environment.
Nova Shared Care is a feature that Novadontics offers that no one else offers. For a variety of reasons, sometimes as a clinician, you would want to partially or fully share the patient files with other clinicians.
Reasons include:
Consulting with other clinicians on the patient's case
Patient is moving from one area to another, and there is a need to transfer the file
Medico-legal reasons
What does the software do to promote connectivity with other services that are vital to the implant business?
Novadontics delivers online treatment planning services as well as in-office surgical, prosthodontic, and lab services.
Also, we are proud to offer large capital equipment and product savings, up to 60% off, from world-leading manufacturers such as Nobel Biocare, Geistlich, Zimmer, Brasseler, PIEZOSURGERY®, Omnia, Osstell, W&H, Karl Schumacher, just to name a few.
Does the application offer support to dentists' front office as well?
Yes, the administrative team can easily track performance metrics at a glance with the Novadontics practice growth dashboard. They can access everything from number of newly scheduled appointments to total collections and outstanding balances in real time. The innovative Operational Dashboard helps answer critical questions related to collections and production with easy-to-read and understand charts and graphs. So that dentists can track and understand their progress, the well-organized and easy-to-understand dashboard summarizes key metrics related to all aspects of practice growth.
How do employees and dentists receive their training?
Realizing that improving convenience and saving time are two very important aspects of any staff training program, staff can be trained remotely. We do training both in-person and via a very well done video library saving unnecessary travel time and money associated with getting the staff to a particular place and at a particular time. Also, we do not take away the attention of staff members for many hours or days at a time. Training is delivered in "bite-sized" chunks. We find that this keeps their attention effectively and helps the staff to assimilate the information more quickly. But that all said, Novadontics does offer in-office training.
How does the program assist practitioners in staying current in the latest implant techniques and innovations?
Novadontics offers online continuing education (CE) to its members to continue to grow their knowledge and skillset. With access from anytime, anywhere, the company's CE platform provides access to more than 200 on-demand courses and lectures and 100-plus clinical videos for both general and implant practitioners. Besides helping these dentists to meet state licensure requirements, it also enhances their ability for treatment options. The platform also provides handouts, videos, and other multimedia materials for patient education. More than 1,000 dentists are using this comprehensive resource. Novadontics Platform is very unique because it offers:
Implant-oriented practice management solution
Tremendous savings
Comprehensive continuing education library
Online and in-office expert support
Mobility with its iPad version
Can you give us an idea of what each subscription includes?
Of course, each subscription includes:
24/7/365 customer care
Regular updates that require nothing for the user to install
Analytics and reporting
Professionally managed data back-ups at a Tier 1 Amazon Web Services (AWS) data center
Best-in-class cybersecurity protection, including annual third-party intrusion analysis
Unlimited eClaims, eRemittances, and eligibility verification
For more information, please visit www.novadontics.com.