Dr. Justin Moody discusses his solution for narrow implant sites
In the evolution of implant dentistry, one of the last hurdles dental practitioners had to clear was the solution for narrow or tight spaces.
[userloggedin]
Initially, this was solved with small- diameter dental implants, but this solution was always clinically challenging due to this style of implant being one piece. Precision placement and the need to immediately temporize these fixtures was an issue for many clinicians.
Today, we have solutions that not only remove these fears, but actually turn these previously untreated sites into everyday implant dentistry. In my office, a 3D scan helps me to see the exact details of the implant site that will impact my ability to achieve a successful outcome. The i-CAT® FLX CBCT and Tx STUDIO™ designed with Anatomage, (Imaging Sciences International) give me all the necessary tools to diagnose and treatment plan narrow spaces as well as the ability to deliver the dental implant to the precise position via a surgical guide.

Implant selection, in my opinion, is just as important as the treatment planning for the case. Having a two-piece design is essential for having the prosthetic options needed in today's highly esthetic world. I have been using the BioHorizons® 3.0 two-piece dental implant for several years. Not only do I get the benefit of the Laser-Lok microchannels at the collar, creating a physical connective tissue attachment, but I also get the restorative flexibility that comes from having a two-piece design. This implant allows for all of the traditional prosthetic components such as PEEK abutments, UCLA, and stock esthetic abutments as well as the ability to do a custom patient-specific zirconia to TiBase abutment.
The images included in this column are from a case I did with i-CAT scans, Tx STUDIO, 3.0 BioHorizons dental implants with final restorations and custom abutments created by Prosmiles Dental Studio. Proper planning through technology and materials should keep dentists who are planning and placing implants from fearing the narrow space.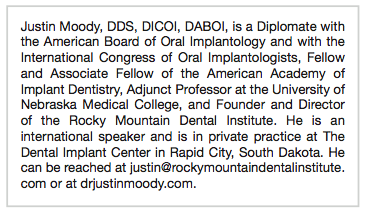 Stay Relevant with Implant Practice US
Join our email list for CE courses and webinars, articles and mores