Pure. Predictable. Proven.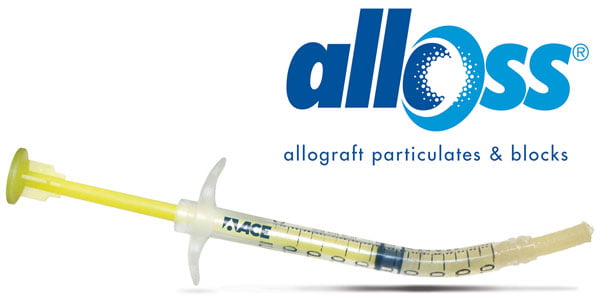 alloOss® (allograft) is offered in particulate, block, or putty. alloOss is a safe, predictable, and effective bone-grafting solution, providing a scaffolding for cell ingrowth and for promoting the growth of new bone.
alloOss allograft particulates and blocks combine natural collagen and minerals with the bony structure of allograft. The existence of these natural minerals and collagen facilitates remodeling of the host bone suitable for implantation. alloOss allograft putty combines demineralized bone with cancellous bone and an organic-based carrier.
The complete line of alloOss allograft products have been obtained, processed, and sterilized in accordance with the highest standards set forth by the American Association of Tissue Banks (AATB®) and the U.S. Food and Drug Administration (FDA) regulations. Operating to these standards and regulations allows ACE to provide you with one of the purest, predictable, and proven allografts available today.
alloOss® cortical and cancellous particulate
alloOss allograft particulates offer the structural strength required to maintain space and volume during the remodeling phase. Used alone or as a composite graft, alloOss particulates are an effective alternative to intraoral graft harvesting.
Provides scaffold for cell ingrowth
Remodels completely
Predictable guided bone regeneration
Stabilizes implants after 4-6 months
Fills voids and extensive bone defects
Regeneration of periodontal defects
alloOss® demineralized allograft particulate
alloOss demineralized allograft cortical bone is appropriate for use in any procedure where bone healing is desired. Routine testing for osteoinductivity is performed to ensure the highest quality and efficacy for your regeneration procedures.
Fills voids and bone defects
Used alone or composite graft
Augmenting prosthetic implants
alloOss® allograft block
alloOss allograft block is comprised of cortico/cancellous bone used for restoring volume in severely resorbed ridges without  the need to harvest an autogenous block graft from the patient.
Approximate healing in 5-6 months
Maintains strength and volume with predictable remodeling
Cancellous component for predictable healing and revascularization of host bone to the new graft
Cortical component for strength and rigidity of the graft with volume enhancement
alloOss® allograft putty
alloOss® allograft putty is a combination of DBM (demineralized bone matrix), cancellous FDBA (freeze-dried bone allograft), and a carrier medium of CMC (carboxymethyl-cellulose). This mixture results in a highly viscous, easy handling, dental bone-grafting putty with inductive potential and excellent osteoconductive scaffolding.
Characteristics:
High osteoconductive ability
Forms freely and is moldable
High viscosity
Osteoinductive ability
Excellent biocompatibility
Recommended for:
Extraction socket preservation
Ridge and sinus augmentation
Periodontal defects
Sinus elevation
Grafting for implant placement
Composite sinus grafting

About the company
ACE Surgical Supply Co., Inc., is proud to be an AATB® accredited organization. For more information about alloOss allografts, contact ACE Surgical Supply Co., Inc., at 800-441-3100 or [email protected], or visit www.acesurgical.com.
alloOss® is a registered trademark of ACE Surgical Supply Co., Inc., copyright © 2017. alloOss® allograft particulate is manufactured by ACE Surgical Supply Co., Inc. alloOss® allograft block and putty are manufactured for ACE Surgical Supply Co., Inc. AATB® is a registered service mark of the American Association of Tissue Banks.
This information was provided by ACE Surgical Supply Co.
Stay Relevant with Implant Practice US
Join our email list for CE courses and webinars, articles and mores