Dr. Jason Souyias discusses a patient who benefited from CBCT imaging
Some patients know exactly what they want, or rather, what they don't want. When a woman presented at my office with a failing bridge across the anterior maxilla, she was adamantly opposed to removable work. As people live longer, healthier, more active lives, dentures and bridges are seen as something for "old people." However, what do you do when the patient's anatomy makes a fully fixed solution seemingly impossible?
[userloggedin]
I find that the right technology, close collaboration with the patient's referring doctor and having an open mind to alternative solutions can give the patients what they want — even if they didn't realize they wanted it.
Case report
A 65-year-old female presented at my practice upon referral from her general practitioner. Her chief complaint was a failing bridge across the anterior maxilla from tooth No. 6 to tooth No. 11. She had no significant medical history. The patient did not want removable work and was looking for a permanent solution.
Diagnosis
The initial examination and review of the radiographs shared by the referring doctor did not indicate any particular challenges. However, a cone beam computed tomography (CBCT) scan with a CS 9300 (Carestream Dental) showed a severely width-deficient ridge across the anterior maxilla; a very deep Class 2 bite was also diagnosed. It appeared as if ideal soft tissue contours could not be achieved with a fixed case. I consulted with the referring general practitioner, who insisted any fixed option would be impossible and that a removable solution was the only course of action. After further reviewing the CBCT scan, it was decided to augment the bone in the anterior maxilla and place four implants with a precision attachment partial denture, which would be later restored by the general practitioner. The patient was hesitant but understanding when told that a fixed solution would fail due to her bite, and she accepted the treatment.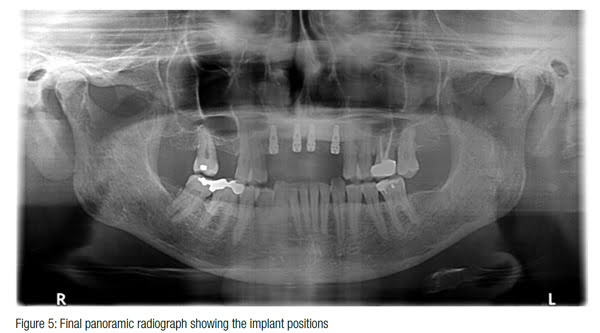 Treatment
Treatment in my practice spanned from November 2015 to October 2016. Before the first surgery, Valium was prescribed to keep the patient calm, in addition to 300 mg of clindamycin every 8 hours starting the day before the procedure. The surgery was performed under IV conscious sedation with midazolam. Teeth Nos. 6, 9, and 11 were extracted and ridge augmentation was performed across the entire anterior maxilla, using particulate mineralized freeze-dried bone. Resorbable collagen membranes and platelet-rich fibrin were used to aid in the healing, and three tacks were placed to hold the membrane down. The procedure took about 2½ hours. The patient was prescribed Peridex™ (3M) mouthwash for postoperative care. Ultram 5 mg was prescribed for post-op discomfort due to an allergy to NSAIDs. The patient experienced very little discomfort.
The patient returned 2 weeks later for a post-op appointment to remove sutures that had been placed during the surgery.
Six months later, a CBCT scan was taken to confirm healing. Prior to the second procedure, 4 mg of dexamethasone was prescribed — two tablets the morning of the surgery, one the next morning, and one the following morning. Again, the procedure was performed under IV conscious sedation with midazolam. Implants Nos. 6, 8, 9, and 11 were placed. The three tacks that had been used to hold the membrane down after the first procedure were removed. Peridex mouthwash and Ultram were again prescribed as part of postoperative care.
The implants were allowed to heal for 4 months before second-stage surgery. The patient returned to her referring doctor for the precision attachment partial denture, finishing in December 2016.
Overview
CBCT is able to tell a completely different story than what we see during physical examinations and on 2D radiographs. In this case, CBCT gave me the confidence to present a treatment plan that provided the patient with a compromise — implants and a partial denture — while still ensuring exceptional results. It also improved my communication with the patient's referring general practitioner, as I was able to clearly present my proposed treatment plan.
In the past, I would have planned two scenarios for surgery, assuming one of those two things were going to happen, but could never be certain which. Had I not used CBCT in this case, I would have been in for a surprise, and the patient may have come out of surgery without the results she was hoping for. If there were one machine in my office that if you removed it, I'd just go ahead and retire, it would be the CS 9300; I simply cannot imagine practicing in the implant field without it. To be able to see the vital structures, such as the alveolar nerve, and to know how many millimeters of bone I have to work with provide an extra layer of safety for our patients.
When a patient comes to my office with his/her mind set on a certain outcome, I do everything in my power to make that happen. Sometimes, it means taking a different approach than what both the patient and I originally planned. Fortunately in this case, the patient absolutely loved the solution that my practice, in combination with her restorative dentist, Jim Cotter, DDS, Bolla, Cotter & Associates, Port Huron, Michigan, was able to deliver, which is what I'd call a successful case.
[/userloggedin]
[userloggedout][/userloggedout]
Stay Relevant with Implant Practice US
Join our email list for CE courses and webinars, articles and mores