Expand your control over the implant process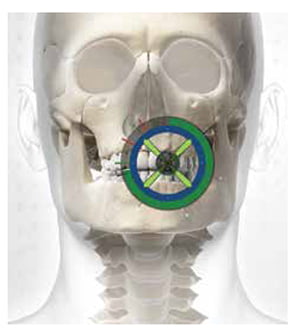 The X-Guide® Dynamic 3D Navigation system is designed to elevate the surgeon's control and precision over the entire implant process, including planning and placement. The X-Guide system utilizes the surgeon's plan to provide turn-by-turn guidance during live surgery, giving the ability to visualize precise movements of the handpiece during osteotomy and implant delivery for more exact placement — it's like GPS for the drill.
X-Guide is:
Impressively easy
Remarkably accurate
Incredibly consistent
Easy navigation for better control
Patent-pending X-Point technology makes it easy to look at the screen and concentrate on one dynamic focus point to assist in precisely guiding the surgical implant. The result — the clinician can consistently achieve a more desirable functional and esthetic outcome.
"The X-Guide system fills the final
gap of digital dentistry. Dynamic 3D
navigation allows the dentist to use
all the 3D digital information at their
fingertips in real-time to immediately
plan and place implants."
— Dr. Robert W. Emery, Diplomate of the
American Board of Oral and Maxillofacial Surgeons
Confident planning
Use the robust X-Guide implant planning software to plan all factors of the ideal implant location. Visualize the placement of virtual teeth for better esthetic planning. If using an intraoral scanner, go a step further with six simple clicks, and register the intraoral scan to plan an ideal restorative outcome with opposing teeth in occlusion.
Precise placement
The X-Guide system makes it easy to be exact by providing robust treatment software plus new, patent-pending X-Point™ navigation technology — the first, single-view guidance of implant position, angle, and depth. Compatible with most cone beam 3D systems, surgeons do not have to stop at precise planning anymore — now they can place in remarkable detail as well. With the X-Guide system in the dental practice, same-day guided surgery can be a reality for more patients.
About X-Nav Technologies, LLC
X-Nav Technologies is a medical device company in Lansdale, Pennsylvania, that develops surgical products for the dental market that advance patient care while improving doctor productivity.
For more information, call 267-436-0420, or visit www.x-navtech.com.
This information was provided by X-Nav Technologies, LLC.
Stay Relevant with Implant Practice US
Join our email list for CE courses and webinars, articles and mores