We specialize in great surgical outcomes.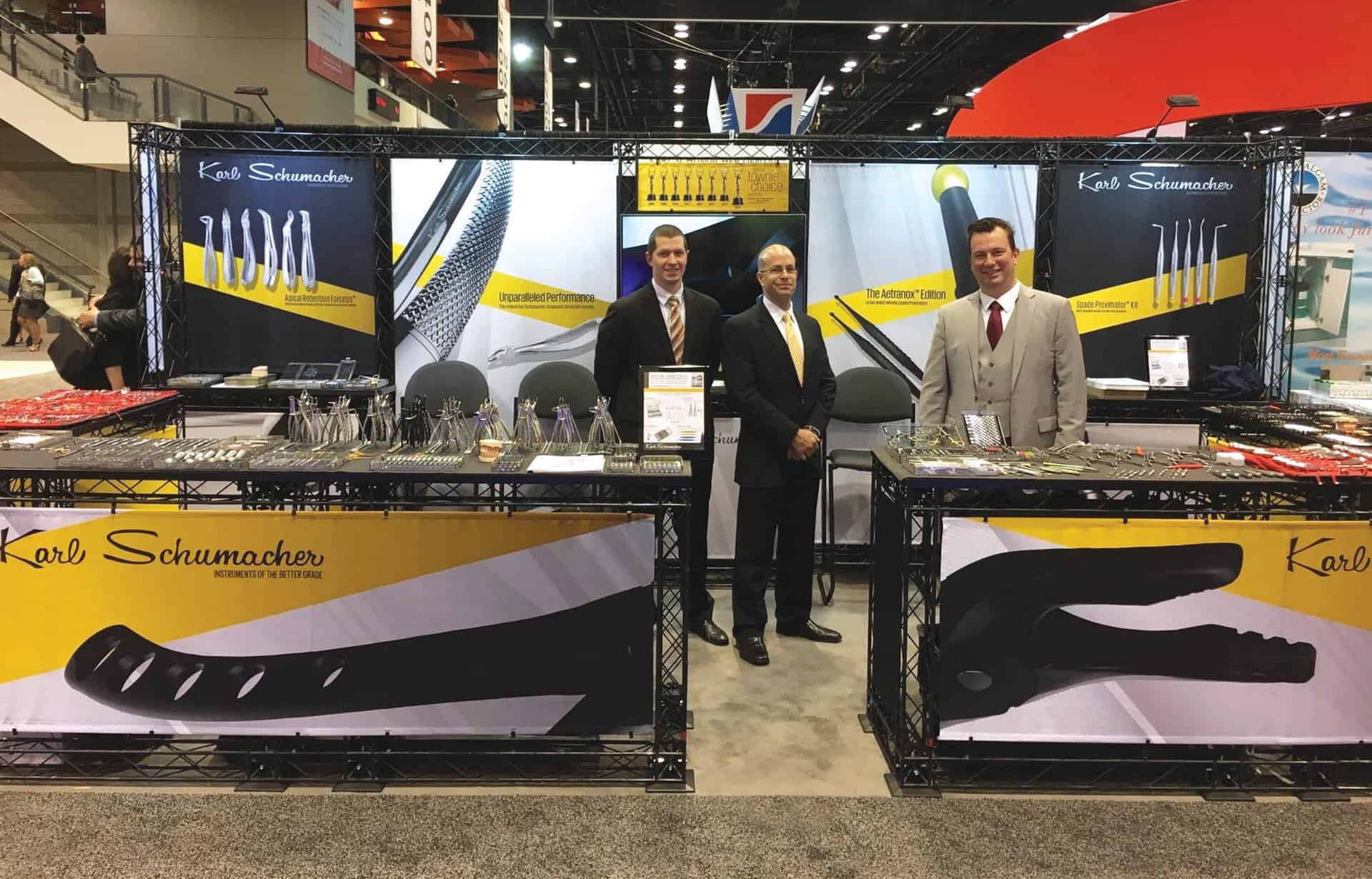 The Karl Schumacher team exhibiting at the 2017 Yankee Dental Congress Convention
In a convenience-oriented, one-size-fits-all world, people have come to realize that niche markets and specialties matter. After all, your patients go to a specialist when they need an expert, and we believe you should, too.
Welcome to Karl Schumacher. We're the specialist's specialist.
We know you've come a long way — from dental school, to residency, to opening your own practice. You are incredibly proud of what you've built. You knew early on that this is what you wanted. But nothing has come easy — you've had to work for everything you've accomplished. And because of that, you always knew the type of doctor you wanted to be; one that did it the right way, for the right reasons. You don't cut corners; you pay specific attention to details; you do not skimp on equipment or modern technology. And why? Because it really is about your patients and their overall health.
And they come to you for a reason. You are a specialist. You are too humble to admit it, but you change lives. You literally create smiles. You love it, but the stakes are high. A lot is expected of you and your special skills.
And you have the same expectations for the brands you use because they are an extension of your education, talent, and passion. They'd better be special because that is the essence of who you are and how you treat your patients and staff.
These are the reasons why we've spent the last 70 years perfecting all of our product offerings. All of our instruments are designed to give you the confidence you need to create a great surgical outcome every time you perform a procedure — nobody invests in the specifics of you as we do.
And while we could stop with high-performance instruments, we don't think that's enough in today's world. We feel the word outcome has a much broader meaning than it once did. Today, the word outcome refers to end-results of all types, including education, phenomenal ordering experiences, flawless customer service, warranties that matter, and relationships that are technology-driven, but human-based. That's why when you go into a surgical procedure, we'll make sure the instrument in your hands and the service you get along the way is an asset, not a liability.
Congrats on your journey so far. Let us be a part of where you go next, and together we can create great surgical outcomes and smiles together.

Proximator®

ExcaliBur™ Premium Burs
"Compared to all the other instruments that we've had in the office, nothing equals the quality of the Schumacher instruments."

– Dr. Jay Reznick, DMD, MD
Experience the benefits of buying direct — we don't use distributors
We've been selling high-end instruments direct to dentists since our company's inception, and we continue to guarantee that quality with a warranty on all instruments, a sharpening and repair program, and a lifetime warranty on all dental extraction forceps. This is our way of ensuring we stand behind the instruments and products we offer.
Because you can buy directly from us, either online or through your regional account manager, you'll get a level of engineering and service you won't get through a distributor, including:
Competitive warranties on all of our products
We guarantee our craftsmanship to be free of material defects. We offer a lifetime guarantee on our Extraction Forceps that is truly unconditional. All other instruments are guaranteed for 1 year against breakage, assuming proper use. If your Karl Schumacher instrument is under warranty, our highly skilled technicians will determine if the product can be repaired to function comparable to a new instrument, or if the instrument should be replaced.
Continued sharpening on all applicable instruments
Our skilled technicians have years of experience in sharpening and will make your instruments like new. We offer free sharpening services within the warranty time frame. This means that over the lifetime of Karl Schumacher Extraction Forceps, and within the first year for all other tools, sharpening is available at no cost. Sharpening services are available for a fee on any dental instruments no longer under warranty, including instruments sold by other brands.
We are committed to maintaining the integrity and precision of dental instruments, and will only repair those that can be made to function comparable to a new instrument. For example, our team will reshape the metal on an instrument, but we will not add new metal. If our team determines your Karl Schumacher instrument is irreparable and still under warranty, we will replace the instrument at no cost to you.
Knowledgeable Customer Care team to answer questions and act as an advocate for your dental practice
Our Customer Care team is dedicated to your success and has extensive product training on all Karl Schumacher product offerings. Whether you have a question about your order or are looking for the next instrument to make an impact at your practice, we'll be there to guide you along the way.
Premium surgical instruments that doctors depend on
As we continue to work with leading dentists, we constantly research new products to add to our line of high-quality instruments to meet the changing demands of dentists today.
We feature a collection of innovative instruments that have changed the way dentists perform surgeries forever. Below are a few of our featured product offerings.
Proximator®
The Proximator is the ultimate atraumatic extraction instrument that combines the sharp, thin working-edge of the Periotome and the strength of the Luxating Elevator. Designed for severing the ligaments in the periodontal space, the Proximator eliminates the need for traditional elevation and creates a larger path of delivery for the root structure while at the same time protecting the fragile buccal wall.
ExcaliBur™ Premium Burs
Designed for optimum strength and durability, ExcaliBur Premium Burs are proven to cut up to 2.5 times faster than competing burs. Their superior construction offers a fast, smooth, vibration-free performance that reduces patient discomfort and procedure time.
RoBa™ Extraction Forceps
RoBa Extraction Forceps are the next generation of atraumatic extraction forceps. They feature the best attributes of the Apical Retention Forceps and the deep, heavy serrations of the Kratzman elevators to prevent root fracture, prevent slipping during luxation, and increase subgingival access.
RoBa™ Aetranox™ Edition Extraction Forceps
RoBa Aetranox Edition Forceps feature all the benefits of RoBa Extraction Forceps with the added benefits of a proprietary Aluminum-Titanium-Nitride coating that is significantly harder, scratch-resistant, and non-reflective for long-lasting performance. The increased hardness created by the Aetranox surface treatment ensures long-term integrity of both the beak serrations and forceps overall.
Diamond RoBa™ Extraction Forceps
Diamond RoBa Extraction Forceps feature all the benefits of RoBa Extraction Forceps with the added benefit of custom diamond-coated tips that provide a radically superior grip in all applications, including wet conditions. The increased friction from the diamond particles ensures better engagement and reduces the potential for fracture, shortening operative time.
RoBa Extraction Forceps (left), RoBa Aetranox Edition Extraction Forceps (middle), and Diamond RoBa Extraction Forceps (right)

Allograft
"The quality and consistency of the particulate is really a cut above."

– Dr. Robert J. Mikhli, DDS
We're more than an instrument company
As we continue with our mission of creating great surgical outcomes for doctors and patients alike, we've expanded our product offerings to include premier regenerative products that complement our high-end instruments.
Allograft
For use in oral surgical applications, socket preservation, periodontal defect regeneration, dental implant bone regeneration, sinus lifts, and ridge augmentation procedures, all of our allograft tissue is recovered in the United States under the most stringent screening and testing protocols. Our allograft is available in both particulate and flowable syringe (putty and paste) formats.
Xenograft
We offer both a Xenograft-derived bone graft matrix and a synthetic calcium phosphate bone graft matrix. Structure and porosity are two parameters evaluated and optimized in the development of the bone graft matrices. Our Xenograft is available in a jar or syringe.
PrecísPOINT™ Sutures
Minimize the degree of surgical trauma by using needles that are sharper than the leading brand. Independent testing data shows that when using PrecísPOINT Sutures during wound closure, less force is needed to penetrate the tissue, reducing the worry of needle breakage and tissue drag.
Beyond products — continuing education: our commitment to doctors
We maintain our mission of creating great surgical outcomes not only through our high-end surgical instruments and products, but also through a wide variety of continuing education courses. We partner in continuing education courses available throughout the country that feature clinicians who choose Karl Schumacher products every time they perform a procedure.
The end result: confidence in your hands
When it's all said and done, you require specific confidence in all parts of your professional life, which results in less stress and ultimately powers your unique ability to deliver the best surgical outcomes. By letting us work with you, we promise:
Unique products, education, service, and experiences that inspire specific confidence in your ability to change the lives of your patients.
A specific and tailored approach to product design and customer experiences that serve your unique needs in the oral surgery space.
A human and honest approach that lets you know we are with you all the way.
A direct, ongoing relationship in which we'll continue to act as an advocate for your dental practice long after your first purchase.
The best relationships never allow anyone to get in the middle. Work directly with us, and get the attention you deserve. Visit KarlSchumacher.com or talk to your regional account manager today, and gain an unrivaled confidence when you go into your next surgical procedure!
This information was provided by Karl Schumacher Dental.
Stay Relevant with Implant Practice US
Join our email list for CE courses and webinars, articles and mores