Dr. Douglas Wright illustrates two cases blending several techniques
Loss of an anterior tooth always causesconcern for the patient and the restorative dentist. Often, implant placement requires bone grafting procedures followed by lengthy healing between surgeries.1 Mini dental implants offer patients some distinct advantages to conventional implant therapy. They have been reviewed and found to be a successful way to restore missing single teeth as well as supports for removable prosthetics.2
The following cases are presented to provide an alternative treatment plan for consideration when facing the loss of an anterior tooth.
Case 1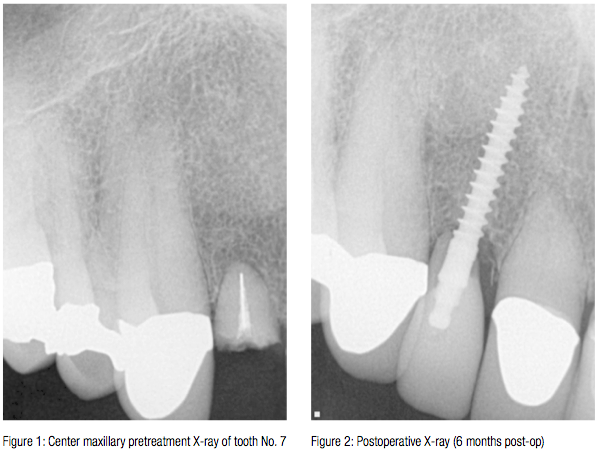 A.M. is an 80-year-old man with controlled high blood pressure. He has crown restorations on all his anterior maxillary teeth. Tooth No. 7 had a history of endodontic treatment followed by two apicoectomies over the years. Finally, the core failed, and his crown came off. Because of the relatively short root length and endodontic treatment with a silver point, implant restoration was considered (Figure 1).
A CBCT examination revealed over
20 mm of bone apical to tooth No. 7.
A.M. was presented with the following treatment plan:
Atraumatic extraction of tooth No. 7
Placement of an MDL® implant 2.5 x 18 mm (Intra-Lock® International)
Immediate scan of the implant and restoration with CEREC® crown.
A.M.'s health history was again reviewed. A review of the dental literature shows increased chances for implant failure in patients who smoke, have diabetes, and who have parafunction. In this author's experience, patients who have kidney disease that includes metabolic bone disease should not be considered for implant treatment.
A CBCT should reveal 2 mm of bone in all directions.
Anesthesia was provided using 1.8 ml of 4% Articaine with 1:200,000 epinephrine. The implant was placed through the bone at the apex of the extracted root. An Intra-Lock® 2.5 x 18 mm implant was immediately placed.
Topical epinephrine provided via cotton pellets impregnated with epinephrine (EpiDri® Pellets by Pascal International) was used to stop bleeding.
For inventory control purposes, our office only stocks the ball-type removable implants. To help CEREC take a better image, a very small amount of flowable composite resin was placed on the occlusal portion of the implant. This creates less detail for CEREC and provides for an easier fit of the final crown.
Once the images were loaded into CEREC, then crown fabrication could move forward. While the margin of the restoration can be placed on the neck of the implant, the apical portion of the crown should be sized to fit into the space created by the extracted tooth.
Because the implant is placed through the apex area of an extracted tooth, the final restoration will have a less than ideal crown-to-root ratio. Every effort needs to be made to keep occlusal forces on this restoration at an absolute minimum to allow for complete healing.
Photos taken months after placement show gingival healing around the tooth mimicking a normal gingival contour (Figure 3).
Case 2
J.B. is an 88-year-old woman with a history of crown treatment to her anterior maxillary teeth (Figure 4). Over the years, she has had implants placed when she lost teeth. She has had good experience as a dental implant patient in the past (Figure 5). Tooth No. 8 had a history of endodontic treatment with repeated failure of post and core causing secondary root decay (Figure 6). Treatment options were discussed. J.B. was adamant that she wanted immediate placement of a fixed restoration, and she did not want to wear an interim partial denture.
J.B.'s health history was reviewed. She did not have a history of bisphosphonate use, but she did take medication for hypertension and has an artificial knee. She was given amoxicillin as an antibiotic prophylaxis prior to her visit for surgery. She reported a history of smoking, but she quit smoking in 1975.
On the day of treatment, a small fluctuant lesion was noted at the distal buccal portion of the gingival crest (Figure 7). Investigation of this area after anesthesia revealed that this abscess was probably from food impaction at the site of the crown/post-and-core failure.
Anesthesia was provided using Articaine and epinephrine. Tooth No. 8 was atraumatically extracted (Figure 8), and an Intra-Lock 2.5 x 18 mm implant was placed into the bone apical to tooth No. 8 (Figure 9). Placement of this implant was completed with very little torque generated. Because the torque during placement was so small, the 2.5 x 18 mm implant was backed out, and an Intra-Lock MILO™ 3.0 x 17 mm implant was placed at the same site. Torque was immediately improved.
Again, bleeding was controlled with epinephrine pellets, and the area was scanned. The restoration was designed to fill in the site of the extraction (Figures 10, 11, and 12). IPS e.max (Ivoclar Vivadent) was used as the restorative material.

Photographs of both patients show excellent healing of the surgical sites with implant-retained crowns. Some authors refer to these restorations as "crontics" because they have the qualities of both crowns and oval-shaped pontics.Both restorations were cemented with SEcure® resin cement by Parkell.
Numerous authors have noted that resin cement trapped under the gum can cause implant failure.3 Because of this, great care is taken to make certain only enough cement is used to coat the implant and fill the space in the IPS e.max restoration. Super Floss® (Oral-B®) is used at delivery before light curing to make absolutely sure that no excess cement remains outside
the crown.
In the evaluation stage of these cases, it is surprising to see how much bone is available apical to the maxillary incisors. In both of these cases, implants longer than 17 or 18 mm could have been used. Perhaps implant manufacturers can take a look at this and consider making implants that are 21 or even 25 mm in length. Having a greater amount of implant to engage bone would improve the crown-to-root ration in these cases. There is some indication in the literature that insertion torque between 30 and 50 Ncm at placement provides adequate stability for immediate use of the implant.4
In case No. 2, it was evident that there was insufficient torque to insure successful placement of the implant. I confirmed this with a hand-held torque wrench. I set the torque on the wrench at 20 Ncm and had no trouble advancing the implant, meaning the torque needed to advance the implant was less than 20 Ncm. For this reason, I selected a wider implant to achieve greater torque during placement and greater stability.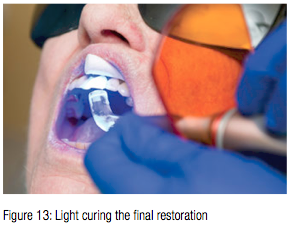 Here are rules to follow for the successful restoration of an immediate implant after extraction:
Get a complete health history. Review it at least twice. Make certain there is nothing that can prevent normal healing.
Use a CBCT scan. Because of the triangular shape of the bone in this region of the skull, it is extremely difficult to see exactly how much bone is available for implant placement using a two-dimensional panoramic or periapical X-ray.
Keep occlusal forces light on the final restoration to allow for osseous integration.
Keep a complete inventory of implants on hand in case the clinical situation dictates a change in size of the implant.
Mini dental implants are fulfilling the demands of our patients for an immediate, cost-effective means to provide dental care. The preceding two cases are presented to highlight an innovative way to blend several accepted techniques to provide immediate and lasting restorations to our patients.
---
References
Shapoff, C. Tackling a challenging esthetic clinical situation. ImplantPracticeUS. 2014;7(1):14-17.
Shatkin TE, Shatkin S, Oppenheimer BD, Oppenheimer AJ. Mini dental implants for long-term fixed and removable prosthetics: a retrospective analysis of 2514 implants placed over a five-year period. CompendContinEducDent.2007;28(2):92-99.
Gapski R, Neugeboren N, Pomeranz AZ, Reissner MW. Endosseous implant failure influenced by crown cementation: a clinical case report. IntJOralMaxillofacImplants.2008;23(5):943-946.
Grandi T, Garuti G, Guazzi P, Tarabini L, Forabosco A. Survival and success rates of immediately and early loaded implants: 12-month results from a multicentric randomized clinical study.JOralImplantol.2012;38(3):239-249.
Stay Relevant with Implant Practice US
Join our email list for CE courses and webinars, articles and mores