Dr. Susan McMahon is accredited and inspired to evaluate, plan, place, and restore implants. Read her Women In Dentistry profile here.
Dentist, practice owner, mother — finding a balance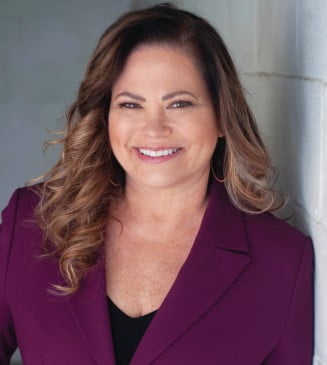 Dr. Susan McMahon, a graduate of the University of Pittsburgh, School of Dental Medicine, enjoys one of the largest cosmetic dental practices in Western Pennsylvania. She is accredited by the American Academy of Cosmetic Dentistry (AACD), a Fellow in the International Academy of Dental-Facial Esthetics, a Fellow in the American Society for Laser Medicine and Surgery, and an invited Fellow of the American Society for Dental Aesthetics (ASDA). She is a past clinical instructor in Prosthodontics and Operative Dentistry at the University of Pittsburgh and is the Director of New Product Evaluation and an Elite Speaker for Catapult Education. She frequently lectures across the United States and occasionally in Europe on cosmetic dentistry and tooth whitening and is a 7-time award winner in the American Academy of Cosmetic Dentistry's Annual Smile Gallery — twice being awarded gold medals. She had been honored as a Top Dentist 15 times and has also been voted by her peers as a Top Pittsburgh Dentist every year for more than a decade.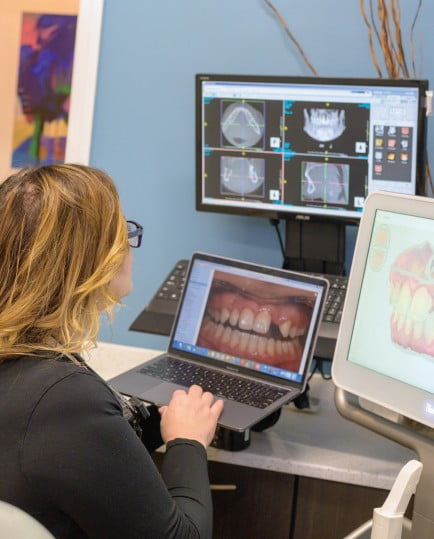 Attaining accreditation in the American Academy of Cosmetic Dentistry is Dr. McMahon's proudest professional achievement. One of only 350 dentists worldwide to have AACD accreditation, Dr. McMahon completed case submission and clinical peer review in 2005. Excellent proficiency must be demonstrated across all areas of cosmetic dentistry, including porcelain veneers, implant restoration, full reconstruction, crowns, and cosmetic bonding.
What can you tell us about your background?
I had two of my three children while in dental school. Being a dentist, mother, and practice owner have brought unique challenges and benefits. Historically, women have been pretty underrepresented on the podium and in leadership roles in dentistry. It is so gratifying to see this becoming more balanced recently.
When did you become a specialist and why?
Early on in my career, I decided to focus on cosmetic procedures. I became accredited with the American Academy of Cosmetic Dentistry in 2005. The accreditation journey made me a better dentist all around and also gave me the impetus to begin teaching. When you photograph all of your cases and really start to evaluate them with a critical eye, you continue to refine your techniques and strive for excellence.

Is your practice limited solely to implants, or do you practice other types of dentistry?
In our practice, we have several doctors, and we all work together as a team. My focus is on comprehensive restorative. Dr. Eyad Aldara places our implants. Dr. Heba Alani does most of the general dental work. An endodontist is joining our practice this summer. When a new patient comes to us for treatment, we perform a comprehensive exam including an intraoral digital scan and a CBCT scan. We treatment plan as a team and coordinate care.
Why did you decide to focus on implant dentistry?
Providing implants is necessary for every dental practice that wants to thrive in today's competitive environment. Patients are educated; they want the best treatment for themselves and their families, and many are willing to spend what is necessary for that treatment beyond typical dental insurance reimbursement. Technology has made implant placement easier and more predictable.
Do your patients come through referrals?
I find direct marketing to potential patients is essential. Currently, we have a digital campaign that focuses on driving implant patients to our website. We also cultivate referrals from medical offices by building relationships with our close colleagues. We also directly ask patients for reviews and referrals when we finish treatment.
How long have you been practicing implant dentistry, and what systems do you use?
I've been restoring implants for over 20 years. Before we started placing them in our office, I referred to a periodontist to have the implants placed. Now, after investing in the technology, we regularly place them here. It is definitely more convenient for the patients to have everything done in one place, and I believe we are getting better outcomes with having the whole team working together on evaluating, planning, placing, and restoring.
What types of implant systems do you use most often?
I use BioHorizons®, Nobel BioCare™, Straumann®, and Zimmer Biomet.
What training have you undertaken?
In addition to the AACD, I continually train on the latest restorative techniques — most recently in Italy with StyleItaliano™ and here in the U.S. with Dr. Jack Hahn. Dr. Aldara trained and attained fellowship at the Misch Institute. He is also a Diplomate of the International Congress of Oral Implant-ologists (ICOI).
Who has inspired you?
I've been fortunate to have a few wonderful mentors. Dr. David Hoexter has led in periodontics; Dr. Lou Graham inspires the team approach; Dr. George Freedman shares his product knowledge all over the world; and my friend, Dr. Joyce Bassett, has and continues to be a groundbreaker in cosmetic dentistry. Stephenie Goddard, Guiding Leaders, is working tirelessly to help women rise up in dentistry, and Dr. Grace Yum leads in support of women dentists and mothers.
What is the most satisfying aspect of your practice?
I love insert day. It's that moment when we finish a case, and there are hugs all around, and sometimes happy tears too. We do a lot of trauma cases; most often young people are getting injuries from sports, auto accidents, falls, and other causes. Being able to restore them back to full function and also beautiful natural-looking smiles makes all of us feel great!
Professionally, what are you most proud of?
I am so proud of the work we do day in and day out on our patients. I am proud that I continue to learn new techniques and offer the most cutting-edge procedures in our office.
What do you think is unique about your practice?
We have the combination of very highly skilled and credentialed providers, a culture of excellence and nurturing for our patients; collaboration is our team's mandate.
What has been your biggest challenge?
I'm like so many of us, so my challenge is finding, training, and retaining competent, caring, professional team members.
What would you have been if you had not become a dentist?
If I had not become a dentist, I think I would have become a plastic surgeon. I love helping people feel their best.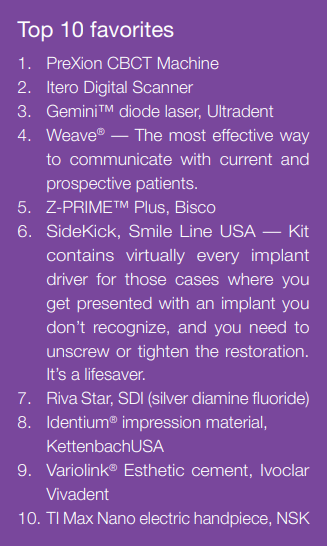 What is the future of implants and dentistry?
Very bright. Implants are now the standard of care for missing teeth. It continues to get simpler to place implants with guided technology.
What are your top tips for maintaining a successful specialty practice?
It's all about developing your brand from initial contact to first appointment to case presentation to treatment to support care to attracting patients who need what you do.
You must send a consistent message in all you do — the appearance of your office, the demeanor of your team, the skill of your providers, the feeling you give to your patients. For us, that means every contact with the patient says, "You have come to the right place;  these doctors are the top at what they do, and we will all take very good care of you." We all take great pride in our work, and we want our patients to know.
What advice would you give to a budding implant dentist?
Invest in the technology. It will pay off many times over, not just in income, but also give you the confidence you need to comprehensively diagnose and treat.
What are your hobbies, and what do you do in your spare time?
I love to travel. Most all of my lectures and articles are written in airports or on airplanes.
Stay Relevant with Implant Practice US
Join our email list for CE courses and webinars, articles and mores