Patients, staff, and family — it's a wonderful life
What can you tell us about your background?
I was born and raised in Albuquerque, New Mexico. I graduated from Sandia High School and the University of New Mexico (UNM), so I am a "Lobo" for life. I attended Washington University School of Dental Medicine in St. Louis, Missouri, as one of two student scholars from the state of New Mexico.
I always dreamed of returning to Albuquerque to practice dentistry, which is my avocation, not just my job. I have been living that dream since 1984. I have a "dream team" that makes dentistry not only rewarding, but fun. My office has been designed to provide maximum comfort and technology for my patients and staff. It is a pleasure to come to work every day.
I strongly believe in continuing education, and to this end, I have achieved the following credentials and awards. I am board certified in implant dentistry as a Diplomate of the American Board of Oral Implantology. I am a Master in the Academy of General Dentistry (AGD) and a Fellow in the American Academy of Implant Dentistry (AAID). I also received the Lifelong Learning and Service Recognition Award from the AGD.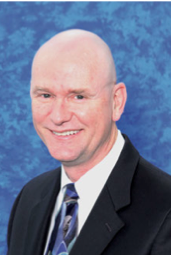 Furthermore, in addition to participating in continuing education, I provide dental education for other dentists. I frequently speak on implantology for the AAID, AGD, and dental implant companies (Basic Dental Implants and Ossotanium™ Corporation). I mentor other dentists in an Albuquerque implant study club. I am also a reviewer for the Journal of Oral Implantology.
I am active in local, regional, and national dental associations. I am currently serving as a Trustee for the AAID Board of Trustees. I am a past president of the New Mexico AGD and formerly the delegate from New Mexico to the national AGD Congress. I am a past chairperson for the national AGD Self-Instruction Committee and also past president for the Western District of the AAID serving New Mexico, California, Oregon, Washington, Colorado, Arizona, Utah, Nevada, Wyoming, Montana, Hawaii, Alaska, and in Canada, British Columbia, and the Northwest Territories.
I believe in giving back to the community. I volunteer my services to provide dental care to New Mexicans with limited incomes. I participate in the New Mexico Dental Association's donated dental services programs for adults and for children. My staff and I also participated in the New Mexico Mission of Mercy.
I am happily married to an attorney who is also my office manager. We have a daughter who graduated from UNM School of Law in 2013 and practices law in Albuquerque. Our daughter was also a Lobo as an undergraduate. My parents and my brother also live in Albuquerque. Additionally, to make my family complete, I have a very energetic and spoiled yellow Labrador Retriever and a pampered cat. I have a great practice, a terrific staff, a fantastic family, and a wonderful life. My favorite movie is It's a Wonderful Life!
When did you become a specialist and why?
I was board certified in implant dentistry by the American Board of Oral Implantology in 2004. I found that I enjoyed the opportunity to give patients the option of replacing missing teeth with a more conservative and permanent solution than what was available with conventional dental treatment.
Is your practice limited solely to orthodontics/endodontics/implants, or do you practice other types of dentistry?
The focus of my practice is comprehensive dental care, so we do provide all aspects of dental treatment, including both restorative and surgical options for our patients. We also offer our patients esthetic enhancements such as Botox® and dermal fillers.
Why did you decide to focus on implants?
Early on in my practice, I saw many patients who were unable to eat and chew comfortably due to ill-fitting dentures and partials. They were also embarrassed with their appearance and unable to maintain good health due to an inability to eat properly. I found that dental implants gave me the ability to provide restorations for these patients, which allowed them to eat comfortably, smile confidently, and maintain their health.
Do your patients come through referrals?
Our most common referral sources are referrals from patients, physicians, and other dental professionals.
Tell us about your office. How long have you been practicing implantology, and what systems do you use?
We built our current 2,886-square-foot, fully computerized state-of-the-art facility in 2006. The office has a large reception area, a large administrative area, five operatories, a sterilization area, a consultation room, a secondary consultation area, a laboratory, an imaging center, a staff break room, a laundry room, and a private office. The office was designed by Dr. Michael Unthank, a licensed dentist and architect, and decorated by my wife. It is my ideal office, and it is a pleasure for me to be able to work there every day.
I have been placing and restoring dental implants for 29 years, so I have had experience with most implant systems on the market. I use the Ossotanium implant system which features nanostructured titanium implants. These Biotanium™ implants provide a considerable advantage for my patients and my practice. These implants heal to the bone faster, are more bio-compatible and are twice as strong as implants constructed from conventional titanium. These nanostructured implants are ideal for immediate loading. The Ossotanium system has excellent prosthetic variability. The system offers bone level, tissue level, one-piece, and mini implants.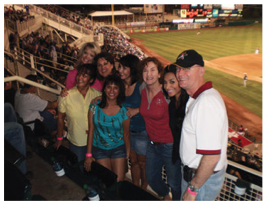 What training have you undertaken?
I have taken thousands of hours of continuing education courses. I have earned Diplomate status from the American Board of Oral Implantology, a Mastership in the Academy of General Dentistry, and a Fellowship in the American Academy of Implant Dentistry. I am a graduate of the Maxi-Course in Implant Dentistry at the Medical College of Georgia. I completed the Continuum at the Pankey Institute for Advanced Dental Studies, the Pacific Esthetic Continuum, and the Mini-Residency in Craniofacial Pain at the University of Florida. I also received the Lifetime Leadership and Service Award from the Academy of General Dentistry.
I have served my profession as the President of the New Mexico Academy of General Dentistry, as the President of the Western District of the Academy of Implant Dentistry, as a reviewer for the journals General Dentistry and The Journal of Oral Implantology, and as the chairperson of the Self-Instruction Committee of the Academy of General Dentistry.
I am also fortunate that I have been able to share my knowledge with others in my profession. I have lectured nationally and internationally on the subjects of Implant Dentistry, Occlusion, and Esthetics for the Academy of General Dentistry, the American Academy of Implant Dentistry, Innova Corporation, Sybron Dental Specialties, Basic Dental Implants, and Ossotanium Corporation. I have taught hands-on courses in Implant Dentistry in Albuquerque since 2006 and have published articles on the subjects of implant dentistry and practice management.
Who has inspired you?
I am inspired daily by Dr. L.D. Pankey, who believed that success in life is achieved by the balance of love, play, work, and worship. Adopting Dr. Pankey's philosophy helps me keep my life in perspective. John Wooden, an award-winning basketball player and coach, said "Success is peace of mind that is a direct result of self-satisfaction in knowing that you made the effort to become the best of which you are capable." This quote is important because there are failures that will occur in dentistry and in life so the most important thing that we can do is prepare as much as possible for every situation that we face. Cervantes in Don Quixote wrote that "The road is better than the inn." It is easy to stay in our comfort zone, but I have found that the only time that we truly learn is when we venture outside our comfort zone. It is important to embrace new techniques and technologies in dental practice.
Most importantly, I am inspired by my wife, who by her limitless courage in the face of life's many challenges, lives in the present with joy, humor, and kindness. She helps me be a better man, and I cherish every day with her.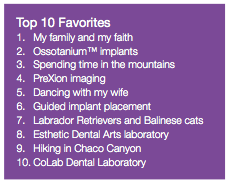 What is the most satisfying aspect of your practice?
The smiles, hugs, cards, and symbols of gratitude that I receive from my patients after completing their treatment.
Professionally, what are you most proud of?
The relationships that I have developed with patients, employees, and colleagues. I have employees who have been with my practice for over 20 years and patients who have been with me since I opened
my practice.
What do you think is unique about your practice?
The focus of my practice is comprehensive dental care. The goal of my practice is to help our patients maintain their teeth for their lifetimes in optimal health, esthetics, function, and comfort according to their objectives and circumstances. When a patient has missing teeth, we replace them with those same objectives in mind. Our guiding principle is to do unto others as you would have them do unto you. I believe that every patient is a unique individual and needs to be treated as such. It is important take the time to discuss treatment options with our patients and allow them to make an informed decision regarding their treatment. In many cases, we are able to place immediate implants with immediate function. Patients can receive both surgical and prosthetic treatment without having to shuttle between offices.
What has been your biggest challenge?
Achieving that balance of love, play, work, and worship in my life. I enjoy the practice of dentistry so much that I can easily devote too much time to it.
What would you have been if you didn't become a dentist?
I really cannot imagine a career that could have been as rewarding as the practice of dentistry. However, I do enjoy speaking, writing, and teaching.
What is the future of implant dentistry?
I believe that nanostructured titanium implants are the future of implant dentistry as they have many advantages over conventional titanium implants in the areas of biocompatibility and strength while allowing us to shorten treatment time for our patients.
What are your top tips for maintaining a successful specialty practice?
Remember to always treat others as you would have them treat you. Remember that as Steven Covey advised, "Always do first things first." Always do a complete examination and diagnosis that includes diagnostic casts and necessary imaging prior to providing treatment for the patient. This will help you avoid possible surgical and prosthetic complications.
What advice would you give to budding implantologists?
Remember as Burton Melton, DDS, advised — "Implant dentistry is a prosthetic discipline with a surgical component." It is important to take advantage of mounted diagnostic casts and appropriate imaging techniques that complement a complete examination. This allows for proper diagnosis and treatment planning to optimize implant position for the best prosthetic result. In doing so, it is also important to remember Carl Misch's advice that "an axiom of implant treatment is to provide the easiest, cost-effective, most predictable treatment that will satisfy the patient's needs and desires." Take advantage of guided implant placement to provide optimal treatment for the patient with minimal postoperative discomfort.
What are your hobbies, and what do you do in your spare time?
I enjoy the outdoors. My wife and I like spending time together at our cabin in the mountains of northern New Mexico. We enjoy hiking, watching the wildlife, fishing, and playing with Sunny (our yellow Labrador Retriever). We enjoy the beautiful landscape and cultural diversity of New Mexico, especially country western dancing. We both love to relax by the fire with a good book. We also enjoy attending UNM Lobo athletic events.
Stay Relevant with Implant Practice US
Join our email list for CE courses and webinars, articles and mores