Sirona continues to develop innovative products shaping the future of dentistry
For more than 130 years, Sirona has consistently spearheaded technological developments in dentistry beginning with the invention of the first electrically powered dental drill in 1887. As the world's largest manufacturer of dental technology, Sirona develops, manufactures, and markets a complete line of dental products that drive improved workflow, a better patient experience, and ultimately increase the success of dentists who incorporate Sirona technology within their practices.
Through Sirona's robust product offering of CAD/CAM restoration systems (CEREC); digital intraoral, panoramic, and 3D imaging systems; dental treatment centers; handpieces; and hygiene systems, the company provides innovative solutions for dental practices, clinics, and laboratories.
Comprehensive 3D imaging

In all dental disciplines, including implantology, endodontics, and orthodontics, there are numerous questions that can be answered far more easily using 3D X-ray CBCT. Sirona offers several 3D options that provide superior digital image quality at a low dose of radiation making for an efficient workflow and more concise communication with patients.
GALILEOS®
As the first 3D imaging solution developed by Sirona, GALILEOS® combines X-ray diagnostics, implant visualization, treatment planning, and patient communication in one tool. GALILEOS ComfortPlus, the high-end CBCT unit with HD mode, includes a large field-of-view and integrated FaceScan technology.
ORTHOPHOS® XG 3D — a hybrid approach
ORTHOPHOS® XG 3D combines the advantages of 2D and 3D into one comprehensive unit. With an extensive selection of panoramic and cephalometric programs to choose from, the right 2D diagnostic images are now augmented with the ability to capture 3D X-ray.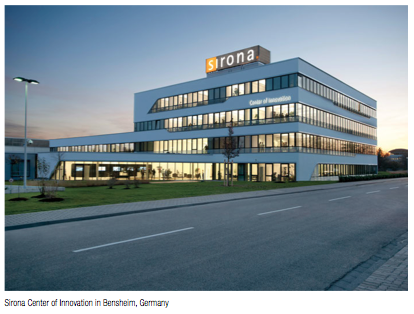 Patented integrated technology
The practice of implantology is quickly spreading throughout dentistry. Sirona pioneered guided implantology through the integration of 3D X-ray and CAD/CAM technology. GALILEOS CEREC Integration (GCI) gives the clinician complete control over the entire implant process, starting with the planning and ending with the manufacture of highly accurate abutments and crowns.
For years, clinicians have benefited from the comprehensive 3D digital diagnostic and treatment solutions provided by GALILEOS CBCT. The single, 14-second scan transforms a traditional dental office into a center capable of fast, efficient, and accurate implant placements. The increased visualization changes the patient-clinician conversation, proving better treatment acceptance, more informed diagnoses, and efficient treatment planning.
With the integration of CEREC for the design and fabrication of the implant abutment and esthetic crown, you can be confident that your treatment plan workflow — as well as the entire process from patient presentation to final restoration placement — is completed smoothly and without complications.
As the name suggests, GCI is all about the seamless collaboration and data sharing of systems and processes within the dental procedure. GCI allows simultaneous assessment of both the prosthetic and surgical situation, as well as both processes to be fully controlled and accomplished in the dental practice.
GCI's step-by-step workflow
To envision the GCI workflow from start to finish, consider the following steps:
During the first patient visit, an optical impression of the bite is taken with CEREC, and the prosthetic restoration is planned using the CEREC software.
The GALILEOS 3D scan begins diagnoses of the bone structure and integration of the prosthetic recommendation into the X-ray volume. The implant is planned simultaneously according to the surgical and prosthetic conditions.
Next, the surgical guide is ordered in the software, and the planning data is transmitted to SICAT (in the case of the SICAT OPTIGUIDE process).
During the second patient visit, the implant is placed using the surgical guide. In the case of immediate loading, it is restored directly with a CEREC temporary prosthesis. If necessary, patient-specific, customized abutments with CEREC can be created and incorporated in this session.
With immediately loaded implants, the temporary prosthesis is replaced by the final prosthesis, and the case is completed. With traditionally placed implants — after completion of the healing phase — the implant is provided with a temporary or final prosthesis (with CEREC) in this session.
The benefits of GCI include faster and more reliable treatment with fewer complications resulting in higher patient satisfaction with the final outcome. With GCI, you are in complete control of all surgical and prosthetic parameters every step of the way.
Shaping the future through motion
For the first time, GALILEOS provides true motion in cone beam with SICAT Function. SICAT Function is a revolutionary software solution with an integrated 3D workflow. With GALILEOS and SICAT Function, you can use patients' 3D cone beam scan with their actual recorded jaw motion. This allows for the visualization and a movement-oriented treatment plan. The recorded jaw movement can be visualized and reproduced at any location in the dentition or mandible.
With SICAT Function, in-depth patient information is at your fingertips. You're now provided with an understanding of the condyle-fossa relationship during jaw movement, anatomically correct trajectory, visualization of the specific positioning of the trajectory in 3D, as well as a comparison to conventionally used axial points and the ability to evaluate the occlusion based on the integrated optical surface scans.
Continuing investment in research and development (R&D) ensures that Sirona remains the industry leader in dental innovation and quality applications. Our focus on continuous improvement, supported by one of the largest R&D organizations, provides customers with the ultimate in dental products and services, now and well into the future.
The Sirona vision
Sirona believes in providing dental practitioners with the tools they need to put and keep them ahead. From optimizing treatment workflow and patient communication, to creating modern practice management platforms, we're constantly working to meet and exceed the expectations of our customers.
Equally important is our commitment in the field of innovation. In the future, digital networking will play a fundamental role in dental practices, clinics, and laboratories — influencing everything from treatment to patient management. That's why we place great emphasis on the research and development of digital, network-capable dental technology. It is just one more way in which we are helping to build a stronger dental community prepared for all future challenges.
Individuality is also a vital part of our company philosophy. Different markets have different needs, which is why our products are manufactured with features and functions tailor-made to suit their requirements. In offering dental practices, clinics, and laboratories a wide spectrum of individual solutions, we not only make work more effective but boost earnings as well. Consulting is another essential component of this service, and we work closely with dental dealers throughout the world, providing extensive support in marketing and sales promotions.
To sum it all up — Sirona means solutions for dental practices, clinics, and laboratories. It is all part of our goal of constantly striving to find new ways of making the best much better and providing customers with the ultimate in dental products and services. For more information on Sirona, please visit www.sirona.com or call 800-659-5977.
Stay Relevant with Implant Practice US
Join our email list for CE courses and webinars, articles and mores