Dr. Frank Kung explains a streamlined approach to socket preservation
The rationale for the socket preservation technique is based on the knowledge that an average of 40%-60% of original alveolar bone height and width is expected to be lost after tooth extraction with the greatest loss happening within the first 2 years. The goal of socket preservation is to prevent this bone loss, minimize the need for future augmentation procedures, and maximize functional and esthetic results.
[userloggedin]
In implantology, the use of materials after extraction to preserve these alveolar dimensions is fast approaching a "standard of care."
The socket preservation technique begins with an atraumatic tooth extraction, during which care is used to ensure that the surrounding bone and soft tissue are preserved, with specific attention paid to the delicate buccal plate. After extraction, granulation tissue is removed, and good bleeding is established with minor perforation of the socket wall if necessary. A suitable bone grafting material is placed into the prepared socket.
Traditional bone grafting particulates have been widely used due to their success and availability. As well, the use of dental bone grafting putty has proven popular with its ease of placement when compared to particulate materials. The following case report highlights a unique patent-pending expandable bone grafting composite with a unique three-dimensional matrix.
A 62-year-old male patient, nonsmoker, without any history of systemic disease presented to the dental office complaining of tooth pain. Inspection and periapical radiograph (Figure 1A) confirmed an apical fracture of the upper left central incisor. Surgical extraction was planned, and the patient was prescribed an antibiotic for 1 week prior to scheduled surgery.
At the time of surgery, an atraumatic extraction was performed, and a curette was used to remove granulation tissue and prepare the socket for graft placement. A unique one-step composite graft (NuOss® XC Socket, ACE Surgical Supply) was chosen as the material for the socket preservation procedure.
In contrast to the use of a grafting particulate, no membrane was used for graft containment due to the self-expanding composite nature of the material and the subsequent containment of the bone mineral particles within the composite graft matrix.
NuOss XC Socket bone grafting composite is comprised of 80% anorganic bovine bone and 20% type I bovine collagen. The proprietary formulation of NuOss XC allows for syringe delivery of the material in a non-hydrated compressed form, which quickly expands to fill the defect upon contact with blood. In this expanded form, the composite material provides a three-dimensional matrix that optimizes the spacing of the bone mineral, allowing improved vascular access into the grafted site. NuOss XC Socket requires no special handling and is stored at room temperature.
After the product was delivered to the site via a pre-loaded syringe, mattress sutures were used to ensure that the material was not dislodged, and the patient was sent home, continuing on a regimen of antibiotics for 1 week.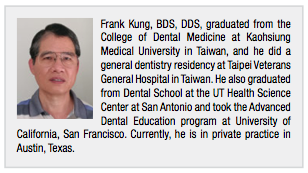 Subsequent follow-up visits showed continued healing and maintenance of the extraction socket dimensions. Upon re-entry of the site in preparation for implant placement, the bone was found to be of sufficient quality and quantity for optimal placement in this critical esthetic zone. A 4.0 mm x 11.5 mm was placed into the previously grafted site.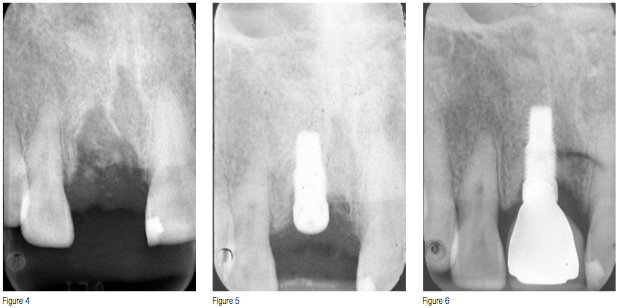 The 24-month follow-up shows the maintenance of the socket dimensions, successful osseointegration of the implant fixture, and full function of the prosthetic. Importantly, coronal bone level has been maintained as well.
NuOss XC Socket allowed for a streamlined approach to the socket preservation technique. A simple one-step graft delivery, with no need for pre-hydration, and the placement and fill of the socket were ideally achieved. The unique composite of collagen and natural bone mineral combines two highly proven and desirable materials into one easy-to-use graft. NuOss XC Socket is available in two sizes and is ideal for single-rooted teeth. It is also available in NuOss XC Sinus, a format ideally suited for use in sinus lift procedures allowing for precise placement of the graft without concerns of graft loss due to membrane perforations.
References
1. Wang HL, Kiyonobu K, Neiva RF. Socket Augmentation: rationale and technique. Implant Dent. 2004;13(4):286-296.
Stay Relevant with Implant Practice US
Join our email list for CE courses and webinars, articles and mores