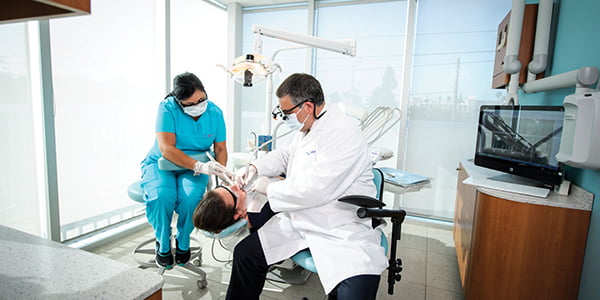 What can you tell us about your background?
I received my DMD degree from the University of Montréal, Canada, in 1996. Following graduation, I moved to Boston to complete a Certificate in Advanced Graduate Studies in Prosthodontics and a master's degree in Restorative Sciences in Prosthodontics from Boston University Goldman School of Dental Medicine. Years later, I became a Diplomate of the American Board of Prosthodontics and a Fellow of the American College of Prosthodontists (ACP). I currently serve as a Professor and Director of the Hugh Love Center for Research and Education in Technology at Loma Linda University School of Dentistry and maintain a part-time private practice limited to prosthodontics and implant dentistry in Glendale, California.
When did you become a prosthodontist and why?
In dental school, I loved every discipline related to prosthodontics. I also had the chance to work with several instructors who were prosthodontists and came to realize that prosthodontics is what I would consider as a career path. Right after dental school in Montréal, I headed to Boston for my Prosthodontic training.
Is your practice limited solely to implants, or do you practice other types of dentistry?
As a prosthodontist, I am a recognized expert when anything needs to be replaced in the patient's mouth. I am a specialized dentist with advanced training in the treatment of crowns, bridges, implants, veneers, full dentures (conventional or CAD/CAM), partial dentures, snoring and sleep disorders, TMD or other jaw joint problems, and some other congenital conditions that affect the mouth. I am committed to improving patients' results.
Do your patients come through referrals?
Yes. Oral surgeons, periodontists, orthodontists, and general practitioners refer the majority of my patients. I also get patients referred by other satisfied patients who received their treatment in my office. As a prosthodontist, I am dedicated to the highest standards of care in the restoration and replacement of teeth, and for this reason, I maintain a close collaboration with all my referring colleagues during all the phases of treatment for the benefit of the patients.
How long have you been practicing implant dentistry, and what systems do you use?
As a prosthodontist, I have been practicing implant dentistry for 20 years. I have worked with all the major implant systems between teaching at Loma Linda and working in my private practice. It basically depends on what my referrals use in their private practice.
My office is located in a multi-specialty building and has three operatories, one designated for hygiene. I have an in-house laboratory operated by highly skilled dental technicians with tremendous amount of experience. A Dental Wings 7Series lab scanner (Montréal, Canada) was recently added to the state-of-of-the-art equipment already available in the lab. The office is paperless, and we use digital radiography and an in-house CBCT machine (Planmeca).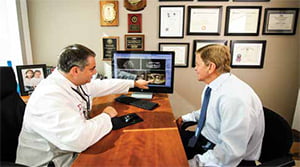 What training you have undertaken?
After completing my 4 years of dental school, I have trained for 3 additional years in prosthodontics followed by a master's degree in Restorative Sciences in Prosthodontics at Boston University Goldman School of Dental Medicine. I then challenged and successfully passed a rigorous four-part examination conducted by the American Board of Prosthodontics (ABP) to become a Diplomate of the ABP. Being affiliated with a teaching institution and attending specialty meetings such as the ACP, AAFP, AP, and others, I am at the cutting edge of technology and information.
Who has inspired you?
Several of my instructors and colleagues inspired me through the years. In dental school, three of my faculty (Dr. P. Boudrias, Dr. C. Lamarche, and Dr. P. Milot), who were prosthodontists, had a great impact on my decision to choose prosthodontics as a specialty. At Boston University, I had the honor of being trained with Dr. Steve Morgano and other eminent faculty members who had a great impact on my visions and career. When I moved to Loma Linda to join the faculty, I had the privilege to work with my mentor, Dr. Charles Goodacre, who continues to be a role model and an inspiration to me. I feel blessed, lucky, and proud to have had the chance to know and work with each one of them in various stages of my professional career.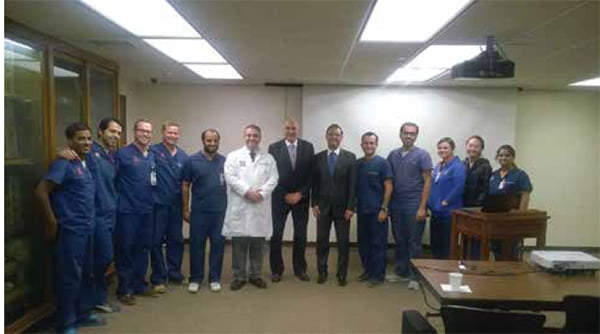 What is the most satisfying aspect of your practice?
The most satisfying aspect of my practice is to visualize the transformation that patients go through during their smile makeovers and to see on their faces the degree of satisfaction and gratitude toward the work I accomplished.
Professionally, what are you most proud of?
I am proud to be a board-certified prosthodontist. I am proud to give back to my specialty by serving on different committees of several specialty organizations. I also serve as a reviewer for two prosthodontic journals and as associate editor for the journal of Dental Traumatology. I am also proud to have published an evidence-based book on the diagnosis and treatment planning of the restoration of endodontically treated teeth published by Quintessence.
What do you think is unique about your practice?
I am committed to excellence and focused on providing all my patients with an exceptional quality and experience. For that end, state-of-the-art equipment and innovative materials are used to provide patients with the finest dentistry can offer. The noncommercial, in-house laboratory, and highly skilled technicians utilize the latest technologies to design restorations of superior quality.
What would you have been if you had not become a dentist?
If I did not become a prosthodontist, I would probably be a commercial pilot. I come from a family of six pilots from both sides of my parents. You could imagine what a family gathering would be when all these pilots meet together. They talk about airplanes all the time.
Top 10 favorites
1. My family
2. Willingness to share and be involved
3. Humility and integrity
4. Treatment based on science
5. Lifelong learning
6. Contemporary knowledge
(i.e. digital dentistry)
7. Treat patients like you like to be treated
8. Evidence-based treatment
9. Respect people regardless of socioeconomic
background
10. CAD/CAM technology
What are your hobbies, and what do you do in your spare time?
In my spare time, I do some wood turning and collect die-cast cars. I enjoy going to the Lakers basketball games with my kids, and I have a wonderful time with them. My daughter is 12 years old, and my son is 10 years old, and they both are very active and have a busy schedule between school and their extracurricular activities. They both play the piano, and I enjoy listening to them perform. Being a Mediterranean, I enjoy going to the beach all yearlong, and my whole family likes it too.
Stay Relevant with Implant Practice US
Join our email list for CE courses and webinars, articles and mores