Drs. Chris Wood and Cemal Ucer look at the multidisciplinary demands of complex cases
This case study demonstrates how a multidisciplinary and holistic approach is needed to provide a more satisfactory outcome to a complex restorative problem for the mutual benefit of both the patient and the treating dentist.
As it is unusual for one clinician to develop expertise in all disciplines of advanced dental care, a multidisciplinary approach must be employed to explore an array of different options when looking to find the most optimum solution to a complex dental problem.
Unfortunately, this could be difficult — particularly for the single-handed clinician who may not have in-house access to a multidisciplinary team. This article demonstrates how a more stable esthetic and functional solution was established by addressing all the key restorative requirements with a multidisciplinary dental team.
Initial presentation
A middle-aged retired head teacher, who had previously been coping with an upper partial cobalt chrome denture, sought treatment when this denture fractured. He inquired about the availability of fixed or removable prosthodontics. He showed particular interest in dental implant options, as he no longer had the heavy professional pressures that had precluded him from receiving complex implant rehabilitation before his retirement.
The patient presented with the situation shown in Figures 1-3. The initial examination revealed the following:
The patient was partially dentate in the upper arch (Kennedy Class IV Mod 2), which had been restored with a removable partial denture constructed in a cobalt chrome framework. This prosthesis was less than ideal with disproportionately small denture teeth and a fracture through the acrylic component of the denture.
Class III skeletal and dental malocclusion.
Premaxillary disuse bone atrophy (Figure 4) due to absence of permanent teeth for many years — this enhanced the Class III skeletal appearance.
Patient had a desire for a fixed restorative solution if at all possible.
Figure 1: Initial presentation of Class III malocclusion and inadequately sized prosthetic teeth

Figure 2: The patient was partially dentate in the upper arch

Figure 3: The fracture of his existing denture caused the patient to seek treatment


Figures 4A, 4B, and 4C: CBCT scan showing the preoperative view of the premaxillary bone deficiency
Preoperative assessment and treatment planning
A full six-point periodontal assessment was carried out, which revealed no evidence of active periodontal disease although there had been some loss of attachment over the years.
Investigations included a full assessment of the occlusion using study models mounted on a semi-adjustable articulator with a facebow and "centric relation" record. Photographs were used to assist the treatment planning procedure and to communicate with and educate the patient.
Dental wax was softened and gently applied to the buccal surface of the existing denture. This helped initially to evaluate how the "under contoured" lip support could be improved with treatment (Figure 5).
Treatment options were discussed at length with the patient to ensure that proper informed consent was obtained prior to the onset of treatment. These included the following:
Treatment undertaken without ortho-dontic therapy and acceptance of Class III malocclusion: removable cobalt chrome-based partial denture or implant-retained overdenture
Treatment undertaken including orthodontic therapy to correct the Class III malocclusion: removable cobalt chrome-based partial denture or implant-retained overdenture.
Orthodontic treatment combined with staged pre-maxillary block bone grafting to correct malocclusion and rehabilitation with implant-supported fixed bridgework.
The nature of treatment, along with the advantages/disadvantages, realistic expectations, risks, and prognosis of each option, was explained to the patient. The esthetic expectations were discussed and evaluated carefully, as these were a key patient objective.
The specific treatment objectives were to achieve:
A fixed prosthetic solution in a Class I mutually protected occlusion
A restoration that was easy to clean and maintain
Speech and labial esthetics maintained by achieving an ideal incisal position
Dental esthetics optimized by using the principles of the "golden proportion" to create harmonious tooth dimensions
No medical abnormalities were noted, and therefore, all treatment options were available. The patient's smile line was favorable, and he had accepted the use of some pink porcelain to optimize the gingival esthetics if necessary.


Figures 5A and 5B: Wax buildup using sheet of wax marked with indentation to illustrate the future tooth dimensions
The treatment plan included:
Stage 1
Construction of a diagnostic partial denture to test the labial support, tooth position, and smile lines for achieving optimum esthetic and functional results.
Stage 2
Orthodontic treatment to help to realign teeth in order to facilitate reorganizing the occlusion from Class II to Class I in combination with bone grafting.
Stage 3
A staged premaxillary block bone grafting (using a composite graft of allograft blocks, particulate xenografts [Bio-Oss® and Bio-Gide®, Geistlich] and a-PRF technique).
Stage 4
Implant placement surgery after a period of bone graft consolidation (6 months) using a CBCT-guided static surgical stent developed with the aid of the diagnostic denture used as a radiological stent.
Stage 5
Final prosthodontic rehabilitation with a fixed porcelain bridgework supported by Straumann® bone level fixtures, including bleaching and composite restorations to lower anterior teeth.
Stage 6
Follow-up and stabilization phase.

Figure 6: Orthodontic treatment was carried out to help reorganize the occlusion

Figure 7: The eight-unit screw-retained fixed porcelain-fused-to-metal bridge in titanium

Figure 8: An idealized occlusion was achieved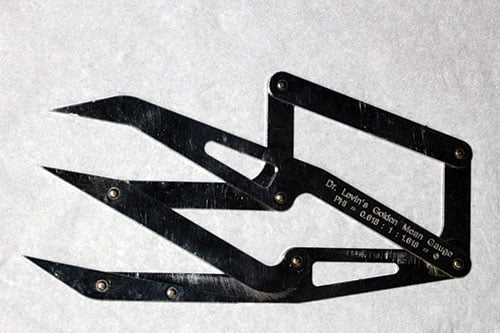 Figure 9: Dr. Levin's Golden Mean Gauge

Figure 10: Anterior teeth with Golden Proportion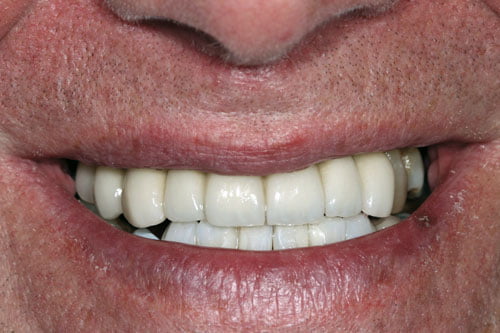 Figure 11: Teeth positioned in ideal curve in harmony with lower lip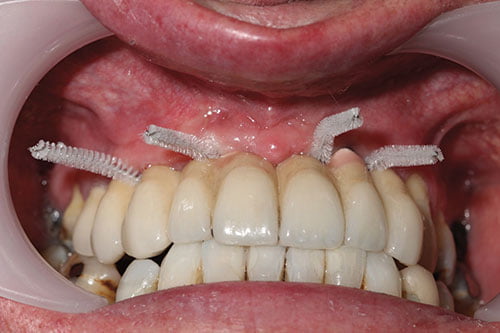 Figure 12: Optimal cleaning achieved with interdental spiral brushes (Curaprox)
Treatment pathway
The first stage was construction of a temporary acrylic partial denture to the assessed positions by an instant, simple wax-up technique. This achieved an edge-to-edge occlusion. Following this, orthodontic therapy was carried out in the lower arch (Figure 6) to retract the lower incisors and level the occlusal plate.
The aim was to achieve a Class I occlusion in the incisor region, rather than the less desirable Class III relationship present at the onset. While this was ongoing, the upper right premolar was extracted.
Further correction of the Class III skeletal relationship followed the extraction, with staged block grafting to the premaxilla using allografts, xenografts, and a PRF. Next, came a period of 6 months to allow osseous maturation of the premaxilla grafting site.
Five Straumann bone level dental implants were placed in restoratively driven three-dimensional positions using a CBCT-guided static stent. By this time, the orthodontic correction had almost been concluded, and the dental implants were restored as soon as possible with temporary crowns or bridgework, now that the lower incisal position had been determined.
The final stages of treatment included:
Definitive restorations for the dental implants (a splinted eight-unit screw-retained porcelain-fused-to-metal bridge) (Figure 7)
At-home tray whitening of all the residual teeth
Replacement of the discolored composite restorations in the lower anterior teeth using IPS Empress® Direct (Ivoclar Vivadent).
Conclusion
The esthetic, restorative, and functional objectives of the treatment plan were fulfilled satisfactorily:
The occlusion achieved was of an idealized, mutually protected, and centric relation-based occlusion (Figure 8).
Tooth dimensions were designed on the ideal proportions using Dr. Levin's Golden Mean Gauge (PhiPoint Solutions) (Figures 9 and 10). This instantly created a well-balanced esthetic smile (Figure 11) that allowed the patient to smile, eat, and be confident.
The fixed prosthesis was designed with access for cleaning aids as demonstrated in Figure 12.
The design of the pontic areas was maintained in close proximity to the alveolar ridge using a modified ridge-lap design. Larger spaces were avoided while still allowing for adequate access for plaque control purposes because experience suggests that phonetics can be adversely affected in the maxilla due to air escape.
Acknowledgments
Orthodontics was undertaken by Dr. Stephen Ward, consultant orthodontist. Implant surgery was undertaken by Professor Cemal Ucer. Restorative treatment was undertaken by Dr. Chris Wood. Laboratory work was undertaken by Impact Dental Laboratory.
Stay Relevant with Implant Practice US
Join our email list for CE courses and webinars, articles and mores