Dr. Robert M. Fleisher discusses how to mitigate general liability risks besides malpractice claims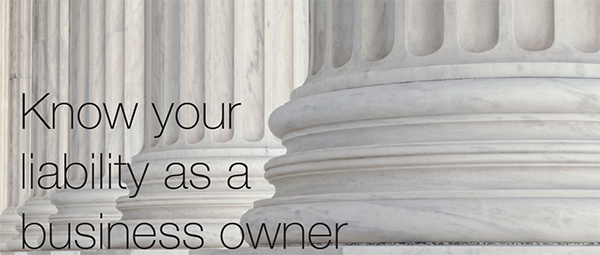 As small business owners, a category in which most of us as dentists fall, there are many rules and regulations we must follow. One area of importance that is rarely discussed has to do with our general liability to protect our patients, our staff, and our personal assets. Let's explore other areas of risk aside from malpractice claims that may help keep you out of trouble.
Innocent chores – major risk
Many practitioners find it convenient to have an employee run chores for them. These tasks range from making bank deposits to picking up supplies to transferring patient charts from one office to another. Some utilize the services of their assistants, secretaries, and office managers rather often. If possible, it is best to avoid any and all of these types of requests.
Here is a scenario involving an auto accident that takes place every day in one city or another all around the country. Mary is riding to the bank to make your daily deposit when a dog runs into her path (hopefully she wasn't texting). She veers off the street, onto the curb at the school bus stop where she kills three children, and four others are paralyzed to varying degrees; an unimaginable tragedy!
The families will sue Mary, and since she was acting as your agent when the accident occurred, they will sue you as well and win.
There is much temptation to use others to run chores, but try to do them yourself if at all possible. If an employee does have to run errands, make sure he/she has a valid license and automobile insurance of his/her own. Make sure whoever runs chores for you is responsible, not driving under the influence or distracted by his/her cell phones. You must make sure you have liability insurance as well since, as noted, you will be sued, too.
Purchasing an umbrella liability policy provides a large amount of coverage for little cost. Your umbrella policy should be between 5 and 10 million dollars. Get as much coverage as you can reasonably afford to protect yourself as best as you can in an unreasonable climate. Your umbrella policy is usually applicable to your home and offices as well, giving you an extra boost of protection against a lawsuit.
Personal liability
While your homeowner's and automobile insurance policies protect you from most personal injury claims, the bigger worries are the catastrophic claims that require the umbrella policy noted above. People slip and fall all the time. They often try to find an excuse for their misfortune by blaming others and exaggerating the claim. There are some protective measures that will keep your personal and business properties less risk-prone, and reduce the chance for a fall in the first place.
Tour your properties periodically to look for potential problems like defective pavements, potholes, loose carpeting, defective waiting room chairs, sharp edges, heavy objects on flimsy shelving, and any potential threats to the safety of visitors to your home and practice. Parking lots should be well lit and properly paved with safe and easy access to your building.
Periodically have a serviceman check the stability of your overhead lights and X-ray equipment. Equipment falling onto your patient can result in considerable damage and grief for all involved.
If you practice in a colder climate, make sure that icy conditions are managed appropriately with application of salt or sand, snow is removed in a timely manner, and any water that may result in slippery surfaces is attended to. Assign someone on your staff to be in charge of safety, and make sure that he/she develops a list that documents that he/she is doing the inspections regularly. Discuss your accident prevention program with your staff, and stress the importance of safety.
Make sure you have a protocol in place to manage emergencies, whether it's from a slip and fall, or a medical emergency related to patient care. Rather than running around in panic mode, each person should have a responsibility that allows for attending to the patient and a prompt call for emergency personnel.
During an emergency, it is not the time to run around looking for your emergency kit or checking the dates on the contents. With a well-run emergency program in place, there should be no sign of panic, and most other patients in your office will not realize that an emergency has occurred until the ambulance pulls up to your door. Having periodic emergency drills will allow you to handle most emergency problems in a professional and discreet manner.
The last thing you want is chaos, considering there will likely be several witnesses to what took place during an emergency. You don't want the plaintiff to show the jury how you were not prepared, and the resultant panic delayed timely and appropriate care resulting in further injury.
Vicarious liability
Anyone who works for you can pose a threat by any and all of his/her actions. This is called vicarious liability – liability incurred due to the actions of others. These actions can include having your secretary or assistant making suggestions for managing postoperative pain to an associate who provides patient care.
The rationale for vicarious liability is based on the legal concept respondeat superior. This model was developed many years ago and means that the master is responsible for the acts or omissions of the servant. This states that you are responsible for the negligent actions of your staff members, including associates and possibly even independent contractors who offer services in your practice.
To reduce your liability, it is imperative to define and control all work-related procedures, and supervise all staff members. Make sure you script exactly what you want your staff to tell patients regarding postoperative care and sequelae as well as any instructions you have auxiliary staff provide to patients. Having written handout information is the best way to make sure you control instructions to patients, and it makes it much easier for your staff to learn the exact contents of the handouts. This allows them to offer the same instructions verbally when queried by the patient.
A patient who sees your associate, the independent contractor, will likely sue you as well if a claim of malpractice arises unless you inform the patient of the independent status. Without this notification, the patient has good reason to believe that the associate is an employee under the supervision of the owner of the practice, and therefore, making the owner liable for the actions of the associate.
A notification of the independent status of the associate, on the patient registration/informed consent form that the patient signs, will help to reduce your vulnerability from the actions of the independent contractor. However, remember you are going to be held responsible for any of your regular associates if the plaintiff can prove that you should have been aware of the poor quality of the associate's work. How hard is it to subpoena several charts of patients your associate worked on to show a pattern of poor quality? Get rid of anyone who doesn't practice quality care.
Make sure you have vicarious liability insurance coverage. Require a certificate of insurance from all professional employees, and make sure you check yearly that they have paid up policies. You should be listed as an additional insured on their policy just as your associates should be listed as an additional insured on your policy. Examine all educational credentials of any employees requiring licensure, and make sure they have valid licenses.
Check references on job applications to make sure they are legitimate. Get written permission to contact an applicant's references, and have the applicant sign a release form authorizing former employers to provide references. Call all the names on the reference list, not just the top ones. Any question you ask a reference must abide by all non-discrimination laws. It's easy to be lazy about hiring, but the liability consequences can be enormous. Do your homework!
Protect yourself by employing these ideas. They will help make you bulletproof to lawsuits. Many people and lawyers are just waiting for the opportunity to file a claim. Don't let yourself remain vulnerable. Most of all, consult with your lawyer and insurance agent to help you properly institute the ideas contained herein.
This article is an excerpt from Dr. Fleisher's soon to be published, From Waiting Room to Courtroom – How Doctors Can Avoid Being Sued.
Stay Relevant with Implant Practice US
Join our email list for CE courses and webinars, articles and mores