Dr. Caplanis and his surgical staff preparing for implants
What can you tell us about your background?
I was born and raised in northern New Jersey to immigrant parents from Greece. I went to Rutgers University and majored in Math and Biology. I received my dental degree in 1991 from New Jersey Dental School, now known as Rutgers Dental School. I completed a General Practice Residency in 1992 at Englewood Hospital in Englewood, New Jersey, and then moved to Southern California to attend the 3-year implant dentistry residency program at Loma Linda University (LLU) from 1992-1995. After that, I completed a master's degree in Oral Implantology and a residency in Perio-dontics. I am happily married to my high school sweetheart for 25 years, and we have three wonderful children.
Is your practice limited to implants?
Not exactly. As a dual specialist and double-board certified by the American Board of Oral Implantology and the American Board of Periodontology, I am limited to both Implants and Periodontics and also perform some minor implant restorative treatment.
Why did you decide to focus on implantology?
I fell into it by accident. I had the privilege of having a famous implantologist as an instructor in dental school. His name was Dr. Norman Cranin. He would talk to me and a few of my classmates about this exciting, and to us, "new" field of implant dentistry that we never were exposed to in school. He encouraged us to attend his AAID-sponsored 1-year continuum MaxiCourse® in implant dentistry, which we did while still in our senior year in dental school. After graduating dental school, I was actually able to place a few implants during my general practice residency with one of my instructors, Dr. John Minichetti, which further increased my interest in implant dentistry and made me decide to focus my career on the specialty. That's when I applied and was accepted to the world-renowned implant dentistry program at LLU to study under another well-known implantologist, Dr. Robert James. The implant dentistry program at LLU has contributed to the education of some of the most influential practitioners in the field of implant dentistry today, including Drs. Jaime Lozada, Joseph Kan, Sascha Jovanovic, Istvan Urban, and many more. While there, I was fortunate to have Dr. Ulf Wikesjö, the postgraduate director of periodontics, direct my Master's thesis, which was on bone regeneration. Dr. Wikesjö is a well-known researcher in the field of periodontal regeneration, and he was the one that encouraged me to complete my third and final residency in periodontics. This training was an excellent adjunct to the implant and prosthetic training I received in the implant dentistry program.
How long have you been practicing, and what systems do you use?
I've been in practice since 1997 in Mission Viejo, California, which is in South Orange County. As a large referral-based practice, we use many systems. These include Nobel Biocare®, Straumann®, Zimmer Biomet Dental, Astra Tech, and Implant Direct. Our office uses Dentrix as our practice management software and Dexis™ for digital radiography. And we have the e-Woo double sensor CBCT unit manufactured by Vatech.
What is the most satisfying aspect of your practice?
Definitely my staff, some of whom have been with me from the very beginning. My office manager, Debbie, runs a smooth and drama-free office. My office administrator, Jeanne, takes care of our marketing, including social media, and puts a smile on my face every day. My hygienists, Maria and Marie, are great clinicians and understand periodontal disease better than most dentists. Marie also helps run our two study clubs. And my clinical staff, Jessee, Eric, and Zachary, keep our busy surgical schedule running like a well-tuned clock and at the same time create a fun working environment.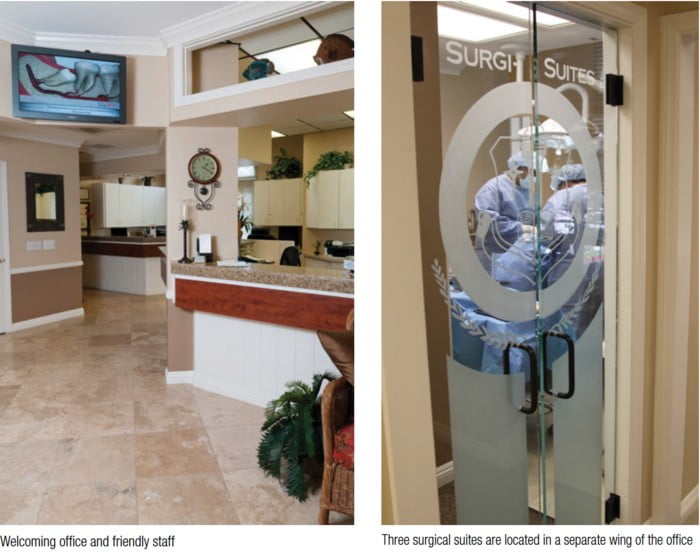 Professionally, what are you most proud of?
I am most proud of having served as president of the Orange County Dental Society, the California Society of Perio-dontists, and the American Academy of Implant Dentistry. I think I left a small but significant mark on each of those organizations for the better.
What do you think is unique about your practice?
My training in Prosthodontics during the LLU Implant Dentistry residency program has given me a unique background on prosthetic planning and treatment, which I think is appreciated by my referring doctors. We work as a team, but depending on my referring doctors' background and comfort level, I can help supplement the prosthetic planning and even treatment when needed.
Dr. Caplanis with his team
What has been your biggest challenge?
Keeping up with the furious pace of technological advances in the field of implant dentistry. Digital workflows, milling, printing, file merging, virtual planning, virtual 3D surgery, etc., are making it an exciting time to practice but also a challenge to keep up with the advances, not to mention the costs.
What would you have become if you had not become a dentist?
I remember telling people in high school that I wanted to go to dental school, so I'm not too sure what else I would have done. My Greek mother was always clear that I could be anything I wanted — a doctor, lawyer, or engineer. Anything!
What is the future of implants and dentistry?
In the near term over the next 10-20 years, it will be increased technology, including robotics. The days of human hands drilling into bone will be coming to an end. Virtual planning and virtual surgery will eventually lead to robotic controls, improving efficiency and safety by reducing human error. In the long term, 30-50 years from now, biologics and genetic engineering will replace the need for man-made substrates such as titanium altogether. We'll simply go to the dentist or perhaps the physician and get an injection that will turn on the genes that activate the embryologic cascade to biologically grow a new tooth or teeth when they are lost.
Dr. Caplanis lecturing to the local community on full arch implant reconstruction
What are your top tips for maintaining a successful practice?
Watch the overhead closely, but don't worry about making money. The money will take care of itself if you take care of your patients  as though they are your family. Be honest, truthful, and empathetic. The trust that patients grant us is sacred. Respect it. Continue growing professionally as well as personally. If your personal life is in conflict, so will your practice. Finally, find excellent staff members who share your vision for your practice and concern for patients. Pay them well to stay with you. And let go of "trouble" staff quickly and early. They are a cancer to the practice and the rest of the staff.
What advice would you give to budding implantologists?
Get the appropriate quantity and quality of education and training, and then practice within your expertise and comfort level. Join an implant organization that will provide this education and will also help promote your continued professional growth in the discipline. The American Academy of Implant Dentistry is a great group for everyone but in particular for general dentists who want to become proficient in implant dentistry.
What are your hobbies, and what do you do in your spare time?
Teaching is my main passion and one of my hobbies. I lecture across the country as well as abroad on various topics related to implant dentistry. When I do have some free time, I generally spend it with my family. We like visiting our daughter, Angelina, in Seattle who attends the University of Washington. We spend a lot of time watching our boys, John and Stephen, wrestle for their high school. My boys and I are also avid shooters. We like going to the range and do a fair amount of target shooting. And I also love cars. My two boys and I are looking forward to a 4-day trip to the Rubicon Trail four-wheeling with our Jeep® in July. And every once in a while, I'll take my Porsche® 911 turbo racing on a track through the local Porsche club.
Dr. Caplanis with his family
One of the doctor's hobbies is racing around with his Porsche® 911 turbo
Stay Relevant with Implant Practice US
Join our email list for CE courses and webinars, articles and mores