Making a difference in dental instruments for 70 years
It takes a solid foundation, continuous innovation, and a tremendous under-standing of the customer's needs for a company to go strong 70 years after it was started. In 1947, Karl Schumacher established Karl Schumacher Dental, LLC, and said, "I am only interested in two things — quality and consistency."
Those principals continue to be the focus at Karl Schumacher Dental, from the engineering of a high-quality dental instrument to personal, one-on-one relationships with dentists.
The legacy
From the early days of his career, Karl Schumacher was an innovator. He worked as a representative for German steel manufacturer, Krupp. During Mr. Schumacher's time with the company, he gained extensive knowledge of specialty steels. This led to an opportunity to work with an oral surgeon to create one of the earliest steel bone-plating systems.
Mr. Schumacher believed it was important to not just talk to dentists about the product, but to personally travel the country and call on dentists to understand their needs. He combined the knowledge he gained from dentists with his remarkable attention to detail for assurance of customer satisfaction.
Feel the difference
The legacy Mr. Schumacher left behind carries forward today with a rich tradition of experience. Seven decades after he formed the company, Karl Schumacher Dental provides dental surgical instruments and products that are used by leading dentists nationwide.
At Karl Schumacher Dental, the goal has been and continues to be for every dental practitioner to achieve greater procedural efficiency and optimum patient outcomes using the instruments. The company adheres to the strictest specifications when developing instruments.
The difference in Karl Schumacher Dental instruments is shown through the specialized engineering, research, and detailed craftsmanship applied to every instrument, from the award-wining Proximator™ to the RoBa™ Forceps. It is that attention to the craftsmanship that earned a Townie Choice Award 8 years in a row for the Proximator™ in the Oral Surgery and Implant Hand Instruments category.
Since the beginning, the company has created instruments by hand to provide precise detail. This method allows products like the forceps to have a more aggressive serration pattern, a more tapered profile to fit in tight spaces, and serrations that assist when applying rotational and axial forces.
Using the finest materials and devoting the time for a handcrafted design allow for the creation of finer tips, a better size, and unmatched strength. Quality materials led to the development of the RoBa™ Diamond edition forceps, which have a superior grip in all applications, including wet conditions.
At Karl Schumacher Dental, the focus on engineering always ties back to customer needs. As dental surgeons use the instruments, there is a responsive feel in the grip that enables a previously unreachable level of accuracy and less hand fatigue.
Designed to optimize office and procedural efficiency, Karl Schumacher Dental kits and sterilization cassettes provide everything necessary for specific diagnostic, restorative, and dental surgery procedures.
Dentists want their instruments to offer quality performance and productivity during each procedure. Karl Schumacher Dental works closely with esteemed dentists who share industry expertise for continuous improvement of instruments.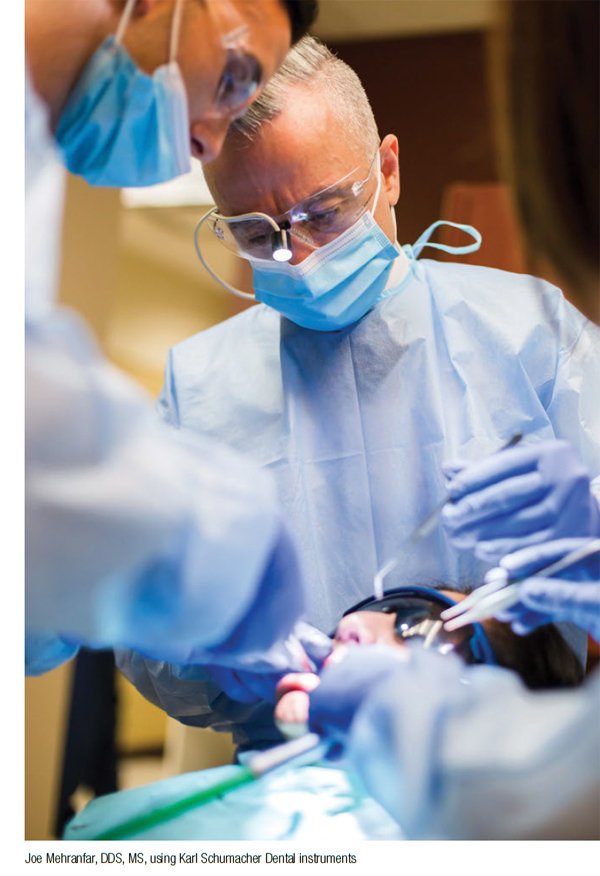 "You can only do the best work if you have the best," Dr. Jay Reznick, DMD, MD, said. "The best analogy is in the kitchen. If you're trying to cut a piece of steak with a cheap knife, versus a good knife, you can absolutely feel the difference. And the same when it comes to surgery. I think it's important to invest more upfront, because the return will come back multiple times over when you are more efficient with good instruments."
Instruments of a better grade
Karl Schumacher Dental collaborates with a prominent group of leaders in the dental industry for their valuable insight to develop innovative products that are responsive to the needs of dentists. These distinguished professionals are renowned for their work, and they generously consult with the Karl Schumacher Dental team on the development of new and custom-designed products.
The guidance and feedback from these key opinion leaders, combined with decades of high-quality engineering and craftsmanship, ensure Karl Schumacher Dental instruments are of a better grade.
Protecting a long-lasting dental instrument
Even with the finest instruments, proper care ensures it will be a long-lasting instrument.
Karl Schumacher Dental recommends using the Instrument Reprocessing Cycle. Once a new instrument is received, there should be an initial cleaning to remove any oils and compounds from manufacturing. With any stainless steel dental instruments, never use corrosive cleaning agents or abrasive cleaners.
Within 15 minutes of using the instrument on a patient, rinse the instrument. Then, remove any debris with a recommended, light detergent, and follow with cleaning using an enzymatic solution. Inspect the instrument for thorough cleanliness. If further cleaning is necessary, manually scrub the instrument with a nylon brush, and return to the cleaning process again. This process will maintain the high quality of Karl Schumacher Dental instruments.
A commitment to quality and consistency
It was Mr. Schumacher who said he's interested in two things: "quality and consistency." Seventy years later, the company he started continues to guarantee that quality with a warranty on all instruments, a sharpening and repair program, and a lifetime warranty on all dental extraction forceps.
When Mr. Schumacher visited dentists, he formed a commitment by signing his name to demonstrate he personally promises an instrument of the finest quality that is made to last. His signature remains the Karl Schumacher Dental logo to this day, as a continued commitment that the company stands behind every high-quality instrument and product.
This information was provided by Karl Schumacher Dental, LLC.
Stay Relevant with Implant Practice US
Join our email list for CE courses and webinars, articles and mores