Built to Last. Built for You. Built by Boyd!
Boyd's tag line is more than an attention-getting catchphrase: It signifies the commitment that everyone at Boyd makes to each and every one of its customers. From its team on the factory floor to its sales professionals in the field, the company is united in its passion for quality and customer service. It starts by listening to customers about ways to continually improve Boyd products to the consultative doctor-direct sales approach. By keeping the doctors and their staffs at the forefront of its actions, the entire Boyd team works in unison.
Founded in 1957 in Pinellas County, Florida, Boyd has been best known for the durability and reliability of its award-winning dental equipment products. Boyd has accomplished this by combining 60 years of design and manufacturing expertise to create personalized products that match the dreams of the doctors they serve. Over the years, Boyd has been known as a thought leader in the design and manufacture of exam and treatment chairs, delivery systems, and custom cabinetry for dental specialists.
The company has excelled at creating highly efficient yet esthetically pleasing office environments. The coupling of these two characteristics with a powerful reputation for producing high-quality and durable products has been the legacy of the company. Boyd has helped thousands of customers to work with confidence due to the reliability of their Boyd operatory equipment. The design concepts of its cabinetry, durability of its chairs and side units, and variety of office accessories help Boyd customers to be more competitive in the growing landscape of dentistry.
Leadership transition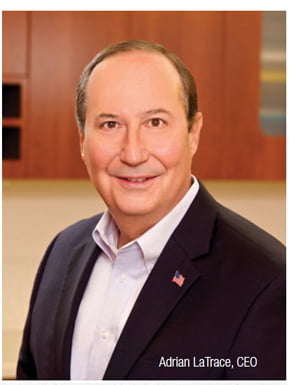 Boyd entered a new phase of its business development in 2012 when it was acquired by Adrian LaTrace, its current Chief Executive Officer. Upon joining the company, LaTrace set out on a plan to leverage his more than 20 years of manufacturing and construction experience to position Boyd for the future. Having held senior management and executive positions at companies such as Gulfstream Aerospace, Knowles Electronics, and Acciona Windpower, he learned the business requirements to produce highly reliable and technically complex products while keeping an eye on style and design. Since 2012, the company has assembled an entrepreneurial leadership team, invested in upgraded business and manufacturing computer systems, expanded its sales force, and achieved the ISO13485:2016 international quality certification. Each of these initiatives better positions Boyd for the future and continued growth.
Besides LaTrace, the company's leaders bring a wide range of skills and talents to the company to provide the professionalism needed to move the business forward. Although the diversified leadership team provides contrasting perspectives to meeting current and future challenges, it does share a common set of values — Integrity, Dependability, Innovation, Loyalty, and Respect — with which they lead their respective teams. By embodying a shared set of values, the team works together toward a singular mission to build highly reliable products that assist dental professionals provide high quality patient care.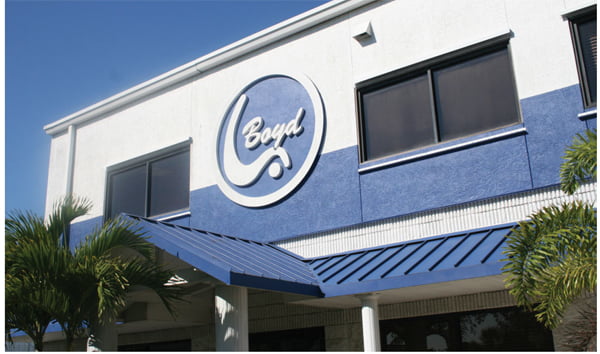 Dedicated sales force
Boyd's sales philosophy is to supply products and services that add value for its thousands of customers. To accomplish this, the company uses a doctor-direct sales approach to support its customers through a team of sales professionals across the country. This is unique and differentiates Boyd from many other office equipment manufacturers in the industry. By using this sales approach, as an original equipment manufacturer (OEM), the company can connect directly with its customers to build trust and confidence between them, the sales team, and the company products. The trust forged between Boyd and its customers in many cases has lasted for over 25 years.
Its network of Boyd sales representatives around the United States works directly with doctors and their staffs to design and specify Boyd products. This collaboration helps the customers to create unique office environments that bring their vision of the office to life. "My sales team and I find a great deal of personal satisfaction when we see a doctor's dream office turn into a reality with Boyd's help," says Kurt Schwarz, Boyd's Vice President of Sales. In addition to the in-field territory sales representatives, the company's Clearwater-based Account Management team supports practices outside of its sales representative's territories, international customers, universities, and government accounts.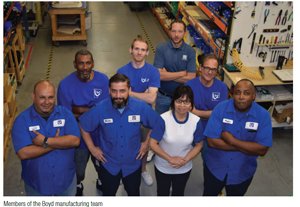 Each sales team member completes product, quality, and systems training at the Boyd factory in Clearwater upon joining the company. This way, the sales team member fully understands the methods used and reasons for the ways the products are manufactured and configured. Training continues after completing the factory training. This is accomplished by using a mentor system where a new salesperson is assigned an experienced sales mentor to help with questions and serve as an advisor once the new sales team member is working in the field. This way the customer gets the benefit of dedicated salesperson with support from a sales mentor and the Clearwater team.
Manufacturing process
The company can supply a complete suite of operatory equipment comprised of chairs, delivery systems, stools, exam lights, as well as office cabinetry for sterilization, labs, records, and other cabinetry for a busy dental office. All equipment and cabinetry is manufactured at its Clearwater, Florida, factory by a skilled team of technicians and craftsmen.
What distinguishes Boyd from other manufacturers is the company's capability to customize or "personalize" its products to meet the customer's functional and styling characteristics. This is accomplished by using a build to order/configure to order manufacturing system. This means Boyd does not prebuild products to stock, but instead using the MS Dynamics ERP business system processes the customer order in accordance with the details provided by the customer to the sales team member. As mentioned previously, Boyd's sales members are trained to assist doctors in deciding on the right product configurations for their practice. Once the doctor decides on the details, the information is entered as a quote that is presented to the customer for final approval. Using MS Dynamics, the approved quote is converted into a sales/manufacturing order that is submitted electronically to the factory floor. By employing a fully integrated cloud and premise-based business system, it reduces the chance of an order error and shortens lead times for the manufacturing process.
If the product requested is completely customized as in office cabinetry, Boyd has in-house designers to assist from concept to finished product. The company's designers use a 3D computer-aided design (CAD) system to provide the customers with drawings reflecting the look and dimensions specific to their office. The company offers a broad selection of cabinet laminate choices from Wilsonart®, Nevamar®, Formica®, and others that will meet the customer's styling and/or branding requirements. In addition, the company provides countertop solid-surface products from Corian and Silestone to complement the laminate selection.
Boyd's factory is organized as a vertically integrated facility. This means Boyd manufactures almost all components used in the finished product at the Clearwater factory. The production team cuts, sews, and attaches all upholstered items; has a high-capacity metal machining department to cut, mill, or turn the many steel components used in the chair products; welds and powder-coat paints steel chair frames and other metal subassemblies, thermoforms Kydex plastic used for covers and parts; and has a fully equipped cabinetry department with computerized wood-cutting equipment. The company believes by maintaining these important manufacturing processes in-house, it can better control the quality and availability of the many thousands of items it needs to produce its products.
Wide range of dental equipment products
Boyd has a wide choice of products for dental specialists. Boyd's products are specially designed for the dental specialist — orthodontics, oral and implant surgery, pediatric dentistry, endodontics, and others. The company still makes procedure chairs for legacy product lines such as dermatology and hair transplant markets but considers dentistry as its core market. All Boyd medical device products — dental exam and treatment chairs, surgical tables and chairs, delivery systems, and exam lights — are listed with the FDA and have passed either ETL or UL electrical and safety standards certification. This is an important distinction when investing in equipment for dental office or clinic.
The Orthodontic products line features an array of exam and treatment chairs, side delivery units, exam lights, stools, and other accessories. The flagship products in the orthodontic line are the M3000LC Treatment Chair, M3010LC Exam Chair, CSU356FLM side delivery unit, and C300 Exam Light. These products have become the mainstay of hundreds of orthodontic offices across the country.
The Oral and Implant Surgery product line is comprised of surgery chairs and tables, operatory carts, and surgery light. Among these products, the S2614 and S2615 procedures chairs are the most popular with oral surgeons. These chairs are similar in configuration with the S2614 being a drop-toe version of the S2615 fixed-toe model.
The Pediatric Dentistry product line includes the M3000CB Treatment Chair, PB4001 Pedo Bench, standard and custom rear delivery units, and recently introduced Concealed Delivery Unit. Boyd's products offer options for doctors who may see a wide range of age groups.
Introduced at last year's AAPD show, the Concealed Delivery Unit is unique because the delivery system can be hidden within the cart prior to and after procedures. Since the CDU's launch, the company has seen demand for the system increase particularly with pediatric dentists. According to Adrian LaTrace, "The CDU was created out of our intimate understanding of the needs of pediatric dentists. This started by listening to their needs and designing a product to meet them. The CDU is a perfect example of this collaboration."
What's next at Boyd?
LaTrace and his team are proud of their recent accomplishments but remain focused on Boyd's future. He sees the dental specialist market continuing to expand particularly in implant surgery and pediatric dentistry. The demographic shift underway with the population of baby boomer retirees increasing bodes well for the dental implant market. With innovative technologies to make implant surgery more efficient and convenient, this segment of the dental industry should see many more years of growth. The pediatric dentistry market will grow due the heightened focus on good dental hygiene at a younger age. As millennials and other recent generations become parents, they want to assure their children receive the benefits of good dental care. LaTrace sees Boyd well positioned to meet the needs of these growing markets.
In 2017, the company entered the endodontic market launching its first treatment chair product, M3100LC, specifically designed for endodontists. Like all the company's other exam and treatment chairs, the M3100LC was designed using proven technology for reliability and ergonomics. The Boyd team sees the endodontic market as a natural extension of the company's support of dental specialists. The company will attend AAE 2017 to introduce the new product.
Beyond the domestic market, Boyd plans to grow its international customer base. The company currently exports to Canada and several European Union countries and sees an opportunity grow its international business in the coming years. Achieving ISO 13485:2016 certification was an important first step toward this goal. The ISO certification helps the company to meet the regulatory requirements of many of the countries in which it intends to market its products.
In short, Boyd looks to strengthen its market leadership in the specialty dental market both in the U.S. and abroad. There is excitement at Boyd about the future of the company. The team looks to hold true to its legacy for producing durable, innovative, and customized equipment for the next 60 years. Built to last. Built for you. Built by Boyd!
This information was provided by Boyd Industries, Inc.
Stay Relevant with Implant Practice US
Join our email list for CE courses and webinars, articles and mores