Implants — the intersection of science and art
What can you tell us about your background?
I'm originally from Mexico City, and I moved to the United States when I was 14. I graduated from the University of San Diego with a BA in biology and a minor in chemistry and art. I realized in college that I loved the intersection of science and art. That took me to Tufts University School of Dental Medicine, and later the Advanced Education in General Dentistry Program from Lutheran Medical Center in Rochester, New York.
I had lived in Colorado prior to coming back to practice dentistry there. I bought my first practice in 1997. After selling my practice in 2015, I acquired my Affordable Dentures & Implants practice in Aurora, Colorado, at the beginning of 2016.
When did you decide to focus on implants, and why?
As a general dentist with a focus toward implantology, I decided that I needed to find a course that allowed me to really dive in and learn, so around 2012, I attended an Implant Seminars course with Dr. Arun Garg. My wife was battling cancer around that time, and I had to delay some training, but I finally got the opportunity to begin placing implants in my practice around 2013. And today, thanks to my Affordable Dentures & Implants practice's niche focus on tooth replacement, I get to present the implant opportunity to every patient who walks in my door.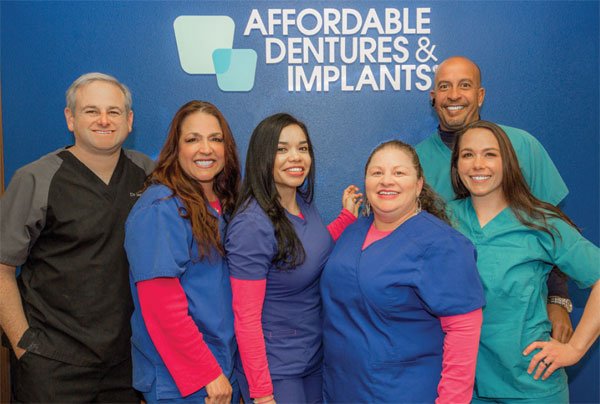 I am a Fellow with the International Congress of Oral Implantologists and the American Academy of Implant Prostho-dontics. I'm also proud to be part of the International Dental Implant Association fellowship and the Colorado Prosthodontics Society, where I can stay focused on continuing education and adopt a progressive stance on implant restoration techniques.
Is your practice limited solely to implants, or do you practice other types of dentistry?
We're exclusively focused on tooth replacement — implants, dentures, partials, and extractions. We do offer single-tooth systems with crowns, but most of my implant patients are full-arch cases. It is a great environment for a dentist who has a keen interest in implantology.
Why did you decide to focus on implant dentistry?
It is an exciting science. It's also exciting to be able to tell a patient that he/she has more options than simply cutting perfectly sound teeth or fitting a denture. No matter the patient's situation, the possibility exists that we can still fix their teeth and restore their mouth to normal function and appearance. For me, that is one of the coolest things.
To be able to give patients the opportunity to stabilize that lower denture or to get rid of the palate so a patient can eat, taste, and feel normal again — that's pretty cool. Very few professions have that kind of impact on people.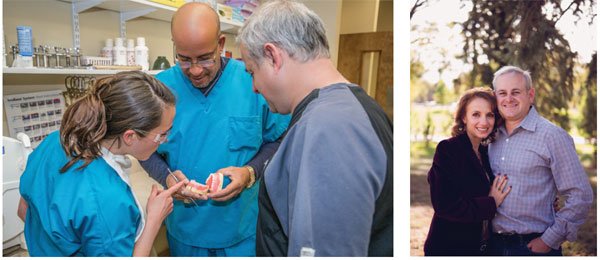 Do your patients come through referrals?
Since my practice is new, a lot of patient flow does come from advertising to edentulous patients. We're fortunate to be located in a visible, well-trafficked area. In the Aurora market, I observe lots of dental shoppers who want to know what makes a practice unique, and for us, that's easy — we're able to talk about our on-site lab or our low implant fees.
How long have you been practicing implant dentistry, and what systems do you use?
I have practiced implant restoration since 1995 with a number of systems, such as Nobel Biocare®, BioHorizons®, Straumann® and others. Today, I place BioHorizons implants and love working with their guided surgery kit. To me, the biggest difference between many of these systems today is cost, and I spend a lot of effort working to pass those savings along to the patient. So we're doing it for half the cost of other providers, while still going with a really reputable company we can stand behind in BioHorizons.
What training you have undertaken?
In dental school during the 1990s, we had an arrangement to learn on the Brånemark system, which was a great opportunity early in my career. Beyond my Implant Seminars course, I've studied with Dr. Virgil Mongalo and Dr. Justin Moody. I'm always looking to do more hands-on coursework with implants. The only way you get good is through repetition and focusing on more complex cases.
Who has inspired you?
I always have had my family's backing. My wife always backs me up, and I strive to be successful as my dad, so I can support my kids the way he did.
Professionally, I listen to as many people as I can. You have to learn a little bit from everybody. There are people out there who have a great reputation, but when you listen to them, you're not impressed. I like to learn from somebody who shows me his/her mistakes. I can show you some amazing cases, but I want you to learn from my mistakes. That's the best kind of teacher you can get.
What is the most satisfying aspect of your practice?
Today, it's the fact that we are able to help a lot of people who maybe don't have the financial means, but who need help and are interested in implants. Finances don't have to restrict you anymore.
Professionally, what are you most proud of?
We're helping people with critical needs. I'm most proud of my reputation among patients and colleagues. Being able to say, "I know I did the best I could on this patient," is a rewarding feeling. And I don't take anything for granted.
What do you think is unique about your practice?
Thanks to our on-site lab, we can give someone a denture in 1 day. In Colorado, hardly anyone can do that at an affordable price. I'm most proud of creating that unique opportunity for patients. They say, "Wow, my last denture took a month." Even our highest-end denture, the UltimateFit, can be done in 1 week at most.
What has been your biggest challenge?
I strive for perfection, but perfection doesn't exist. I want to be able to sleep at night and be comfortable but am never willing to cut corners. So many dentists aim for the intersection of affordability and quality yet fall short, but achieving both is the standard in my practice.
What would you have become if you didn't become a dentist?
I would have been an architect! My dad was an architect, and most of the people in my family are architects. I even applied to architectural school. I'm glad I didn't do it because I love what I'm doing now.
What is the future of implants and dentistry?
My point of view is that implant dentistry should be the standard of care for a broken tooth that is not restorable or maybe has been restored multiple times. I am excited about the science of implants and what's possible. I hope that in the future, we get implants that better mimic natural teeth.
What are your top tips for maintaining a successful specialty practice?
Implant dentists must keep up with the technology. Any dentist that's placing implants ought to consider using a cone beam, especially to utilize surgical guides. We also have a Denture Satisfaction Guarantee and a Craftsmanship Warranty for all our dentures. I'm proud of my lab, and we stand behind our work.
What advice would you give to a budding implant dentist?
Learn implantology, practice it, get good at it, and do a lot of CE. Don't take a weekend course — go live it. Live training is so critical. I was confident coming out of my training course, so I placed more than 80 implants in my first year. I started placing the same month as live training — I ordered all my equipment and then scheduled that first case quickly.
What are your hobbies, and what do you do in your spare time?
Spending time with my family is important to me. I have two boys, Max and Marc. I've been married to my wife Regina for 16 years. I like to play golf and soccer, and I'm a huge Broncos fan. And of course I like to ski — I live in Colorado for a reason.
Stay Relevant with Implant Practice US
Join our email list for CE courses and webinars, articles and mores