This new division of HSD is the only company with the ability to be the sole provider for an oral surgery or periodontal practice
For nearly 80 years, Henry Schein Inc. has been North America's most reliable resource for dental supplies, dental equipment, and dental financing services.
Now, with an increased focus on bringing more comprehensive services to oral and maxillofacial surgeons and periodontists, the worldwide distributor of dental products serves the specialized needs of oral surgeons and periodontists through its new division, Henry Schein Dental Surgical Solutions (HSDSS). The division is the first and only provider of every product that an oral surgery or periodontal practice needs to maintain and grow a surgical practice. In addition to products, HSD Surgical Solutions is a partner to the surgical specialist by delivering innovative and personalized business solutions that make a measurable difference for both surgeons and their referrals.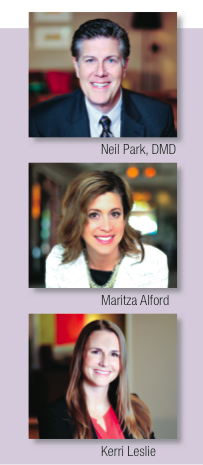 Neil Park, DMD, general manager of Surgical Solutions, describes, "Many surgical specialist customers are not aware of our extensive offerings. In addition to basic supplies, we carry pharmaceuticals, equipment and technology, financing options for doctors and patients, consulting services, office design, architectural services, implants, bone grafting materials, and many other specialized products for the surgical practice."
Dr. Park adds, "Henry Schein Dental is already a proven partner for general dentists, but specialists have specific practice requirements. As a result, we created Surgical Solutions, with a whole new team and a specialized focus, and with a growing team of representatives concentrated only on serving the entire spectrum of specialists' needs." The Surgical Solutions' team is dedicated to bringing quality technology and products to the specialty office in a convenient and efficient way. Dr. Park notes, "We will prove that we can meet the needs of oral and maxillofacial surgeons and periodontists. These professionals typically purchase their products from a variety of vendors — drugs from one company, implants from another, bone-related product from yet another. We can streamline that process while providing additional value to the practice. Our surgical sales consultants will become a part of the team in surgical practices and help to bring our customers' practices to higher levels of clinical and business success."
Surgical Solutions' representatives are equipped with strong backgrounds in surgery and implant dentistry, leading to a greater understanding of dental procedures, and therefore the products and tools necessary for effective treatment planning and successful outcomes. Reps provide much more than advice on surgical items. They also have an understanding of the special requirements of oral surgeons and periodontists and have keen perception of how to analyze a business to help it grow. Consultations with specialists are complimentary, an added perk of becoming an HSD Surgical Solutions' customer.
Another aspect of the relationship between Surgical Solutions' representatives and specialty clinicians is the reps' referral base network. The Henry Schein Dental team has spent years understanding the General Dentistry Practice and making a measurable impact in their customers' practice. Surgical Solutions field representatives connect with their counterparts from the General Practitioner division and help put specialists in touch with more referring GPs. Surgical Solutions customers can also employ proven Henry Schein business tools to attract, retain, and grow referrals.

A team of dedicated, experienced professionals bring their individual expertise to lead this new division. Dr. Park is a dentist with 19 years of experience with Nobel Biocare, a global leader and pioneer in implant systems. Dr. Park notes, "The importance of offering focused services to oral and maxillofacial surgeons and periodontists is a strategy that has received tremendous support from the very top of Henry Schein's executive team. George Guttroff, president of the Dental Specialties Group, and I have worked together very closely to bring this new division to fruition."
Kerri Leslie, the new head of marketing, brings her 9 years of experience in the medical field to spread the news of the expanding endeavor. The knowledgeable and enthusiastic sales team, which has already doubled in size, brings expertise across a gamut of categories. National Director of Sales, Maritza Alford brings her extensive management experience from within the Henry Schein group. Todd Colvin, who directs sales in the Eastern region, spent many years with the implant giant, Zimmer, before joining Camlog/Henry Schein 6 years ago. Donald Boyd, regional manager for the Central region, spent 16 years with Nobel Biocare. Scott Ryan, Area Sales Manager of the Western region, has held various sales and marketing leadership roles over the past 12 years in the implant/dental industry. Robert Riley, CDT, will serve as Director of Training and Technical services, from a new technical resource center in San Antonio, Texas, that answers technical questions related to any product offered by the group. Riley has extensive experience that includes several key positions in the implant and orthodontic industries.
Henry Schein has made a continuous effort to provide innovative and specialized products to the surgical specialist through acquisitions and strategic partnerships. HSD owns OMS Vision®, which is a leader in practice management software for oral surgeons. OMS vision is committed to continuous improvement and evolution of their software to meet the needs of the modern oral surgeon. OMS Vision has had an exclusive partnership with the American Association of Oral and Maxillofacial Surgeons for more than 10 years, and through this partnership, OMS vision has developed a fully integrated implant tracking module and implant inventory management system.
For implant-focused practices, Surgical Solutions offers its oral surgeon and periodontist customers the tools and materials for a successful and less stressful implant experience. This division is a solution provider in tooth replacement therapy options.
For example, Henry Schein has entered into an exclusive distribution relationship with Osstell. Osstell specializes in instruments for analyzing dental implant stability. Osstell ISQ, measures the stability of implants in an objective, non-invasive manner using the universal ISQ scale (Implant Stability Quotient). The ISQ values help dentists determine the optimal time to load each implant. Also, by detecting decreasing stability, Osstell ISQ can help prevent failure caused by premature loading. Over 550+ studies and 10 years of clinical experience around the world confirm the usefulness of Osstell ISQ for dentists and surgeons.
Also, Surgical Solutions is the U.S. distributor for the Camlog implant system. As the market leader in Germany, Camlog systems are known for their extremely high precision, surgical simplicity, and excellent restorative flexibility. Camlog® Screw-Line Implants are tapered, and suitable for immediate, late, and delayed implantation. The self-tapping thread provides a continuous grip on the bone and high primary stability. A new implant system, called Conelog®, has the same outer geometry as Camlog, with the added benefit of the proven conical connection. The conical internal configuration of the implant in conjunction with the Conelog® abutments allows integrated platform switching. For more convenience, both systems use the same surgical instrument kit.
With Surgical Solutions' CAD/CAM options, specialists can explore the advantages intraoral scanners from PlanScan (formerly E4D), 3M™ ESPE™, and 3Shape. Digitally recording the position of the implant during placement greatly simplifies the restorative procedure. "We will be offering the scanning equipment, the scan bodies, and everything else needed to incorporate the technology into the surgeon's implant practice," says Dr. Park. In the fall, Surgical Solutions will be launching a nationwide program to introduce this technology to surgeons through a series of courses to help bring the equipment, concepts, and training into the practice.
Surgical Solutions also offers a full line of imaging products, including the DEXIS digital X-ray system, with its state-of-the-art DEXIS® Platinum sensor and intuitive, easy-to-use imaging software. The single-sensor system has remarkable image quality, is direct USB portable, and automatically saves, dates, and tooth numbers, and correctly orients the image when the sensor detects radiation. For a busy office, the One-Click-Full-Mouth series makes it possible to reduce a 25 minute FMX procedure to 5 minutes. The DEXIS go, a companion app to the DEXIS Imaging Suite software, functions as an imaging hub, displaying all images within the patient's record, and allowing the clinician to communicate with patients using an iPad®.
For those specialists who want to add an additional dimension to their imaging and obtain three dimensional data and greater precision for surgical procedures, Surgical Solutions offers many brands of CBCT units. Henry Schein Dental is the exclusive distributor in the U.S. of the award-winning i-CAT® (Imaging Sciences International) brand of cone beam 3D imaging. The company's i-CAT® FLX, can help clinicians to quickly diagnose complex problems with less radiation* (i-CAT has data on file) and develop treatment plans more easily and accurately. The i-CAT FLX offers 3D planning and treatment tools for implants, restorations, oral and maxillofacial surgery, orthodontics, TMD, and airway disorders. The SmartScan STUDIO™ touchscreen interface promotes ease-of-use and flexibility, and Visual iQuity™ image technology provides i-CAT's clearest 2D and 3D images. The most compelling part of this system is that specialists can gain all of the benefits of CBCT imaging, and with the QuickScan+ feature can capture a full-dentition 3D scan at a lower radiation dose than a panoramic image. Tx STUDIO™ optimized treatment planning software provides immediate access to integrated treatment tools for implant planning, surgical guides, and other applications.
All of these quality products demonstrate that state-of-the-art technology is a priority at Surgical Solutions. Dr. Park describes, "Henry Schein is a market leader in the distribution of X-ray equipment, CBCT scanners, and intraoral CAD/CAM units, so we understand how they work for the specialty practice." He adds, "For instruments, we offer the full line of Hu-Friedy and other quality instrument makers, and we also have the Henry Schein brand of value-priced instruments. Our representatives are a veteran team, and they are using their experience to implement business solutions that make the surgical practice more profitable and efficient, allowing our customers to focus on patient care. Henry Schein works hard to epitomize this motto: 'Take care of your patients, and we'll take care of the rest.'"
This information was provided by Henry Schein Dental Surgical Solutions.
Stay Relevant with Implant Practice US
Join our email list for CE courses and webinars, articles and mores