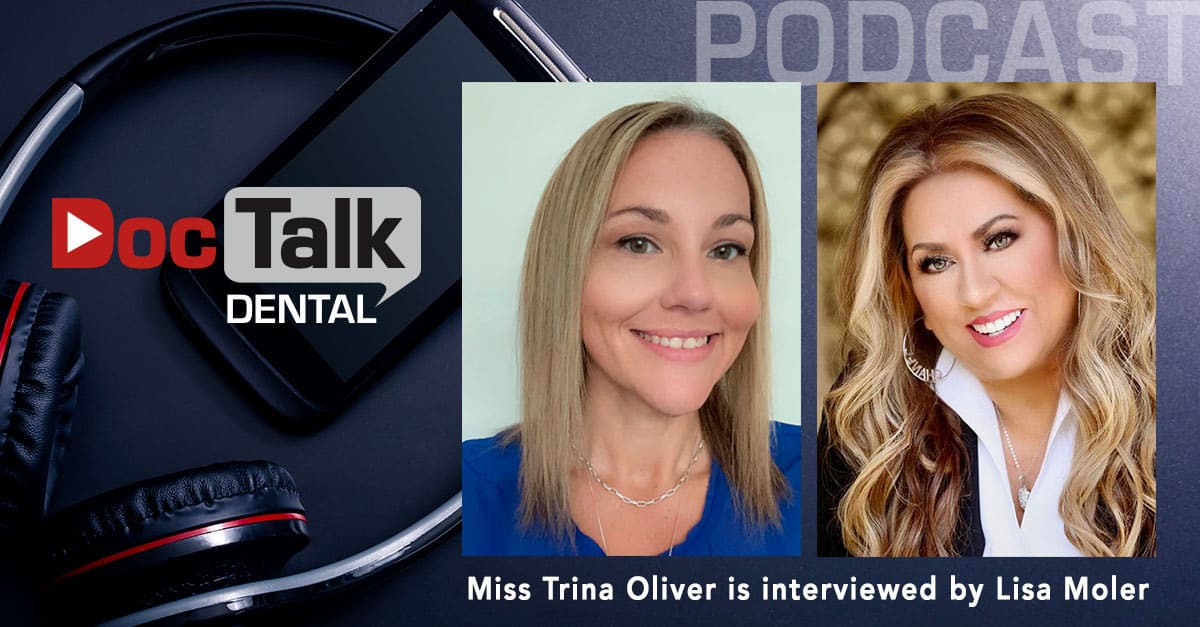 In this episode of DocTalk Dental, Lisa Moler talks with Trina Oliver, Vice President of Medical Billing for Vivos Therapeutics, Inc. Her over 10 years in the Medical Billing Industry give her a unique perspective on a wide range of topics including barriers when billing to medical, meeting the criteria for medical necessity, what to do if a claim is denied, and how utilizing a medical billing service can be key to get maximum reimbursement.
Vivos Therapeutics Inc. (NASDAQ: VVOS) is a medical technology company focused on developing and commercializing innovative treatments for patients suffering from sleep disordered breathing, including obstructive sleep apnea (OSA). Vivos believes that its Vivos System technology represents the first clinically effective non-surgical, noninvasive, non-pharmaceutical and cost-effective solution for people with mild-to-moderate OSA. Combining technologies and protocols that alter the size, shape, and position of the tissues of the upper human airway, the Vivos System opens airway space and can eliminate or significantly reduce symptoms and conditions associated with mild-to-moderate OSA.
The Vivos System has been shown to significantly lower Apnea Hypopnea Index scores and improve other conditions associated with OSA. Sales of the Vivos System are driven by the Vivos Integrated Practice (VIP) program, which offers dentists training and value-added services in connection with their use of the Vivos System.
Trina Oliver
Trina Oliver has been in the Medical Billing Industry for over 10 years. She holds a CNMT in Nuclear Medicine specializing in Phlebotomy and EKGs as well as a Bachelors in Healthcare Administration and Management. Trina holds the title of Vice President of Medical Billing for publicly traded company Vivos Therapeutics, Inc. She also manages the Billing Intelligence Service a sub department of Vivos successfully billing medical payers for dentists across the country. She also heads up AireO2 within Vivos, an Electronic Health Record Cloud Based Software dedicated and customized by dentists for dentist. Her Medical billing experience includes Dentofacial/ Sleep Billing, TMJ/TMD, Oral Surgery, Myofunctional Therapy, Mental Health and Substance Abuse, with a heavy focus in Medicare and DME supplier billing and procedures.
HOST LISA MOLER
CEO/FOUNDER OF MEDMARK, LLC
Over an entrepreneurial career that spans over three decades, Lisa has grown a reputation as one of the dynamic forces in the American publishing industry. She began her advertising career by managing print and electronic media sales representing iconic media brands AZ Visitor, Phoenix Magazine, KTVK TV 3, Primedia, among other notable companies. She launched her dental marketing career over a decade ago with AZ Doctor of Dentistry, which she successfully published for over six years, before launching her current 4 other niche dental publications.
After founding MedMark, LLC in 2005, Lisa has launched numerous dental specialty publications that include Endodontic Practice, Implant Practice, Orthodontic Practice US, and Dental Sleep Practice magazine. As MedMark's CEO/founder and publisher, she leads the company's business strategy, while cultivating business development opportunities and establishing strategic industry partnerships.
Her high energy and extensive sales, marketing, and advertising experience combine to build a culture of performance, respect, trust, and collaboration.
Stay Relevant with Implant Practice US
Join our email list for CE courses and webinars, articles and mores