Dr. Daniel Driskill of Affordable Dentures & Implants has achieved his goal of treating the whole patient instead of one tooth at a time.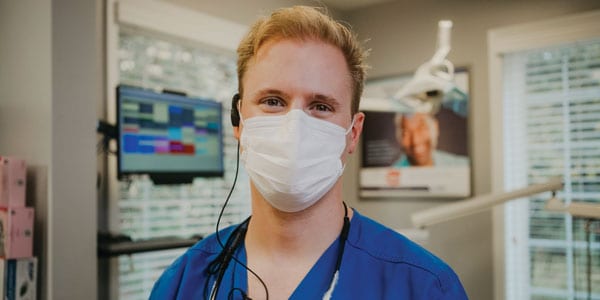 Seeing that first smile
What can you tell us about your background?
I grew up in a small town in the foothills of North Carolina called Mount Airy, the hometown of America's favorite sheriff, Andy Griffith. My parents and grand-parents instilled in me the importance of hard work and dedication — my mother and father attended night school to become a registered nurse and industrial mechanic, respectively. I learned by their example and am gratified to be able to provide top quality healthcare like my mother and work with my hands like my father.
Ever since the eighth grade, I knew I wanted to be a dentist. I started out by shadowing the local dentist in my small town of Mount Airy, North Carolina, and was convinced I'd end up being the neighborhood dentist one day. I went to community college before moving on to UNC Chapel Hill, and from there went to dental school at the University of Maryland in Baltimore. While I was in college, I met my wife. We spent 5 years in Maryland but always wanted to come back home to North Carolina.
After I completed a 1-year general practice residency in York, Pennsylvania, in 2013, we moved to Raleigh, North Carolina, where I began my career as an associate in general dentistry. It was during this time that I really learned how to talk to people, how to empathize, how to relate, and how to build rapport. I decided to venture out on my own, so I bought an existing general dentistry practice. However, implants had always been part of my treatment-planning philosophy, and I was limited in what I could offer my Medicaid patients.
A few years later, I received an email from Affordable Dentures & Implants (AD&I) with an opportunity to become a practice owner, which would allow me to deliver dentures and implants on a daily basis. I shadowed a fellow practice owner and fell in love with the work there. I have been a practice owner with AD&I for over a year now, and it's awesome. This practice proudly has nine operatories, five dental assistants, two front desk assistants, a practice manager, five laboratory staff, and three dentists, including me.
I get to do what I love to do every single day.
When did you become a specialist, and why?
After 8 years in general dentistry, I witnessed many successful cases, but there were many failures too. There are a number of reasons behind these failures, but the main cause is often a patient's lack of self-care and routine dental visits. Dentures minimize a patient's neglect and, ultimately, provide that patient with a beautiful smile.
I'm blessed with the opportunity to limit my practice to offering extractions, dentures, and implants. In essence, it's the simplicity of it all. I love that I get to treat the whole patient instead of one tooth at a time.
Why did you decide to focus on implant dentistry?
I believe it's the standard of care for tooth replacement. We haven't been able to come up with anything better yet.
Do your patients come through referrals?
We have a lot of word-of-mouth referrals. AD&I has a fantastic marketing team, and we have great brand recognition in this area. My practice has been here since the 1970s, so people just know it. Years ago, right after I graduated, I was practicing general dentistry about 5 miles down the road, and I actually referred several patients to this office. I knew that AD&I was able to turn around a denture in a day, compared to the majority of specialists with outside labs where it takes multiple appointments and 6 weeks for a denture to be delivered. After receiving positive feedback from the patients I referred, I ended up referring even more patients to AD&I.
How long have you been practicing implant dentistry, and what systems do you use?
I have been practicing implant dentistry since 2012. In my residency program, I started out using Zimmer, and when I went out into private practice, I learned about Implant Direct™. Here at AD&I we use BioHorizons®.
What training have you undertaken?
I did most of my implant training during my residency. I've also trained with Bicon® Dental Implants (hands-on practical course); Glidewell (CBCT-guided surgery, complete dentures: clinical procedures, principles of implant occlusion, incorporating sleep medicine into your practice, full arch implant placement — the healed ridge); and the Seattle Study Club® (alternative therapies for TMJ disorders, airway and obstructive sleep apnea, doctor-ceramist communication).
Who has inspired you?
I worked for Dr. Chris Martin in Raleigh, North Carolina, and he was the one who opened my eyes to see that it's really not a single-person circus. His philosophy was to rely on the team — to hire the best of the best, to compensate team members well, to really empower them, and to rely on them to confidently discuss treatment options with patients. I also had the pleasure of working with Dr. Jim Bohn, whose philosophy was based on the Golden Rule. Treat others how you want to be treated. Think about what you would want if you were the patient.
What is the most satisfying aspect of your practice?
The smile. That first smile.
I love when patients come in, and we begin with extractions. At first, it's an unpleasant experience, but it's nothing that we can't get them through. And then when we put that denture in, hand them the mirror, and stand back, that's when we get to watch patients see themselves for the first time.
Professionally, what are you most proud of?
Being able to walk into a room with a patient and to confidently, and with good precision, say exactly what I think would improve his/her life the most.
What do you think is unique about your practice?
First, we try our best to focus on the whole patient and again, to get away from the one-tooth-at-a-time scenario. I believe that nature loves symmetry. If we can mimic that in the patient's mouth, we will have a more stable prosthesis. If patients come in and say that they want a whole section of teeth removed on one side and a partial denture, I try to talk them out of it.
Second, we try to think ahead here. If a patient has healthy teeth but wants to replace missing teeth with implants, I try to set those implants up in such a way that if the natural teeth fail 5 to 10 years down the road, we can transition to a different type of prosthesis later on.
What has been your biggest challenge?
I put a lot on my staff. Setting expectations that are less than my own expectations has been challenging for me. I work closely with staff members to get them to a place where they can present treatment plans for 90% of our cases.
What is the future of implants and dentistry?
Implants will become the standard of care for tooth replacement. I believe they will replace the fixed partial denture and will take over a larger segment of the market than root canals. In fact, many endodontists are placing implants now. We will get to a place where implants will be affordable for all and replace the denture.
What are your tips for maintaining a successful specialty practice?
Keep it simple. Nature loves symmetry. Tell people what they need, and give them what they want. Practice the Golden Rule.
What advice would you give to a budding implant dentist?
Start with the end in mind. Be mindful of what the final tooth replacement or prosthesis is going to be.
What would you have been if you didn't become a dentist?
An airline pilot.
What are your hobbies, and what do you do in your spare time?
I like to build drones. It's a lot of fun to put those goggles on and watch the trees just fly by. It's pretty spectacular.