Sandra Marlowe discusses how a digital health firm is taking on the stress pandemic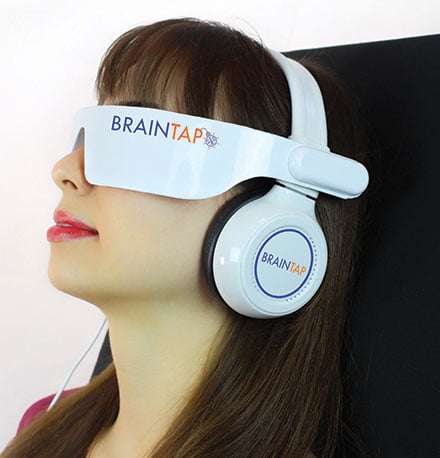 Patient wearing BrainTap headset
"Growing up the son of an alcoholic was the greatest blessing of my life," says Dr. Patrick Porter, founder of BrainTap Technologies, a company with a mission no less audacious than Empowering Humanity.
His goal started in the 1970s, long before stress was the devastating malady it is today, when Porter's father, in one of many desperate attempts to conquer his alcohol addiction, attended an AA-sponsored relaxation seminar and learned how to calm his racing mind. It worked so well, he decided to teach it to his nine children.
Dr. Patrick Porter, founder of BrainTap "At age 12, I was a struggling student and storied troublemaker," says Porter, "but I dreamed of being a great football player. Sports is how my dad got me hooked on his method. That year, I recorded my first visualization on a cassette recorder and used it for myself daily. I went on to become a three-sport captain in track, wrestling, and football, as well as an honor roll student."
Patrick K. Porter, PhD, has since been on the leading edge of personal performance technology and is an expert at teaching people to lead a stress-free lifestyle. He is the author of six books, including his popular Thrive in Overdrive and How to Navigate Your Overloaded Lifestyle. Porter and his technology have been featured in The Wall Street Journal, People, Entrepreneur, and Inc. magazines and on ABC, NBC, CBS and the Discovery® Channel. He is head of mind-based studies at the International Quantum University of Integrative Medicine and is a licensed master trainer of Neuro-Linguistic Programming.
The solution to 21st-century stress
"In today's society, people are faced with new kinds of stress," says Porter. "With technology taking up every free moment, the human brain is no longer given a chance to relax and reboot."
A well-known way to achieve stress reduction is through meditation. That method became a $1 billion business in 2015 and was expected to reach $2 billion in 2017. However, while millions of people want the benefits of meditation, it requires discipline. Thus, few people ever master it. "To put it simply," Porter says, "BrainTap is an all-natural, drug-free solution for guiding the brain into deep meditative states naturally, which alleviates the effects of super-stress and resets the brain for optimal performance."
BrainTap can be accessed in many ways to fit a variety of lifestyles.
Anyone can easily get started with the BrainTap Pro app that features the company's proprietary neuro-encoding™ in its programs for stress, worry and anxiety, sleep, weight, and many others.
Braintappers can enhance their experience with the BrainTap headset, taking meditation to the next level with synchronized light pulses that create the deep, meditative brain states that even longtime disciplined meditators fail to achieve.
The BrainTap Pro app can offer multiple solutions in every home. One family member may be using it to achieve physical fitness, while another uses it to advance a career or improve a golf game. The kids could be using BrainTap to accelerate learning or master a sport. All will benefit from peak brain performance, more restorative sleep, a positive mental attitude, and the energy to enjoy a productive fulfilling day, every day.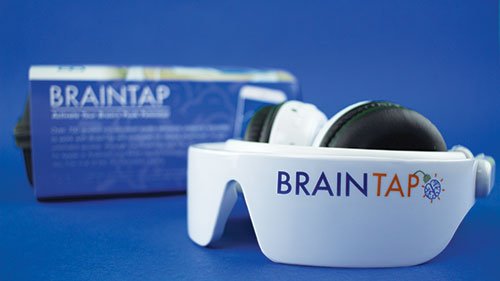 BrainTap headset with synchronized light pulses

The science of brain wave entrainment
Back in the 1970s, when Dr. Porter's father initially learned how to relax and overcome his alcoholism, he used audio tones that match the brain wave state between 7 and 13 hertz called alpha. This is the state nearly all meditation programs try to achieve, and recordings featuring these sounds have recently become quite popular; but there are limits. "When the brain is at peak performance, all brain waves are engaged to some extent, something like a symphony, so it doesn't make sense to put all our attention on a singular frequency," Porter says, "My thought was, Let's get that symphony perfectly tuned."
In 1986, Porter was introduced to the concept of brain wave synchronization through both light and sound. It's also when a major breakthrough in electronics occurred with the invention of the Erasable Programmable Read-Only Memory chip (EPROM), which retains data even when there is no power supply.
BrainTap Pro app program for sleepThe EPROM chip allowed Porter's team to synchronize light with sound and to store the algorithms on a device for repeated use. This first device was the MC2 (M-C-Square), and it was the world's first personal light-and-sound device for brain wave entrainment. "This discovery allowed us to introduce to the world a new technology that takes the brain to the optimum state for restoring that symphony while the person simply relaxes."
"In 1989, we introduced the MC2 at the Consumer Electronics Show in Chicago, and the reception we received was phenomenal, culminating in our earning the 'Best New Gadget of Year' award."
As it turned out, the company was about 3 decades ahead of its time, and the technology proved difficult to sell in retail settings. Still, between the franchise company Porter founded and more than 1,500 clinics worldwide, he sold over a quarter of a million of these devices.
Porter also came to realize that what people thought about while in the super brain states he was creating greatly affected the outcome. "If your best thinking brought you to where you are, and it's not working, then what needs to change is your thinking," Porter says. He calls this "the Einstein factor" because, as Einstein said, you can't solve the problem with the same thinking that created it. You must shift to solution thinking, then return to the problem with the solution in mind, which is a necessary step in creating new brain circuits.
The addition of guided visualization, using Porter's background in psychology and as a master trainer of Neuro-Linguistic Programming (NLP), brought it all together. "When we added guided visualization to the light and sound mix, people started making profound changes in short periods of time — sometimes after a single session."
Dr. Porter uses a method of visualization he calls transformational thinking. "The first brain circuit that needs to change is the belief that you are a behavior," he says. Even though the first law of psychology states you cannot be a behavior, many people use this kind of language all the time. As an example, people refer to themselves as "a smoker" all the time, and because of this belief, under stress, the first choice will be a cigarette. For others, it might be something different like food, alcohol, or whatever they believe is relief.
"We've known for decades that beliefs are ruled by emotion, and what science now knows is that brain circuits are triggered by emotion. In fact, many brain circuits are only available in a specific emotional state,"
Porter adds.
Most people try to change beliefs with conscious effort or force of will. The problem is the conscious mind only controls 2% of the brain. The change needs to take place in the other 98% that's really running the show. Attempting to access those brain circuits in the reactionary state of mind known as beta, 14 to 40 hertz, will likely only trigger an emotional response that can set off the very behavior we're attempting to change.
This is where meditation and relaxation techniques really accelerate in transforming a person's thinking.
The future of BrainTap
Dr. Porter has been the established leader in brain wave entrainment using light, sound, and vibration for 3 decades, making enhancements as new technologies came available. Today, the BrainTap Pro mobile app and the BrainTap headset enhance brain function in two ways — balancing brain wave activity and activating the brain's neuroplasticity.
He is confident that, with this combination, we can all achieve a stress-free state of mind and reach our full potential. For example, with this new science of digitally-enhanced meditation, you can awaken each day with a 10-minute meditation that Porter calls a digital cup of coffee. And, anytime day or night, you can tap into your nervous system's natural rest-digest-recover mode to relax and reboot your body and brain. "We can all start our day feeling rested, refreshed, and ready for whatever the day may offer," says Porter.
With stress-related health and lifestyle issues at an all-time high, BrainTap is emerging as the world leader in digital health and wellness. "In 2018, we're focusing on bringing the most engaging content to our mobile subscription service," Porter says.

By all indications, the company is seriously upping its game. For example, in the first quarter of 2018, BrainTap will be launching programs with national celebrities such as Dr. Mehmet Oz of "The Dr. Oz Show®" for his growing nonprofit organization, Healthcorps, which sends mentors into schools to teach "a wellness lifestyle" to at-risk youth. Also in early 2018, BrainTap will release "Think Like a Shark" with Kevin Harrington, the original shark on Shark Tank®.
While stress has reached epidemic proportions, Dr. Porter's message is clear — no one has to succumb to this silent killer. There are quick and easy solutions that can free us from its grasp.
With over 700 programs, BrainTap is quickly becoming an amazing component to people's daily wellness routine, and over 1,500 health clinics worldwide recommend BrainTap to address the stress component of health and wellness.
You can become an integral part of bringing transformational thinking and this digital health technology to your patients.
BrainTap's target market is head-of-household wellness consumers — those who are struggling to manage an overloaded lifestyle and seeking a wellness solution for themselves and their families — one that fits into their busy lives and delivers genuine results. Dental professionals are uniquely positioned to reach this audience, and BrainTap is a perfect fit for the dental practice that's already addressing sleep issues.
Now you have a chance to experience transformational thinking by contacting BrainTap at 602-687-2147, or visiting www.BrainTapDental.com.
This information was provided by BrainTap.
Stay Relevant with Implant Practice US
Join our email list for CE courses and webinars, articles and mores