Dr. Kristine Aadland's advice for 2021 — step out of your comfort zone and try some new techniques and technologies.
"The secret of change is to focus all of your energy not on fighting the old, but on building the new." — Socrates
It is time to rebuild. 2020 has definitely put life into perspective. I am choosing to follow the wise words of Socrates and focus on the new.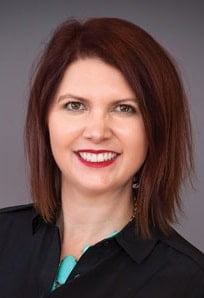 My practice today looks very different than it did in the beginning of 2020. Some team members did not return, which at first devastated me. I didn't know how we would make up for months of canceled appointments without exhausting my team. We also questioned if patients would actually feel safe returning to the dental office. There were tough team meetings, trying to meet the demands of both patients and team members. We made changes that felt backward at the time, but today I feel as though we have a stronger team than ever before. Patients are excited to come in and grateful to be cared for.
Clinically, my practice changed as well. Having extra time to work "on" my practice while not working "in" my practice, I evaluated my time value. For the past 10 years, my practice has been highly focused on technology and CAD/CAM but predominantly restorative-based. One of my dearest friends, Dr. Mona Patel, took an implant continuum a few years ago and mentioned the growth her practice has had both monetarily and emotionally. She was rejuvenated, her team was excited, and her patients were grateful they could have implants done in the practice.
After we talked, I sat down to evaluate the tangible ROI for doing surgery and placing implants in my practice. I first calculated my average hourly production. To determine this, take your average daily production (found in your practice software) and divide it by the amount of hours you work chairside. Let's say my average daily production is $5,500, and I work 7 hours a day; this puts my average hourly production at $785. Why does this matter? If I do a quadrant of fillings in an hour, I can produce an average of $800. It's great because this is over my average hourly production, but this typically consists of about 45 minutes of my own personal chair time. If I do a crown and buildup, I produce an average of $1,500. We tend to schedule this for 90 minutes of chair time, but worst case, this is 45 minutes of my dedicated time. I use CEREC to complete my restorations same day, so while my crowns are fabricating, I'm typically with another patient starting my next procedure — immensely increasing my hourly production. Implant restorations have always been my biggest ROI. Implant crowns take a little longer to mill than a regular crown, especially when making a custom abutment and a crown versus a screw-retained crown, so I split this up into two 30-minute appointments. The production for this averages $1,850, and my personal chair time is about 30 minutes. Now imagine if I can do more of that by placing implants in my own practice too!
Technology has made surgery so much easier as well. Having a CBCT gives me confidence in what I will find during surgery. I can plan the placement of my implants virtually and even print or mill guides in my office. I can take digital impressions at the time of placement and have a restoration ready to go, eliminating an extra appointment. These technological guides have vastly reduced the anxiety I used to associate with surgery, and now when I see implants on our schedule, there is a just buzz of excitement. There is nothing like that surgical high!
If you are not sure of where to start on placing implants, please reach out — I am happy to share my journey (the good and the bad) and recommend some live-patient training options. I am so grateful that this year has pushed me to step out of my comfort zone and expand the services that I offer. It's been an adventure that I do not regret.
Dr. Kristine Aadland
Stay Relevant with Implant Practice US
Join our email list for CE courses and webinars, articles and mores