Dr. Joe Griffin writes about how Yomi robotic technology improves accuracy and saves times and money in his practice.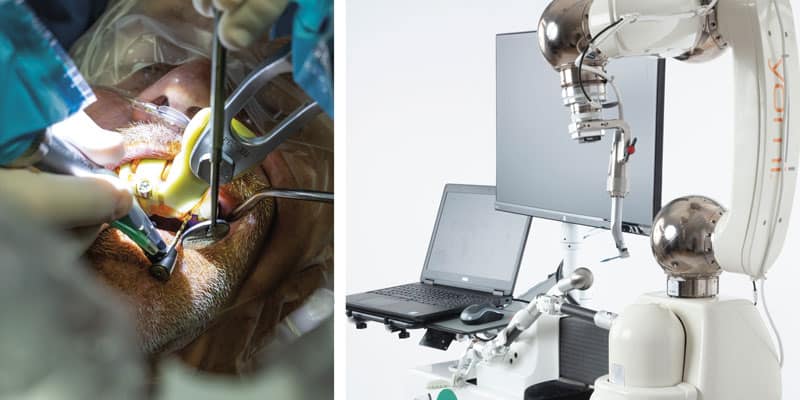 Dr. Joe Griffin discusses how Yomi® robotic technology has transformed his practice
I have been a general dentist in private practice for 22 years and have been placing implants for 18 years. I began utilizing haptic robotics to place implants in late 2019 using Yomi® robotic technology. My practice became the first in the state of Tennessee to adopt robotics for dental implant surgery, and I now place 250 to 300 implants per year robotically. Adopting dental robotics has transformed my practice.
Same-day guided surgery
Robotics allows me to provide same-day guided surgery to my patients. When the patient comes in, we place a splint that attaches either to the patient's existing dentition for single implants or to the patient's bone using small self-tapping screws for fully edentulous cases. A fiducial array is attached to the splint, and a CBCT scan is taken.
A three-dimensional implant placement plan for the case is done on this scan and uploaded to the robot. The fiducial is removed from the splint and replaced by a patient tracker arm that is attached to the robot. This arm tracks the motion of the patient so that the robotic plan and the 3D haptic volumes move as the patient moves. The patient tracker arm ensures that the robot is synced with the patient's mouth for the entirety of the procedure, and that the implant plan is carried out with accuracy and precision. When I am ready to begin drilling, I hold the handpiece to move in an apical-coronal direction being constrained by the robotic software to stay on long axis of the planned implant position. Finally, as I am preparing the osteotomy, the robotic arm physically stops me at the planned osteotomy depth. The same level of control is provided during implant placement. The physical haptic guidance prevents drill skiving, minimizing the amount of tissue reflected, which saves time and pain for the patient and allows me to do cases more minimally invasively. Currently, an entire guided non-sedated case from patient in-the-door to patient out-the-door takes less than 45 minutes. The osteotomy and implant placement for six implants on a full-arch, edentulous case took 30 minutes initially, and now is around 20-25 minutes.
Other advantages
In addition to same-day guided surgery, using robotics provides accurate placement without the time, cost, and intraoral obstruction of plastic guides. There is full visualization and easy irrigation with robotics. I can also change my plan intraoperatively at any time for any reason, which is not possible with preprinted plastic surgical guides. With robotics, I can choose from many different implant systems, and there are no additional drill sleeves or other restrictions.
Patient perspective
Carol Dunlap, RDA, is the Implant/Robotics Coordinator at my practice. She said: "Patients really get excited to know they are having implants placed with the robot. It has been a very positive experience for our patients, and they really do grasp the value of greater accuracy. Patients have been on board and have embraced dental robotics just as we have in the office."
This information was provided by Neocis.
Stay Relevant with Implant Practice US
Join our email list for CE courses and webinars, articles and mores