Drs. Daniel F. Galindo and Caesar C. Butura and Michelle Boomer, CDT, provided a zirconia rehabilitation for a patient who had not seen a dentist in 10 years.
Drs. Daniel F. Galindo and Caesar C. Butura and Michelle Boomer, CDT, treat a patient who had not visited a dentist in more than a decade
Introduction
Historically, reconstruction of the severely atrophic maxilla has required multiple grafting procedures to restore lost soft and hard tissues.1,2 The most common approach involves iliac crest harvesting, but it brings inherent surgical risks and possible complications, as well as unpredictable success and resorption rates.3-6 Treatment of the severely resorbed maxilla has been expanded to include the use of dental implants inserted into the zygomatic process while allowing for immediate function.7-11 Zygomatic dental implants prevent the need for extensive grafting with the insertion of implants into a denser and more stable bone. This clinical report summarizes the management of a patient with severe resorption of the maxilla due to a failed previous dental implant treatment and long-term use of a maxillary complete denture. In this case, a single-surgery graftless approach was used with the placement of four zygomatic dental implants and a monolithic full-arch zirconia prosthesis. The patient was diagnosed and treated at the ClearChoice Dental Implant Center in Phoenix, Arizona.
Chronic edentulism
Edentulism is defined as the loss of natural teeth and is an important global public health issue due to its high prevalence (over 10% in adults aged ≥ 50 years) and associated disability.12-14 Edentulism has a direct effect on facial appearance, nutrition, and the ability to eat, speak, and socialize.15 An individual who has become edentulous has reached this dental endpoint condition usually as a result of either periodontal disease or dental caries. Dental caries is the main cause of edentulism in individuals under 45 years of age,16 while periodontal disease is the primary cause of tooth loss in the older population.17 Edentulism creates a lifelong steady state of disability that can be a burden for the duration of a person's life.18
Failed dental implant treatment
Implant-supported restorations offer a predictable treatment for tooth replacement. The success rate for dental implants is high. Nevertheless, implant failures that require implant removal occur and have been reported.19 Implant removal can compromise the planned functional and esthetic outcome for a patient and usually involves further cost and additional procedures.
Predictors for dental implant success and failure are usually classified into patient-related factors (such as general health status, smoking habits, quantity and quality of bone, oral hygiene, and periodic professional maintenance, among others), dental implant characteristics (diameter and length, connection type, surface finish and/or coating, and loading protocol, among others), implant placement, prosthetic design, and clinician experience.20,21
Restorative options for failed implants in the edentulous maxilla
A patient with maxillae that have been previously treated with dental implants that have failed posttreatment has limited treatment alternatives. Maxillary complete dentures are still commonly used for the restoration of edentulous patients. However, a limited residual alveolar ridge creates significant retention and resistance problems and, as a result, these prostheses have poor patient acceptance, as well as compromised function and esthetics.
Zygomatic dental implants have been used for the past two decades to treat patients with severely resorbed maxillae. Professor Brånemark introduced the first zygomatic implants in 1988 in the management of patients with maxillofacial defects, and they became available to the dental profession in the late 1990s.22 The most common protocol involved placing at least two zygomatic implants, one in each posterior sextant, with additional conventional implants in the anterior maxilla. All implants were then splinted together to support a screw-retained hybrid fixed-detachable prosthesis.
Traditional and contemporary restorative options for the edentulous maxilla
The traditional method for restoring a fully edentulous arch consisted of fabricating the prothesis by securing teeth to a metal framework using acrylic resin.23 Depending on the patient's form, function, and habits, the denture teeth would wear, chip, or fracture.24,25 The acrylic resin could also deteriorate, while fractures to the titanium framework were also a possibility. Technological advancements led to the development of CAD/CAM-fabricated milled frameworks incorporating different forms of retention to prevent debonding of denture teeth and/or acrylic resin.26 In specific instances of known parafunction or for patients in need of a higher demand of esthetics, individual ceramic crowns were luted to the metal frameworks, and the gingival portion was reconstructed with pink porcelain rather than acrylic resin.27 These reconstruction procedures were rather expensive, time-consuming, and unavailable to the majority of the population due to cost. In general with both types of reconstructions, complications such as fractured or debonded acrylic resin teeth, wear of opposing incisal and occlusal surfaces, ceramic chipping, difficulty in shade matching of acrylic and pink ceramic, lack of passive fit, and extensive repair work after framework fractures led to the search of biomaterial options.
Zirconium oxide is a material that has shown increased popularity in contemporary dentistry.28,29 Several studies have demonstrated the physical, mechanical, biological and chemical properties of this material.30,31 Fixed dental prostheses are produced by directly firing veneering porcelain onto a one-piece CAD/CAM-designed and milled zirconia substructure.32,33 However, fracture or chipping of the veneering ceramic34 and of the zirconia substructure have been reported.35 To overcome these problems, CAD/CAM restorations milled from blocks of monolithic zirconia have been introduced as an alternative for implant-supported full-arch reconstructions, reducing the risk of breakage and avoiding chipping. Esthetics can be enhanced with the application of feldspathic pink porcelain or stains to re-create the architecture of the gingival tissues.
The design process for the zirconia restoration requires computerized enlargement of the dimensions of the pattern prior to the milling process in order to compensate for linear sintering shrinkage of zirconia by approximately 15%–30%.36 The sintering process comprises three phases: heating, sintering, and cooling, during which the milled structure shrinks to match the size of the original scanned pattern.37 When using zirconia as the prosthetic material to reconstruct atrophic edentulous maxillae, the height of the prosthesis might be greater than the thickness of the sintered zirconia puck, ruling out zirconia as the restorative material.
Clinical report
A 68-year-old male patient visited our office with a chief complaint of embarrassment due to his dental condition and a strong desire to replace his existing maxillary complete denture. The patient had not seen a dentist in more than 10 years and had terminated any dental care due to frustration with his oral condition. His medical history was noncontributory, and his vital signs were within normal limits.
Examination
The patient was not under the care of a physician. He was extremely reserved and skeptical regarding dental implant treatment.
Extraoral examination
Extraoral examination revealed a symmetrical phase with significant reduction on lower-third facial height due to wear of occlusal surfaces of his existing complete denture. His opening and range of motion were within normal limits and presented no symptomatology of his stomathognathic system.
Intraoral examination
The intraoral examination revealed an edentulous maxilla and a partially dentate mandible. The patient presented with a Class III malocclusion resulting from the severe resorption of his maxilla.
Radiographic examination
A cone beam computed tomography (CBCT) revealed severe atrophic of his maxillary residual ridge and severely pneumatized maxillary sinuses. Evaluation of his zygomatic processes bilaterally revealed adequate dimensions for use as anchorage for dental implants.
Diagnosis
Edentulous maxillary arch
Partially dentate mandibular arch
Class III malocclusion
Severely atrophied maxilla
Bilateral sinus pneumatization
Poorly fitting maxillary complete denture
Treatment plan
Placement of four dental implants anchored in the zygomatic arches (two per arch) with immediate function procedures through a full-arch fixed acrylic prosthesis.
After healing, fabrication of a full-arch fixed zirconia prosthesis.
Follow-up with the patient every 4 months.
Treatment for replacement of mandibular missing teeth was presented in the form of a removable partial denture, but the patient decided to evaluate the outcome of maxillary arch treatment prior to committing to dental care in the mandible.
Presurgical phase
Following review of the CBCT radiograph, severe maxillary atrophy was noted. The patient rejected the treatment option of bilateral sinus grafting and opted for the use of four zygomatic dental implants to retain a fixed full-arch prosthesis. Impressions were made, a wax rim fabricated, and casts were articulated on a semi-adjustable articulator. Teeth were selected and set on a wax rim and evaluated for esthetics, phonetics, and occlusion.
The setup was processed in heat-polymerized acrylic resin to fabricate a maxillary complete denture that would be modified into a fixed provisional prosthesis. The prosthesis was duplicated in clear acrylic resin to fabricate a surgical guide.
Surgical phase
The patient was brought to the suite and placed into a semi-supine position with all the appropriate monitors. Following indicated treatment preparation, incisions were made from the distal tuberosity to the anterior midline and reflections on the anterior lateral parts of the maxilla. Laterally, the refection was taken to the zygomatic process and further to the zygomatic notch. Anteriorly, the inferior orbital nerve and inferior orbital rim were identified and were used as anatomical markers. Slot osteotomies were made in the lateral maxillary walls with a No. 8 round bur under NS irrigation. The sinus membrane was cauterized to minimize bleeding, and through the slot it was reflected from the lateral and superior walls of the sinus. The anterior implant site was now prepared starting in the premaxilla (area of 6/7) using a standard drill sequence under NS irrigation and direct vision. The apical portion of the drill was visualized below the inferior orbital nerve as it exited the superior portion of the zygomatic body. A 50 mm NobelZygoma implant was placed under direct vision to a torque value of 45+ Ncm. The posterior osteotomy was now developed in the second premolar region under direct vision using a sequenced drilling technique to accommodate a 35 mm implant with insertion torque value over 45 Ncm. The left maxilla was addressed with the same technique and same length implants with torque values over 45 Ncm. The right anterior zygomatic implant was covered with a 1 X 2 cm AlloDerm™ graft which was secured to the periosteum with 3.0 chromic gut suture.
Closure of the incision site was completed in a watertight interrupted fashion using 3.0 chromic gut suture.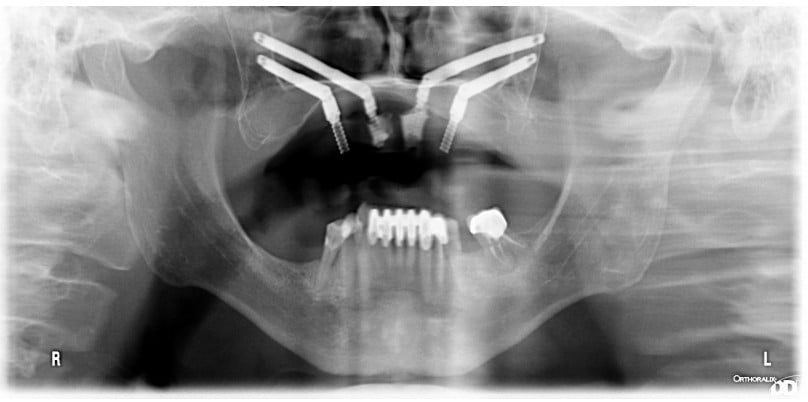 Prosthodontic phase
Primary stability of dental implants placed into zygomatic arches was achieved due to high insertion torque. Impression copings were connected over each abutment, and a vinyl polysiloxane (VPS) rigid impression material was used to make an open tray impression. Accuracy of the impression was confirmed prior to pouring of a master cast. Temporary titanium copings were connected to the abutments, and the denture was relieved accordingly to provide proper fit over primary supporting areas. Self-polymerizing urethanedimethacrylate resin (Quick Up®, VOCO GmbH) was used to connect the copings to the prosthesis. Upon polymerization, the prosthesis was removed and rigidity of the connection confirmed prior to sending the case to the dental laboratory for conversion to a fixed-detachable prosthesis. The interim fixed prosthesis was seated, fit and occlusion confirmed, and a panoramic radiograph obtained to confirm adequate seat.
Definitive prosthesis
Following 2 months of healing, a CBCT was obtained. The patient was satisfied with the esthetics and occlusion achieved with the interim prosthesis. A definitive impression was made using a verification jig and VPS impression material. The master cast was poured and mounted on the semi-adjustable articulator. Teeth were set for a wax try-in; esthetics, occlusion, and maxillomandibular relationships were confirmed. Upon approval from the patient, the setup was processed using heat-cured acrylic resin. The acrylic resin pattern was tried once again to confirm passive fit, hygienic contours, esthetics, and occlusion.

The height of the acrylic resin pattern presented a challenge as it was greater than the thickness of the zirconia puck. In order to address this limitation, a segmental approach was taken. The original pattern was scanned and then processed digitally to create two distinct segments. The base segment of the prosthesis would seat directly on the four multi-unit abutments through titanium copings luted to the zirconia structure. The coronal portion of this segment had two multi-unit abutments luted and a vertical extension 4 mm in height and 4 mm in width to provide mechanical retention to the second segment. The second segment had two titanium copings that would provide mechanical retention to the base segment in addition to the channel to allow cementation of both segments into one piece. Both segments were milled in using the XTCERA system and milled in Zirconia YZ (XTCERA, Zubler USA) and layered with DC Ceram™ 9.2 (Gingiva on Zirconia, Ceramay GmbH & Co.) feldspathic porcelain.
The prosthesis was seated intraorally and prosthetic screws torqued according to manufacturer's recommendations. Radiographs were obtained to verify a passive fit of the prosthesis.
Home care instructions were given to the patient and the use of a water flosser explained. The patient was instructed to return for regular examinations every 4 months.

Conclusion
Edentulism is a chronically debilitating condition that affects patients physically and emotionally. This case demonstrates the management of a chronically edentulous patient using zygomatic dental implants and a novel approach for the fabrication of the definitive zirconia prosthesis.
Acknowledgment
The authors wish to acknowledge the assistance of Rob Dinker, CDT from Integrity Dental Services for his contributions to the design of the final prosthesis.
Kahnberg KE, Henry PJ, Hirsch JM, et al. Clinical evaluation of the zygoma implant: 3-year follow-up at 16 clnics. J Oral Maxillofac Surg. 2007;65(10):2033-2038.
Farzad P, Andersson L, Gunnarsson S, et al. Rehabilitatoin of the severely resorbed maxillae with zygomatic implants: An evaluation of implant stability, tissue conditions, and patient's opinion and after treatment. Int J Oral Maxillofac Implants. 2006;21(3):399-404.
Seiler JG III, Johnson J. Iliac crest autogenous bone grafting: Donor site complications. J South Orthop Assoc. 2000;9(2):91-97.
Arrington ED, Smith WJ, Chambers HG, et al. Complications of iliac crest bone graft harvesting. Clin Orthop. ;329:300-309
Nystrom E, Legrell PE, Forssell A, et al. Combined use of bone grafts and implants in the severely resorbed maxilla. Postoperative evaluation by computed tomography. Int J Oral Maxillofac Surg. 1995;24:20-25.
Duarte LR, Filho HN, Francischone Ce, et al. The establishment of a protocol for the total rehabilitation of atrophic maxillae employing for zygomatic fixtures in an immediate loading system – A 30-month clinical and radiographic follow-up. Clin Implant Dent Relat Res. 2007;9(4):186-96.
Branemark P-I, Grondahl K, Worthington P. Osseointegration and Autogenous Onlay Bone Grafts: Reconstruction of the Edentulous Atophic Maxilla. Chicago: Quintessence; 2001.
Bedrossian E. Stumple L, Beckely M, et al. The zygomatic implant: Preliminary data on treatment of severely resorbed maxillae – A clinical report. Int J Oral Maxillfac Implants. 2002; 17:861-865.
Branemark P-I, Grondahl K, Ohrnell L, et al. Zygomatic fixture in management of advanced atrophy of the maxilla: Technique and long-term results. Scand J Plast Reconstr Surg Hand Surg. 2004;38(2):70-85.
Aparicio C, Ouazzani W, Garcia R, et al. A prospective clinical study on titanium implants in the zygomatic arch for prosthetic rehabilitation of the atrophic edentulous maxilla with a follow-up of 6 months to 5 years. Clin Implant Dent Relat Res. 2006;8(3):114-122.
Butura CC, Galindo DF. Combined Immediate Loading of Zygomatic and Mandibular Implants: A Preliminary 2-Year Report of 19 Patients. Int J Oral Maxillofac Implants. 2014;29(1):e22-e29.
Norderam G, Davidson T, Gynther G, et al. Qualitative studies of patients' perceptions of loss of teeth, the edentulous state and prosthetic rehabilitation. Acta Odont Scand. 2013;71(3-4):937-951.
Peltzer K, Hewlett S, Yawson AE, et al. Prevalence of loss of all teeth (edentulism) and associated factors in older adults in China, Ghana, India, Mexico, Russia and South Africa. Int J Environ Res Public Health. 2014;11(11):11308-11324.
Tyrovolas S, Koyanagi A, Panagiotakos DB, et al. Population prevalence of edentulism and its association with depression and self-rated health. Sci Rep. 2016;6:1-9.
Felton DA. Complete Edentulism and Comorbid Diseases: An Update. J Prosthodont. 2016;25(1):5-20.
Meier T, Deumelandt P, Christen O, et al. Global Burden of Sugar-Related Dental Diseases in 168 Countries and Corresponding Health Care Costs. J Dent Res. 2017;96(8):845-884.
Dye, Bruce A. Global Periodontal Disease Epidemiology. Periodontol 2000. 2012;58(1):10-25.
Jin LJ, Lamster IB, Greenspan JS, et al. Global Burden of Oral Diseases: Emerging Concepts, Management and Interplay with Systemic Health. Oral Diseases. 2016;22(7):609-619.
Esposito M, Grusovin MG, Coulthard P, et al. A 5-year follow-up comparative analysis of the efficacy of various osseointegrated dental implant systems: a systematic review of randomized controlled clinical trials. Int J Oral Maxillofac Implants.2005;20(4):555-568.
Levin L, Schwartz-Arad D. The effect of cigarette smoking on dental implants and related surgery. Implant Dent.2005;14(4):357-361.
Nitzan D, Mamlider A, Levin L, et al. Impact of smoking on marginal bone loss. Int J Maxillofac Implants.2005;20(4):605-609.
Brånemark PI. Surgery and fixture installation. Zygomaticus Fixture Clinical Procedures (1st ed). Gothenburg, Sweden: Nobel Biocare AB; 1998.
Rojas-Vizcaya F. Full zirconia fixed detachable implant-retained restorations manufactured from monolithic zirconia: clinical report after two years in service. J Prosthodont. 2011; 20(7):570-576.
Purcell BA, McGlumphy EA, Holloway JA, et al. Prosthetic complications in mandibular metal-resin implant-fixed complete dental prostheses: a 5- to 9-year analysis. Int J Oral Maxillofac Implants.2008;23(5):847-857.
Bozini T, Petridis H, Garefis K. A meta-analysis of prosthodontic complication rates of implant-supported fixed dental prostheses in edentulous patients after an observation period of at least 5 years. Int J Oral Maxillofac Implants.2011;26(2):304-318.
Örtorp A, Jemt T. Clinical experiences of computer numeric control-milled titanium frameworks supported by implants in the edentulous jaw: a 5-year prospective study. Clin Implant Dent Relat Res.2004;6(4):199-2099.
Lang BR, Malo P, Guedes CM, et al. Procera All Ceram Bridge. Appl Osseointegration Res. 2005;4:13-21.
Guess PC, Att W, Strub JR. Zirconia in fixed implant prosthodontics. Clin Implant Dent Relat Res.2012; 14:633-645.
Kanat B, Çömlekoğlu EM, Dündar-Çömlekoğlu M, et al. Effect of various veneering techniques on mechanical strength of computer-controlled zirconia framework designs. J Prosthod.2014;23:445-455.
Papaspyridakos P, Lal K. Immediate loading of the maxilla with prefabricated interim prosthesis using interactive planning software, and CAD/CAM rehabilitation with definitive zirconia prosthesis: 2-year clinical follow-up. J Esthet Restor Dent. 2010;22:223-232.
Pozzi A, Holst S, Fabbri G, Tallarico M. Clinical reliability of CAD/CAM cross-arch zirconia bridges on immediately loaded implants placed with computer-assisted/template-guided surgery: a retrospective study with a follow-up between 3 and 5 years. Clin Implant Dent Relat Res. 2015;17(suppl 1):e86-e96.
Guess PC, Att W, Strub JR. Zirconia in fixed implant prosthodontics. Clin Implant Dent Relat Res. 2012;14(50:633-645.
Kanat B, Cömlekoglu EM, Dündar-Çömlekoglu M, et al. Effect of various veneering techniques on mechanical strength of computer-controlled zirconia framework designs. J Prosthodont. 2014;23:445-455.
Larsson C, Vult von Steyern P, Nilner K. A prospective study of implant-supported full-arch yttria-stabilized tetragonal zirconia polycrystal mandibular fixed dental prostheses: three-year results. Int J Prosthodont. 2010;23(4):364-369.
Sadid-Zadeh R, Liu PR, Aponte-Wesson R, et al. Maxillary cement retained implant supported monolithic zirconia prosthesis in a full mouth rehabilitation: a clinical report. J Adv Prosthodont. 2013;5:209-217.
Reich S, Wichmann M, Nkenke E, et al. Clinical fit of all-ceramic three-unit fixed partial dentures, generated with three different CAD/CAM systems. Eur J Oral Sci.2005;113(2):174-179.
Marinis A, Aquilino SA, Lund PS, et al. Fracture toughness of yttria-stabilized zirconia sintered in conventional and microwave ovens. J Prosthet Dent. 2013;109(3):165-171.
Stay Relevant with Implant Practice US
Join our email list for CE courses and webinars, articles and mores