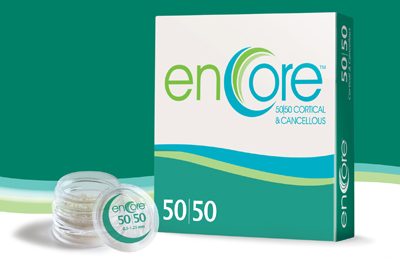 LUBBOCK, Texas – Osteogenics Biomedical, a leader in the development of innovative dental bone grafting products, introduces enCore® 50/50 Cortical and Cancellous Allograft to compliment the family of enCore® Allografts.
The 50/50 allograft combines space maintaining cortical bone with porous, faster resorbing cancellous bone in a single bottle.
All lots of enCore® 50/50 Cortical & Cancellous allograft are sourced from a single donor.
In addition to the new 50/50 allograft, Osteogenics offers the popular enCore® 70/30 Combination allograft composed of mineralized cortical bone and osteoinductive demineralized matrix, as well as a 100 percent mineralized cortical allograft.
All of the allografts are available in a variety of volume sizes to treat a wide range of bony defects and are processed by Allotech, an FDA-registered and AATB-accredited tissue bank.
For more information about enCore® Allografts, visit osteogenics.com, or contact a customer service representative at 888.796.1923.
Stay Relevant with Implant Practice US
Join our email list for CE courses and webinars, articles and mores