Keeping implants within reach
What can you tell us about your background?
I was born and spent my childhood in Lagos, Nigeria. I have two older brothers who are both doctors, so I guess you could say the medical field runs in our family. I moved to Georgia, where I attended Clark Atlanta University and then Howard University College of Dentistry, where I graduated number one in my class in 2001. I started my career working briefly as an associate dentist and then transitioned into running my own successful private practice for several years.
In 2009, I chose to affiliate with Affordable Dentures & Implants, and I opened the doors to my practice in Cartersville, Georgia, and have been there to this day. I am married to my husband, Charles; we have three boys, Jimi, 15; Femi, 11; and Seun, 7 — yes, I'm a soccer mom too!
When did you become a specialist, and why?
I loved removable prosthetics in dental school. I didn't have the same affinity for surgery yet, but somehow I discovered that it came easy for me. The more involved I got, the more my passion grew for this aspect of dentistry. Eventually, it became the focus of my practice and my true passion.
Is your practice limited solely to implants, or do you practice other types of dentistry?
We focus on tooth replacement as a whole, which includes dentures, partials, extractions, and implants. We present a multitude of options, and our goal is to always deliver the best treatment for each patient. I perform mostly implant overdentures, full arches, and single tooth systems.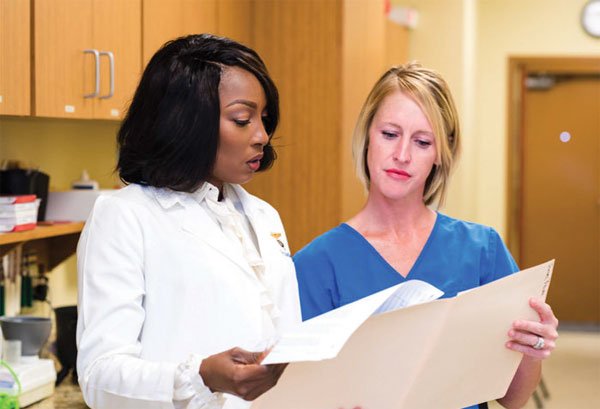 Why did you decide to focus on implant dentistry?
I enjoy removable prosthodontics; I would say that my dental career has been somewhat skewed toward this area of practice. Therefore, owning my own practice with a focus on implant dentistry and tooth replacement services was a natural progression for me.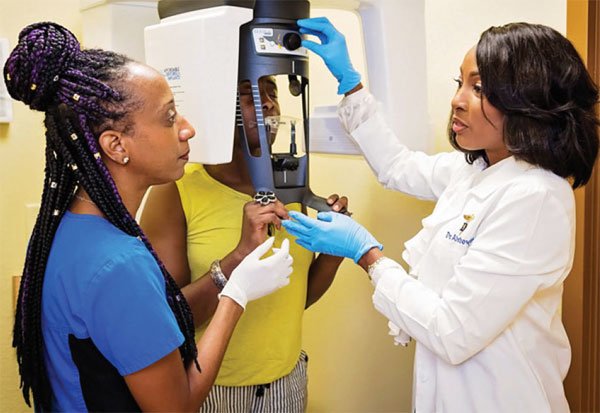 Do your patients come through referrals?
Most of my implant patients do come from referrals. It's primarily word-of-mouth from my patients, although we do advertise our implant services. The biggest compliment a clinician can receive, I believe, is a satisfied patient who tells a family member to go see you.
How long have you been practicing implant dentistry, and what systems do you use?
I began taking implant training courses in 2004. I started off placing mini implants, but now I use BioHorizons®, as well as Implant Direct's Legacy™ systems.
I love to use the BioHorizons Laser-Lok® implant, particularly in the esthetic zone. I believe it provides a better attachment at the coronal portion of the implant and has provided a fantastic result for my patients.
What training you have undertaken?
I attended a number of three-day MDI courses in the beginning. But the real turning point for me was attending a 10-day live implant training course taught by Dr. Virgil Mongalo with several fellow Affordable Dentures & Implants practice owners.
I enjoy continuing to learn all that I can about implants — and never stopping. I am attending a complications course with Dr. Justin Moody in Denver soon, and I am really looking forward to it. Following that, I plan to attend another live training course through Brighter Way Institute in Phoenix.
I would still like to expand upon my sinus lift skills to increase the volume and variety of patients who seek treatment at my practice. I want to be able to help those patients to the best of my ability, and changing the lives of patients is the joy of my practice.
Who has inspired you?
Personally, my father, hands down. He was a very meticulous person and always inspired me to do my best at whatever I did. I am also fortunate to have a wonderful husband who has always supported me to keep trying. I have never seen him accept defeat.
On a professional level, I can't talk about inspirations without mentioning Dr. Rueben Warren. I met him during an externship at the Agency for Toxic Substances and Disease Registry (ATSDR) in Atlanta. He is an amazing dentist who mentored me throughout dental school and was a great support system.
Dr. Justin Moody has been a phenomenal mentor. He really takes the time to pour his wealth of knowledge into me. He's never too busy to take my call and out of the blue will send me a note of encouragement when I need it most.
Dr. Charles Sanders, who served as dean of the dental school at Howard, would push me to no end and never let me slack. At the time, I thought that he was just mean, but now I see it — he pushed me because he saw something special in me. Today, when I reflect back on those moments, I am grateful. He gave me the work ethic to never back down.
What is the most satisfying aspect of your practice?
For me, it's definitely that point when we achieved the result that patients could only dream about. When the case is complete, and we hand them the mirror, more times than I can count, there are tears of joy. I'm emotionally invested in my patients. It's one of the best feelings when you make someone's day.
Professionally, what are you most proud of?
Professionally, I proudly serve on Dr. Moody's faculty for lectures and live training. I also have earned masterships in both the International Congress of Oral Implantologists and the American Academy of Implant Prosthodontics. I am big on continuing education, so I was proud to earn fellowships and then masterships in both those organizations.
Implantology is really a passion of mine. Because I affiliated with Affordable Dentures & Implants, I am able to provide these kinds of services to my patients at fees within their reach. It's truly life changing for them, and I'm really proud of that.
What do you think is unique about your practice?
This is an easy question for me — it's my practice team! We work together seamlessly, so I can be my best all the time. I also have a superb on-site lab and we work extremely well together. We minimize downtime as much as possible, and I think our patients appreciate that.
What has been your biggest challenge?
When working with edentulous patients frequently, setting realistic expectations can be difficult. We try to help our patients understand in plain terms the aging process and how the mandible can experience a significant amount of bone resorption. We want our patients to be happy with their decision, so my team strives to be empathetic while providing a consistent educational message. Patients today do their homework when it comes to tooth replacement, so the challenge is not as big as it was 3 years ago.
What would you have been if you didn't become a dentist?
Oh boy! My dad wanted me to be an accountant, so maybe an accountant? I can't imagine being anything other than a dentist! But I do enjoy and have an eye for great fashion, so maybe something along that line. Scrub fashion couture is a real thing!
What is the future of implants and dentistry?
I can't even begin to imagine what the future of implants might look like. There are more than 180 million Americans suffering from tooth loss, and we are still only placing implants in a tiny percentage of that "edentulous real estate."
These used to be services that only the rich could afford. My fee structure is designed for the future, so everyone can afford treatment now. I have noticed that patients across the socioeconomic spectrum are more aware and educated about implants than they used to be — they often come in specifically wanting implants now.
What are your top tips for maintaining a successful specialty practice?
Listening to your patients is number one. Second to that would be training your staff to possess a wide knowledge base. Providing a consistent message is key. From the moment a patient calls to the last person they encounter, my staff is prepared.
We also try to keep things fun. You spend at least 8 hours a day with your staff, so you have to cultivate camaraderie. We try and have a team building activity every quarter. Last time we went to Project Escape and had a blast!
What advice would you give to budding implant dentists?
Don't be scared. Even the biggest and most experienced implant dentists make mistakes.
After attending an implant course, don't wait 5 weeks to schedule your next implant patient — jump right in. Use it, or lose it.
One thing that has always stuck with me is to align yourself with the best people, to never be an island. Surround yourself with doctors who are only a phone call away and whom you also feel comfortable calling before surgery to say, "This is what I'm stuck on," and bounce ideas off each other.
What are your hobbies, and what do you do in your spare time?
Having three boys, it's probably no surprise that I love taking naps. But we go to a lot of soccer games on the weekends. I also love to shop and travel. We just got back from Jamaica and the Bahamas. Another one of my passions is working out. I go at least 4 days a week during my lunch.
Top 10 favorites

God
My husband and children
Placing implants
Going to watch my kids play soccer
Going to the gym
BioHorizons® Tapered Internal implants
Traveling
Carestream CS 8100 — it has changed the way I place implants. I plan everything before the patient is in the chair. It makes such a big difference when you know what you're getting into. I feel more accurate, so I'm more confident.
Delivering my zirconia fixed cases. When you have an excellent lab, the stress of delivery on these cases is almost nonexistent. I enjoy the moments when the patients are just truly happy (I use Adar Lab here in Atlanta).
Fashion
Stay Relevant with Implant Practice US
Join our email list for CE courses and webinars, articles and mores