A celebration of four decades of innovations and accomplishments in implant dentistry
OCO Biomedical: a driving force in implant dentistry innovation and performance
Celebrating its 40th Anniversary in 2016, OCO Biomedical, Inc., is a proven global leader in world-class dental technology, training, and instrumentation.  Headquartered in Albuquerque, New Mexico, the company maintains the position as an industry-recognized leader in implantology. In addition to the company's vast network of practitioners using OCO products in the United States, OCO Biomedical has a worldwide network of distributors located in Asia, Central and South America, Europe, and the Caribbean.  All products are American made.
The formative years
Early on, Dr. David D. Dalise, OCO Biomedical founder, president, and implant innovator, was fascinated by all aspects of mechanics and mechanical engineering.  His first exposure to dentistry occurred while serving in the U.S. Air Force. His intent was to become a pilot. By chance, through meeting and being inspired by military dental practitioners, the Chicago native changed his focus to dentistry. Vision became reality when he graduated from the University of Illinois College of Dentistry in 1965 and after that ran a private implant practice.
Dalise says, "During my early years in general practice, I was profoundly influenced by the early implant pioneers like Lenny Linkow, Isaiah Lew, and Aaron Gershkoff.
"Motivated by the exciting work that they were doing, I made the decision to incorporate dental implants into my general practice.  I joined numerous professional organizations such as the AAID, ICOI, and the AGD to gain greater knowledge of ways to increase my skills, improve on known dental devices, and enhance techniques in order to make procedures more efficient."
Dalise continues, "My turning point came when I attended an ADA meeting and purchased a blade implant that intrigued me. My patient had missing lower molars, and I used the blade implant, novel at the time, as a treatment option to replace them.  The joy and impact of replacing the missing teeth with an implant, as opposed to a free-end partial denture, was amazing. This experience made me eager to find new ways to incorporate implants into my practice and treat my patients more effectively and quickly. This philosophy stands today as OCO Bio-medical's unshakable platform."
The development of the O-Ring Overdenture Attachment System
According to Dalise, "In the late 1960s, in addition to blades, screws, pins, and endo stabilizers, I began to place subperiosteal implants. Up until that time, all of the abutments and attachment systems used for attaching an overdenture to an implant were a dental technician's work of art and practically impossible to reproduce when a new denture was required. Obvious to me, something better was needed."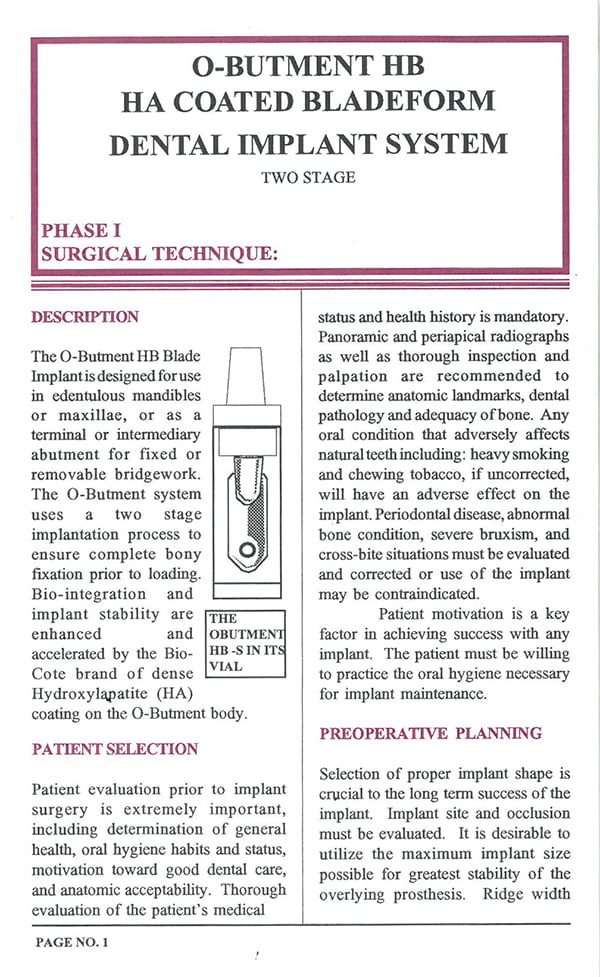 He began to modify the crown and bridge-like abutments for retention with an O-Ring. He created and developed an O-Ring Overdenture Attachment System consisting of an abutment with a horizontal groove and housing to retain the ring in a PVC plastic or metal encapsulation. In the early 1970s, the prototypes of the System were very crude. In 1974, he found a machinist to accurately cut the Delrin abutments on a lathe. Dalise recalls, "I then used a vacuformer to shrink form the PVC plastic encapsulations of the rings on abutment-shaped pedestals. I later located an old metal shoelace hole manufacturing machine that converted into making metallic encapsulations for the O-Rings. We were now able to provide both the PVC and the metallic ring female retainers for the castable Delrin male abutments, which also served as a resilient lab transfer die."
Formation of the O-Company
Dalise began to produce and manufacture the O-Ring Attachment System and made his System available to the few laboratories that were constructing sub-periosteal implants. He began working with Eric Bausch at Howmedica/Austenal, a Chicago-based laboratory, which pioneered subperiosteal implant design. At Howmedica's suggestion, he patented the O-Ring Attachment System.  A proven entrepreneur, Dalise incorporated his business and formed the O-Company in 1976.
The blade implant — root-form implants
In the late 1970s and early 1980s, the O-Company began producing blade implants along with pioneering the carbon coating of blade and subperiosteal implants. In the early to mid-1980s, the Branemark threaded root-form implant was introduced in the U.S. According to Dalise, "Branemark spent $25 million to market the root-form implant, and it began gaining popularity. Their outreach to colleges, universities, and dental specialists convinced the dental community that all other types of implants were invalid."
Shortly thereafter, Calcitek introduced the HA-coated cylinder implant, and the O-Company, responding to this growing market trend, started producing the O-Ring Attachment System for all root-form systems that came to the market.
Practitioners are given highly responsive and personalized service with open access to experienced technical representatives and to practicing implantologists for clinical advice.
Root-form manufacturing and HA-coated surfacing
Dalise explains, "Three companies licensed our patented O-Ring Overdenture Attachment System, but we also machined the System for all root-form implants that hit the market.  This strategic move made our O-Ring Overdenture Attachment System the most widely used system in the world, then and still today."
After discovering that the System had been imitated, the decision was made to make an improved proprietary root-form product instead of litigation.  Consequently, a modified root-form cylinder that was HA-coated was developed. The Company incorporated unique features in a design that included slots halfway up the implant to prevent rotational dislodgement.  Rather than having a hole at the apex, a dimple was placed that would further stabilize the apex and eliminate a void after integration.
The transition to tissue level implant production
In the early 1990s, the O-Company added a 2-mm machined collar to the top of the implant to protect the HA-coated surface from invagination of oral fluids and breakdown after slight bone resorption. A year later, an additional millimeter was added to the collar so that the implant was essentially a tissue level implant as opposed to a bone level implant. This modification facilitated an abutment that was easier to restore and also protected the crestal bone from the slight microleakage at the implant/abutment interface.
Implant design refinement
Dalise states, "By the mid-1990s, it became apparent that the threaded versus cylinder implants were becoming more popular. To meet growing market demand, we refined our already successful threaded cylinder implant with a 32-thread-per-inch design. The slots on the side of the implant were left in place so that the implant could be placed by first tapping the bone or placed as a self-tapping implant. We also added an internal spline and then a taper to support an anti-rotational, timed abutment."
The development of the award-winning 3.0-mm mini implant
By the year 2000, mini implants were becoming popular. Then Production Manager, Larry Vetter, suggested that the Company add a mini implant to the product line. States Dalise, "I felt that if we were to introduce a mini implant, it must be the best and most reliable on the market. From my earlier experience with pin implants, the 1.8-mm and 2.5-mm diameter implants were too flimsy; so I reasoned that a 3.0-mm would be ideal. After beta testing several different tip designs, we developed an orthopedic-like bullnose auger tip and added a new embedded tapered platform at the top of the implant. The design, being unique and extremely stable, was patented with distinctive and key features to facilitate immediate loading. Designed with an O-Ball abutment or a crown and bridge abutment, the 3.0-mm one-piece implant could be used in various types of implant procedures such as overdentures, failed implant revision, and the replacement of individual teeth."
Dalise asserts, "At that time, I was promoting direct placement rather than reflecting a flap. I knew that the embedded tapered platform would ensure that the coated portion of the body of the implant would always be below the crestal cortical bone and add initial stability. After placing many of these implants and immediately loading both the O-Ball and crown and bridge version, the performance and success rate were remarkable. This initial stabilization is what we now call osseous fixation." Dalise states, "Serendipitously, the O-Company designed an implant that is biomechanically active once placed. The design of the implant puts effective forces, mainly tension, on the bone once fully seated. This allows for early loading, and the resultant forces during function have the ability to alter the biologic stability and healing in a positive way.
OCO extends product line with additional one- and two-piece implants
Due to the superior performance and proven effectiveness of the one-piece 3.0-mm diameter implant, the product line was expanded by producing a 3.25-mm, 4.0-mm, and 5.0-mm versions of the one-piece implant. This product became known as the ISI (Immediate Stabilizing Implant) line. In 2005, The O-Company had a name change to OCO Biomedical. By 2006, the two-piece versions, known as the TSI (Two-Stage Implant) with a removable abutment were introduced. The ERI (Esthetic Region Implant) with a 1.0 -mm embedded tapered platform was also added.  Market ready, the comprehensive methodology was introduced as "OCO Biomedical's Complete Implant System," a system patented and unchallenged for immediate or early loading.
OCO's complete implant solutions approach changes implantology today
With the exceptional record of progressive innovations associated with the company, the future looks even brighter and more promising. Over the last few years, there has been a concerted effort to continue to innovate and refine the existing system and product line to better address the needs of users through product development, education, and customer care.
Education and training are key components to OCO's success
In late 2012, Charles Schlesinger, DDS, FICOI, became Director of Education and Clinical Affairs and eventually assumed the role of Chief Operating Officer. States Schlesinger, "My first objective was to overhaul the educational program at OCO. Along with the restructuring and implementation of a multilevel educational curriculum, I wanted to create a yearly symposium to bring together practitioners from around the world.  In 2016, the third annual OCO Biomedical International Symposium will be held July 22-23 in Albuquerque, New Mexico. Today, the OCO Biomedical educational program, aligned with our educational partners, has trained thousands of doctors nationwide."
The propriety and exclusive OCO Guided Surgery Kit and System and other product developments
A significant challenge in this field is to recognize viable trends. With this in mind, and with the movement toward digital dentistry, the company developed its proprietary OCO Guided Surgical System, which has been successfully implemented into the majority of today's CBCT and guide libraries.
Over the last 3 years, the OCO product line has grown with the addition of the 7.0-mm Macro implant and enhancements to the already successful Engage™ bone level line, including the introduction of the 7.0-mm and 8.0-mm diameter implants. Omni-Load abutments, which allow for multi-unit, screw-retained restorations, were also additions to the restorative lineup to address the growing use of screw-retained hybrid restorations in all-on-4TM and all-on-6 clinical applications.
States Schlesinger, "Our commitment to innovative breakthrough solutions remains steadfast."
Strategic partnerships
Schlesinger affirms, "We continue to provide everything a practitioner will need to run a successful implant practice. To achieve that, we have formed strategic partnerships with Vatech USA, Dani Dental Laboratory, 3DDX, Progressive Dental, and educational partners to offer a comprehensive solution for the doctor who is committed to improving practice performance and patient care."
Customer care is a priority at OCO Biomedical, Inc.
Another area where OCO excels is the continued refinement of the company's already unmatched customer care. Practitioners are given highly responsive and personalized service with open access to experienced technical representatives and to practicing implantologists for clinical advice.
Vision for the future — a legacy of leadership and innovation
"As we look to the future, it is our goal to continue to address the needs of our doctors to allow them the ability to provide predictable and quality implant dentistry for their patients. The culture and implant ideology set in motion by David Dalise in 1976 will evolve and thrive. I am privileged and proud to carry on the torch for years to come," declares Schlesinger.
This information was provided by OCO Biomedical.
Stay Relevant with Implant Practice US
Join our email list for CE courses and webinars, articles and mores