Editor's intro
Combining dental training in many areas with medical expertise and emphasis on digital technologies differentiates Dr. Michael J. Hartman's practice and creates loyal patients.
From technician to technology-focused clinician
What can you tell us about your background?
My path to becoming an Oral and Maxillofacial surgeon started initially in the dental laboratory. I spent 2 years working and training as a crown-and-bridge technician prior to starting dental school. That training allows me to evaluate implant cases from a dental technician's standpoint to develop a true restoratively driven treatment plan.
When did you become a specialist and why?
I really enjoyed my oral surgery rotations in dental school, and my personality seemed to fit with the residents. I can honestly say I love my job and am very grateful to be an Oral and Maxillofacial surgeon.
Is your practice limited solely to implants, or do you practice other types of dentistry?
Dental implants are a large part of our practice, but we also provide our referrals and their patients with other routine oral surgery procedures.
Why did you decide to focus on implant dentistry?
Having worked in the dental laboratory, I have a strong understanding of the restorative aspects of implant dentistry. Focusing on implant dentistry has allowed me to combine my oral surgery training and restorative knowledge to improve outcomes for my patients.
Do your patients come through referrals?
A majority of our patients come from our referral network of general dentists and other specialists. We are very fortunate to have an ever-increasing amount of "word-of-mouth" referrals that come from patients pleased with their care.
How long have you been practicing implant dentistry, and what systems do you use?
I have been practicing for 11 years. During this time, implant surgery has been a large part of the procedures I perform. I have started Digital Provisionalization Technologies (DPT), a specialized dental laboratory, and integrated this into my practice. This entity fabricates patient-specific provisional components for surgeons using X-Guide™ (X-Nav Technologies) dynamic navigation and static surgical guides. I am well versed with the majority of the larger implant systems. This allows me to assist other surgeons utilizing DPT to streamline the use of the products into their practice. It also allows me to be flexible with referral preferences.
What training have you undertaken?
As mentioned earlier, my training started prior to dental school as a dental laboratory technician. After dental school, I completed a 6-year dual degree residency in Oral and Maxillofacial Surgery. I remain current with continuing education by attending the annual AAOMS and Dental Implant Conference meetings. I also try attend a weeklong course per year; in 2019, I attended the Digital Smile Design Course.
Who has inspired you?
I am inspired by people who show passion for life and their chosen craft. I am big reader of biographies. Believe it or not, one of my favorites is of Evel Knievel, the great daredevil of the 1970s. He lived life to the fullest and was always thinking of ways to push the limit.
In terms of implant dentistry, I am inspired by practitioners who are innovators with implementing new technology into their practice. Digital technology is changing the way we practice by allowing our implant cases to be planned and precisely executed in a restoratively driven manner.
What is the most satisfying aspect of your practice?
The most satisfying aspect of my practice is caring for patients. I feel fortunate to live and work in the same community where I grew up. I enjoy caring for the people in my community and to have the opportunity to give back.
Professionally, what are you most proud of?
Professionally, I am most proud of starting my own practice, Hartman Oral and Maxillofacial Surgery in Mechanicsburg, Pennsylvania. We operate a 6,000 square foot standalone facility with five operatories outfitted to perform IV sedation, two consultation rooms, two post-op rooms, a film studio, a photo studio, and 15 staff members, including a full-time CRNA to provide anesthesia.
We are also very pleased to have our new associate, David Sibley, DMD, join us as of January 2020. Dr. Sibley's experience with zygomatic implants will now allow us to offer more treatment options for patient's with severe resorption of the maxillary arch.

What do you think is unique about your practice?
Our practice is differentiated from others by our emphasis on implementing digital technology to improve patient outcomes. We are able to shorten treatment times, reduce cost, and often reduce the number of procedures for patients.
What has been your biggest challenge?
Personally, my biggest challenge is maintaining a healthy work/life balance.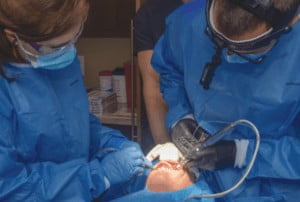 I feel the biggest challenge in implant dentistry is establishing clear lines of communication between the surgeon, restoring doctor, and restoring lab technician. Our solution is to provide effective and clear communication. This is done by what I like to call "file sharing."  Since all of our implants are placed under some form of guidance, every patient has a preoperative work-up appointment. During this appointment, we acquire the necessary CBCT, intraoral scans, and 2D photos. In larger, more complex cases, we will also acquire a 3D facial scan. This allows us to plan in a restoratively driven manner. The idea of "file sharing" is to send our preoperative information to the restoring dental laboratory to assist in the restoration design. The technicians are the true artisans in the process and should be given more information than an impression to guide them in the design and fabrication.
What would you have become if you had not become a dentist?
Well, that changes from time to time, but today if I weren't an oral surgeon, I would like to be a part-time personal trainer and part-time CAD/CAM technician. Lately, I have been obsessed with the X,Y,Z coordinate system. LOL.
What is the future of implants and dentistry?
The future of implant dentistry is customized, patient-specific, provisional components for our implant cases. These components allow realistic emergence profiles to be contoured. With guided surgery, we can now design and fabricate the provisionals prior to the actual implant surgery. The components can then be placed day of surgery with little to no adjustments. It is not uncommon in my practice to perform an extraction, immediate implant, and insertion of a lab-designed and fabricated provisional component all in under 1 hour.

What are your top tips for maintaining a successful specialty practice?
Stay current, and do not be afraid to invest in technology that you feel will enable you to improve your outcomes. Happy patients make a great referral base.
Surround yourself with quality people, and function as a team. This allows us to provide the best possible service to our patients. Our team members are the best asset to our practice, and they truly excel in their positions. We all contribute to the office culture and find many ways to have fun together.
Develop a solid social media campaign that displays your practice's personality. We have also been able to share our cases with dental professionals through a new, free continuing education platform named Implant Compare.
What advice would you give to a budding implant dentist?
Base your training and reading in science that follows evidence-based medicine. Have a vision, believe in it, and continue to pursue your goals.
What are your hobbies, and what do you do in your spare time?
When outside the office, I try and devote my time to my amazing wife and four boys. I also enjoy reading and dedicate time for personal improvement by going to the gym every morning before work. This helps me mentally prepare for the day ahead.
Editor's call to action
Combining dental training in many areas includes using dynamic navigation in implant surgery. Read Dr. Hartman's continuing education article (and take the quiz to obtain two credits if you are a subscriber).
https://implantpracticeus.com/continuing-education/implementing-dynamic-navigation-implant-surgery-in-a-modern-dental-practice/.
Stay Relevant with Implant Practice US
Join our email list for CE courses and webinars, articles and mores