Technology, teaching, and triathalons
What can you tell us about your background?
I was born and raised in Los Angeles and attended University of California, Berkeley, for my undergraduate education. I then took a year off and did research for 1 year at Los Angeles County Hospital before going to Tufts University for my dental degree. After dental school, I did my Oral and Maxillofacial Surgery residency at LAC+USC Medical Center. It was there that I realized that I wanted to get my medical degree, so that I could understand more about my patients and be more competent at managing the whole patient. After graduating from the University of Southern California School of Medicine, I did a 1-year internship in General Surgery. While I was in medical school and internship, I managed to practice oral surgery about 20 hours per week; so when I started full time in private practice, I had already begun to establish myself.
Is your practice limited to implants?
As a Board-Certified oral and maxillo-facial surgeon, I am able to perform the full scope of the specialty I was trained in. For the first half of my career, I did a significant number of cases of facial trauma, jaw tumors, and orthognathic surgery. As I started spending more time away from the office teaching and lecturing, I stopped doing surgery in the hospital. Now, my practice emphasis is on implantology, bone and tissue regeneration, as well as removal of impacted and failing teeth.

Why did you decide to focus on implantology?
Oral and maxillofacial surgeons have been the pioneers and leaders in implantology since the beginning. We were trained in implantology from the first year of residency and continued with increasing complexity through the senior year. It has been a key part of my practice since I finished training.
I have been in full-time practice since 1995. I started with the classic Brånemark implant system, and over the years, have used many of the major systems on the market. I have two primary systems that I currently use — Astra Tech Implant System® EV and BioHorizons® Tapered Internal Plus. I also occasionally place Straumann®, Nobel Biocare® and 3i™, as well as mini provisional implants.
What training have you undertaken?
Implantology was an integral part of my surgical residency, and I continue to take continuing education courses to expand my knowledge and skills. Our knowledge and techniques are always evolving, so it is important as a clinician to always be learning.
Who has inspired you?
I had a number of really great attending physicians and surgeons through dental school, medical school, general surgery, and oral and maxillofacial surgery residency. I credit Dr. William Gilmore at Tufts dental school, with whom I did research and published a couple of scientific articles, with getting me going on the path of my career.
What is the most satisfying aspect of your practice?
I really enjoy seeing patients, who came to me because they were told by other surgeons that that they were not candidates for implants, or at high risk for other procedures, come back to the office truly happy that we were able to treat them successfully.
Professionally, what are you most proud of?
It has been very gratifying to be able to teach and inspire so many dentists over the years and give them the confidence and skills to deliver treatment that wasn't part of their undergraduate dental education. Whether it is implant dentistry or office oral surgery, they learn to put their patients first and only perform procedures that are within their comfort zone and not beyond.
What do you think is unique about your practice?
My practice is at the forefront of technology. I was one of the first surgeons to embrace fully guided dental implant surgery for the great majority of my cases and was the first specialist in the United States to integrate CAD/CAM and CBCT in to the office. I also have an amazing staff that supports me so that our patients have an incredible experience in our office. Those two things really set us apart from other practices in our area.
What has been your biggest challenge?
With the explosion of technology, the biggest challenge is keeping up. We are constantly upgrading our systems to accommodate greater volumes of data and the need for faster processing speed so that we can continue to provide cutting-edge surgical care. The other is my quest to get greater acceptance of digital technology among surgical specialists. Many of them see 3D technology as unnecessary and as a "crutch" for untrained dentists to place implants. In fact, the technology elevates the game for GPs and specialists alike. It allows us to be more accurate and more efficient with our implant planning and surgery at all levels and leads to better results for our patients.
What would you have become if you had not become a dentist?
Airline pilot or a rock star. But, since I have never taken flying lessons or played an instrument, those would be a long shot. I probably would have gone into plastic surgery or ENT surgery.
What is the future of implants and dentistry?
I definitely feel that 3D technology will take over the practice of dentistry for the future, and that future will be sooner than we all expect. Guided implant surgery makes prosthetically driven planning easily achievable so that implants are accurately placed with the final result as the goal. And with CAD/CAM and digital impressions improving and gaining acceptance, the techniques we learned in dental school will soon be obsolete.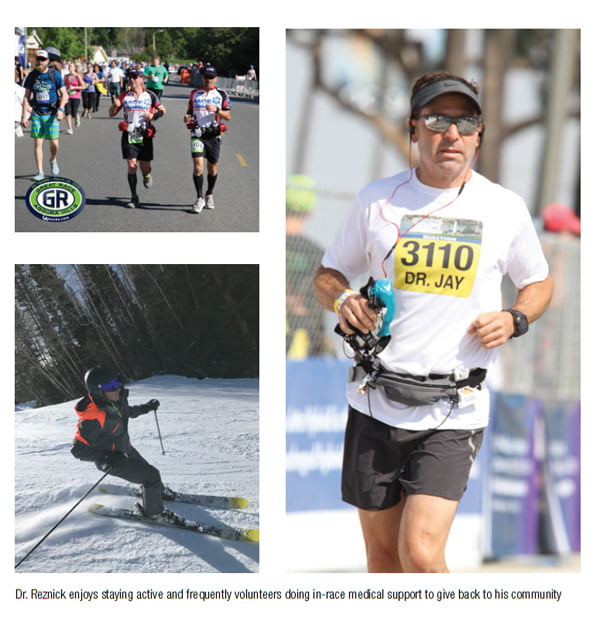 What are your top tips for maintaining a successful practice?
Always do what is best for your patients. Treat them all like you would treat you family (assuming you like your family members). If you are a general practitioner, sometimes that means knowing when to refer your patient to a specialist who can use his/her expertise and training to achieve the best outcome. Never do anything that makes you uncomfortable or that you might lose sleep over. And assemble a really good office team, and take good care of them. Success will follow you if you remember these two things.
What advice would you give to budding implantologists?     
Always remember that implant surgery is surgery. It is invasive and can harm your patient if not done properly. Start your journey slowly. Remember, it is a journey, not a race. Become educated on the principles of implantology and surgery and start with very simple cases and get very good at them before moving forward. Just because you have the time to do a procedure doesn't mean you should. What is best for your patients always comes first.
What are your hobbies, and what do you do in your spare time?
What spare time? Life is pretty busy these days. Between private practice, running OnlineOralSurgery.com, and a busy lecture schedule, I manage to get some good skiing in during the winter. From spring until fall, I spend the early mornings and weekends open-water swimming, running, and cycling to get ready for the triathlon season. I also like to go out stand-up paddle boarding on my way home from the office and have recently taken up surfing.
More about Dr. Reznick
Dr. Reznick is the Director of the Southern California Center for Oral and Facial Surgery in Tarzana, California, and a Diplomate of the American Board of Oral and Maxillofacial Surgery. A frequent lecturer, he has published numerous articles in JADA, Journal of the California Dental Association, Oral Surgery-Oral Medicine-Oral Pathology, Implant Practice US, Compendium of Continuing Education in Dentistry, Dentaltown Magazine, CE Digest, and Gastroenterology. Dr. Reznick was a very early adopter of 3D imaging and CBCT-guided dental implant surgery and was one of the first specialists in the U.S. to integrate CAD/CAM technology in to implant work flow. He is the founder of the educational website OnlineOralSurgery, which has educated clinicians all over the world. Between his busy schedule of teaching, lecturing, and private practice, Dr. Reznick finds time to ski, ocean paddleboard, and train for his upcoming Ironman races.
Top 10 favorites

My GALILEOS (Dentsply Sirona Imaging) cone beam CT has to be first on the list — it is the essential piece of technology that helps me diagnose and treat my patients by giving me accurate information.
A great office team — I can't do it all myself. They make me look good.
Headlight and surgical loupes — being able to see what you are doing allows you to perform better surgery.
Proximators™ (Karl Schumacher Instruments) — I have a spade Proximator on every extraction tray in the office. It is the essential instrument for performing minimally invasive atraumatic exodontia.
Piezotome (Satelec Acteon) — this is far superior to a drill or saw for performing sinus lifts, ridge splits, and bone grafts.
CEREC (Dentsply Sirona) — allows me to capture digital impressions, do virtual "wax-ups" for implant planning, and mill custom implant provisional restorations in the office.
Astra Tech Implant System® EV Guided surgery kit (Dentsply Sirona Implants) — makes implant surgery more efficient, more accurate, and less stressful.
3D Printer (Formlabs) — lets me print custom implant surgical guides in the office, which significantly improves turnaround time between consultation and surgery.
A fast bike. Because I am otherwise slow and need all the help I can get.
Living at the beach — should need no explanation.
Stay Relevant with Implant Practice US
Join our email list for CE courses and webinars, articles and mores