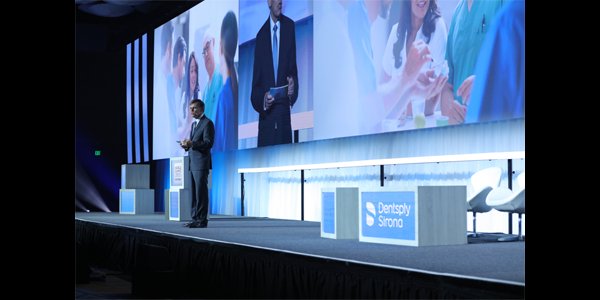 San Diego, May 2017—In 2017, Dentsply Sirona Implants welcomed dental professionals from all over the world to the World Summit Tour, the scientific congress on implant dentistry.
The combination of renowned international and regional speakers and a highly multifaceted program arrived in San Diego, the second stop of the four-city tour, following Tokyo, welcoming over 1,000 delegates and 45 speakers and moderators.
"It was an honor to welcome everyone to San Diego for this meeting filled with inspiration, science and learning," says John Voskuil, VP and General Manager, Dentsply Sirona Implants, North America. "As a company committed to better, safer, faster dental care, this meeting created a tremendous opportunity and environment to truly engage with the dental professionals that we serve. This event featured world-class education and showcased the very latest technology and developments designed to serve the needs of clinicians and laboratory technicians, and advance the field of implant dentistry."
The theme of the World Summit Tour—Because inspiration and confidence matters—mirrors Dentsply Sirona Implants' dedication to improved oral health and enhanced quality of life for implant patients worldwide. Each tour stop is designed to inspire clinicians and researchers to share scientific knowledge and clinical experience and discover the latest developments in implant dentistry. By combining general sessions, hands-on workshops, and a choice of various parallel sessions, the program promises to deliver inspiration and education for all members of the treatment team.
The World Summit Tour also included a Poster Competition in the two categories of Clinical Application and Research. Winners were selected by the Scientific Committee members, consisting of Tara Aghaloo, UCLA School of Dentistry; Lyndon Cooper, University of Illinois at Chicago; Barry Goldenberg, private practice St. Louis County; Craig Misch, private practice Sarasota, FL; Georgios Romanos, Stony Brook University, NY, and University of Frankfurt, Germany; and Homa H. Zadeh, University of Southern California.
For more information about the World Summit Tour, registration dates, the venues and the development of the scientific program, please visit worldsummittour.com
Stay Relevant with Implant Practice US
Join our email list for CE courses and webinars, articles and mores