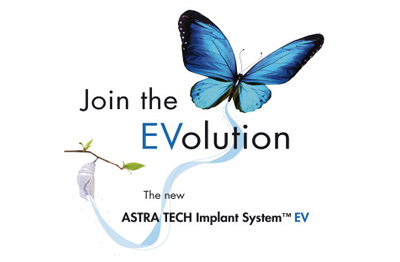 March 2014 – DENTSPLY Implants introduces the next step in the continuous EVolution of the ASTRA TECH Implant System. The ASTRA TECH Implant System EV is designed with a site- specific, crown-down approach based on the natural dentition for increased surgical simplicity and flexibility and restorative ease – without compromising the unique ASTRA TECH
Implant System BioManagement Complex.
The foundation of this evolutionary step is the uniqueASTRA TECH Implant System BioManagement Complex, well documented for its long-term marginal bone maintenance and esthetic results provided by the combination of the key features: the OsseoSpeed surface, MicroThread, Conical Seal Design and Connective Contour.
The main objective of the new system is to further improve system logic, robustness and user friendliness. Simplicity without compromise has permeated the evolution of the ASTRA TECH Implant System EV.
The new system is a result of the collaborative input and insightsfrom dental professionals throughout the global dental industry. Dr. Lyndon Cooper, USA, and Dr. Clark Stanford, USA, are clinician scientists with broad dental implant experiences that include recent clinical activities using the ASTRA TECH Implant System EV. With a select group of international peers, they have shared their perspectives acknowledging these goals.
"Clinicians should be encouraged to see that the industry continues to strive for improving patient care with dental implants. The ASTRA TECH Implant System EV illustrates DENTSPLY Implants' efforts in re-engineering and adherence to sound biologic principles," says Lyndon Cooper, Stallings Distinguished Professor of Dentistry of the Department of Prosthodontics at the University of North Carolina at Chapel Hill.
"The ASTRA TECH Implant System EV is a continuing development of a dental implant system derived from a unique collaboration between clinicians, engineers and biologists. It is grounded in the fundamental principles that have guided the system since its inception," says Clark Stanford, Associate Dean for Research, Centennial Fund Professor, University of Iowa.
At the Academy of Osseointegration Annual Meeting in Seattle, WA, USA, March 6-8, 1-year data from an ongoing, prospective, multi-center study (5 clinics, 120 patients) will be presented.
The ASTRA TECH Implant System EV will be launched globally beginning in March 2014 and continuing throughout the year.
Product highlights
Versatile implant assortment

Flexible drilling protocol that allows for preferred primary stability

User-friendly surgical tray with three interchangeable overlay options

Color-coded assortment

Unique interface with one-position-only placement of ATLANTIS patient-specific abutments

Self-guiding impression components

One system – one torque

Available with SIMPLANT guided surgery

For more information and highlights of the new ASTRA TECH Implant System EV, please visit the campaign site:
---
About DENTSPLY Implants
DENTSPLY Implants offers comprehensive solutions for all phases of implant therapy, including ANKYLOS®, ASTRA TECH Implant SystemTM and XiVE® implant lines, digital technologies, such as ATLANTISTM patient-specific CAD/CAM solutions and SIMPLANT® guided surgery, regenerative solutions, and professional development programs. DENTSPLY Implants creates value for dental professionals and allows for predictable and lasting implant treatment outcomes, resulting in enhanced quality of life for patients.
About DENTSPLY International
DENTSPLY International Inc. is a leading manufacturer and distributor of dental and other healthcare products. For over 110 years, DENTSPLY's commitment to innovation and professional collaboration has enhanced its portfolio of branded consumables and small equipment. Headquartered in the United States, the Company has global operations with sales in more than 120 countries.
---
For further information, please contact:
Janie Shen – Director, Corporate Communications, DENTSPLY Implants, North America Phone +1-800-531-3481 | [email protected] | www.dentsplyimplants.us
Kerstin Wettby – Senior Manager, Global Marketing | PR & Communication, DENTSPLY Implants, Sweden Cell phone +46 705 16 32 02 | [email protected] | www.dentsplyimplants.com
You can also visit our News & Press Room at:
www.dentsplyimplants.com/en/Resources/News-and-Press
Stay Relevant with Implant Practice US
Join our email list for CE courses and webinars, articles and mores