Dr. David Reaney looks back on advances made in the world of dental implants and dental implant technology over the past 10 years 
Dentistry has undergone significant changes over the past decade, with implant dentistry in particular being one of the major growth areas. Patients are better informed about treatment options and the benefits afforded by implant treatment than ever before.
Of these options, it is becoming widely understood that implants are the best solution for missing teeth.
An implant-retained crown is often the best option for single tooth replacement because it does not result in the loss of healthy tooth tissue associated with conventional bridgework.
In the same way, multiple teeth can be replaced using several implants to support bridgework for fixed restorations or implants with attachments or implant-supported bars used to retain removable prostheses.
We have seen significant advances in implant design too, with a move from parallel-sided to tapered implants, and modifications in thread design resulting in implants that engage bone more aggressively — which prove particularly effective in immediate placement and loading protocols, where excellent primary stability is required.
Even more recently, we have seen implant systems introduced with "short" or "narrow" implants allowing placement in situations where conventional implants cannot be used.
Diagnosis and treatment planning
This important aspect of treatment has been much improved through the use of modern diagnostic procedures — in particular the introduction and use of cone beam computerized tomography (CBCT). This relatively low-dose radiographic imaging technique allows three-dimensional bone volume assessment and, in combination with implant treatment planning software, can assist with implant site selection. A major benefit of this technique is the avoidance of certain anatomical structures such as the inferior dental nerve, for example, thus reducing some of the risks associated with implant surgery. Guided surgery is also facilitated by CBCT imaging with implant treatment planning software (Figure 1) used to aid guided-surgical stent production.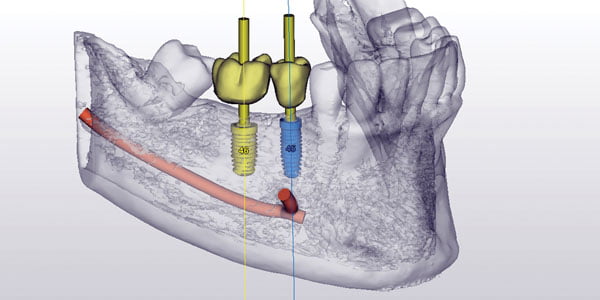 Benefits of overdentures

Oral hygiene techniques and plaque control around implants is much easier to carry out when the bulk of the prosthesis can be removed.
Implant-retained overdentures may require the placement of fewer implants compared to a full-arch fixed prosthesis. This may simplify treatment as augmentation procedures such as sinus grafting can often be avoided. This approach may also reduce surgical risk and keep the cost of treatment down for the dentist and ultimately for the patient.
In cases where there is significant loss of hard or soft tissue, replacement of these tissues can be more effectively replaced, especially where lip support is required. Phonetic outcome may also be best achieved using removable prostheses in situations where significant resorption has occurred.
Ease of repair.
Prosthodontic considerations
We are continuing to see a move away from cement-retained restorations toward screw retention, and also — especially in full-arch cases — a preference for removable prostheses retained by implant-supported bars or locator attachments. The main advantage of screw retention is that restorations are more readily retrieved should their removal be required.
The removal of cement-retained prostheses is less predictable and may involve destruction of the restoration.
Screw-retained prostheses do not require a luting cement, which in some situations can result in peri-mucositis and peri-implantitis, especially if cement is not cleared from a subgingival area. Improved diagnostic techniques, advanced implant planning, and the use of guided surgery have resulted in optimal implant positioning, which facilitates the provision of screw-retained restorations.
Recently, abutments have been produced with so-called "angled screw access" where the implant driver used to torque the abutment screw engages the screw head from an angle other than the customary approach (along the long axis of the implant). This allows screw retention to be used in situations that would previously have been considered unfavorable.
The use of angled abutments placed on the restorative platform of the implant also permits the provision of a screw-retained prosthesis (while also increasing the height of the restorative platform). In full-arch cases, the trend appears to be toward implant-retained overdentures and away from fixed prostheses (Figures 2 and 3). Bars and clips or locator attachments can retain these.
The "Benefits of overdentures" chart explains some of the key advantages that this modality offers clinicians and patients.
Technical advances
Over the past decade, there has been a transition from cast restorations (Figure 4) toward CAD/CAM techniques, with restorations being designed by computer and milling techniques (Figures 6 and 7) employed to prepare abutments, bars, crowns, and bridges instead of the more traditional casting methods.
There are a number of advantages that milling has over casting:
More biocompatible materials can be utilized with milling techniques, such as titanium and zirconia (Figure 5).
Milling techniques provide significantly greater accuracy than casting. Thermal distortion is often a cause of casting errors. Casting porosity is another problem encountered in conventional casting techniques that does not occur in milled products.
Milled restorations are more cost-effective than their cast counterparts.
The improved workflow inherent in milling techniques results in faster turnaround times, elimination of production errors, and lower remake rates.
We have seen significant developments in implant dentistry over the past decade. This rate of progress is likely to increase exponentially with the introduction of intraoral scanning systems, improvements in implant systems, the development of new materials, especially ceramic systems, and laser-sintering technology.
More accurate digital workflows will almost certainly result in greater efficiency, lower production costs, and faster turnaround times — all of which will be of significant benefit to dentists and ultimately their patients.
Stay Relevant with Implant Practice US
Join our email list for CE courses and webinars, articles and mores