CS 3600 Intraoral Scanner Tested to Have Highest Accuracy in Latest Implantology Study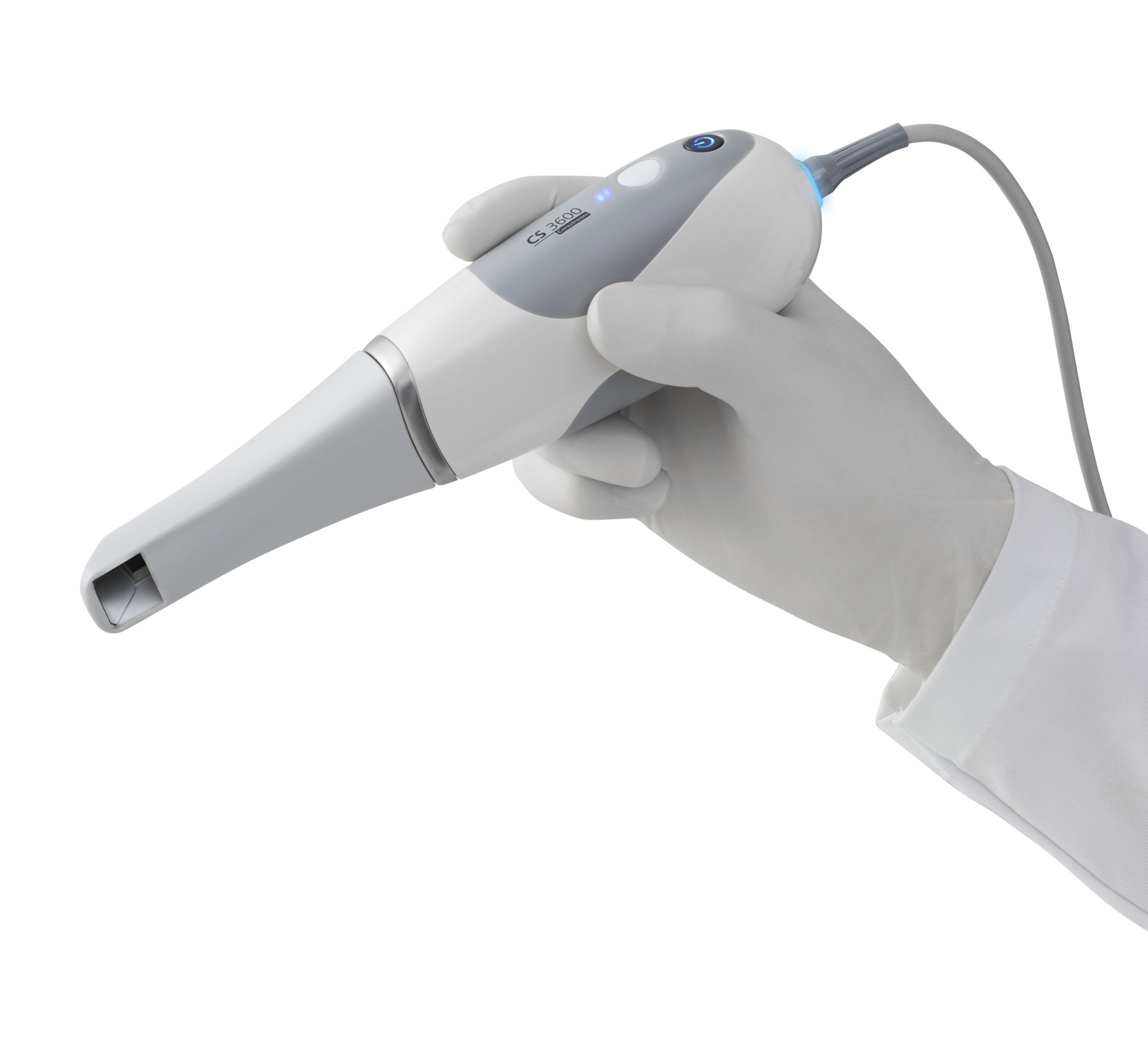 ATLANTA—When it comes to placing implants accuracy matters, and the CS 3600 intraoral scanner was found to give the most accurate results during a new study, "Trueness and Precision of Five Intraoral Scanners in the Impressions of Single and Multiple Implants: A Comparative In-Vitro Study."1
With few peer-reviewed studies evaluating the clinical efficacy of intraoral scanners in implantology, these latest findings from Drs. Francesco Guido Mangano, Uli Hauschild, Giovanni Veronesi, Mario Imburgia, Carlo Mangano and Oleg Admakin compared the trueness and precision of five intraoral scanners and determined which have both accurate and consistent results.
According to the study, the CS 3600 had the best accuracy, while having the fewest triangles making up the meshes in all applications.
"The number of triangles is often misinterpreted to be a measure of acquisition resolution or mesh quality," Victor Wong, Ph.D., director, research and innovation, Carestream Dental, said. "In fact, by having the best trueness with the smallest number of triangles, the CS 3600 demonstrates the most efficient/optimal mesh generation by placing more triangles in areas with more details, and vice versa, with minimized mesh file size while maintaining accuracy."
To put the scanners to the test, 10 scans were performed by a single digital dentistry expert per indication per intraoral scanner with a zig-zag technique in the same environmental conditions. Two maxilla plaster models were used as a reference: One partially edentulous and one totally edentulous.
In this study, trueness is defined by the difference between the scanned model and the reference model; precision is quantified by the difference between repeatedly scanned models. In both cases, smaller values indicate greater trueness and/or precision. A scanner needs both trueness and precision to be considered accurate.
When scanning a single crown, the CS 3600 was found to have the best trueness (15.2 ±0.8 μm) and the best precision (11.3 ±1.1 μm). The CS 3600 also had the best trueness (23 ±1.1 μm) and the best precision (21 ±1.9 μm) when scanning a partial prosthesis. While scanning a full arch, the CS 3600 had the best trueness (44.9 ±8.9 μm) and had the second-best precision (35.7 ± 4.3), which very closely follows the best precision result (35.6 ± 3.4).
This is not the first time that studies have confirmed the CS 3600's high performance. In a 2018 study,2 the CS 3600 outperformed other scanners, as well as traditional impressions, in finish line accuracy. Its trueness was confirmed by a 2017 study that tested the accuracy of four intraoral scanners in oral implantology.3
To learn more about the CS 3600, or any of Carestream Dental's innovative solutions, visit carestreamdental.com.
1Mangano F, Logozzo S, Hauschild U, Veronesi G, Imburgia M, Mangano C, Admakin O. June 6, 2019. Trueness and precision of 5 intraoral scanners in the impressions of single and multiple implants: a comparative in vitro study. BMC Oral Health. 19(101): DOI 10.1186/s12903-019-0792-7
2Nedelcu R, Nystrom I, Olsson P, Thor A. Feb. 26, 2018. Finish Line Distinctness and Accuracy in 7 Intraoral Scanners versus Conventional Impression: An In-vitro Descriptive Comparison. BMC Oral Health.18(27): DOI 10.1186/s12903-018-0489-3
3Imburgia M, Logozzo S, Hauschild U, Veronesi G, Mangano G, Mangano FG. June 2, 2017. Accuracy of Four Intraoral Scanners in Oral Implantology: A Comparative In-Vitro Study. BMC Oral Health. 17(92): DOI 10.1186/s12903-017-0383-4
About Carestream Dental
Carestream Dental is transforming dentistry, simplifying technology and changing lives around the world with its innovative digital product line of systems, solutions and support. From intraoral and extraoral imaging equipment to CAD/CAM solutions, imaging analysis software to practice management systems, Carestream Dental technology captures two billion images annually and aids in more precise diagnoses, improved workflows and superior patient care. For more information or to contact a Carestream Dental representative, please visit carestreamdental.com.
Media Contact
Amanda Gong, Carestream Dental
470.481.6797
amanda.gong@csdental.com