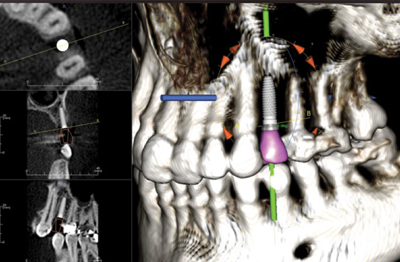 Dr. Justin Moody discusseshow efficient workflow createsefficiencies for planning andtreatment
Everyone is talking about digital workflow these days, but what does that really mean? Technology changes by the second. It seems like every time I buy something, a new version is coming out the next day, or an upgrade is available the minute it is installed. If we sit on the sidelines waiting for the perfect time to jump in, that time will never come.
I remember when it was a big deal to be a paperless office, and then the cutting-edge dentists had digital sensors and CAD/CAM. Digital technology has come a long way — with technologies that include integrative and interactive software, digital impressions, and cone beam 3D imaging.
Digital workflow is all of those things and more. It is the ability to use digital technology to make ourselves more efficient. How do we measure efficiency? We can measure it in seconds, minutes, hours — it's all about time. As dentists, we only have so much time in a work day to see patients, and our efficiency is contingent upon how effectively we spend that time. The price of technology only seems high if you are only looking at the price tag. We must educate ourselves as to what this technology can actually do for the practice.
In my practice, I think of digital workflow as many products from many manufacturers working together in my system to make my job easier and faster. Let me give you just one example of how this works for me every day. I see new patients for dental implant consultations; they have either filled out their paperwork online or on an iPad® at my office after they have been instructed to arrive 15 minutes early. Now in my system, patients are taken back to my consultation room, and we talk about their vision of what they want — 100% of the time, this involves a CBCT scan from my i-CAT® FLX (Imaging Sciences International) machine, which no longer needs data entry, as it gets this from my Dentrix Chart, and my DEXIS integrator sends the info to the CBCT unit with one click of the mouse. Approximately 2-3 minutes later, I can treatment plan my cases in Tx STUDIO™ for patients to see and discuss. Once they commit to care, then it's a matter of taking a digital impression with my 3Shape TRIOS® Color, Pod, and digital clinical photo series. I can now schedule patients for surgery, having gathered all the necessary information to create models, virtual wax-ups, surgical guides, and immediate provisionals. I am able to do this in one visit. Many of the steps are a team effort, and patients are getting the very best in care quickly and efficiently.
That is time savings; that is how to be more profitable, and it's also fun. With digital workflow, you can work smarter and let the technology work harder for you.
Stay Relevant with Implant Practice US
Join our email list for CE courses and webinars, articles and mores