At DENTSPLY Implants, our vision of a world where everyone eats, speaks, and smiles with confidence permeates and inspires everything we do. We are committed to an open-minded, passionate, and genuine approach to the products and services we provide and the way we do business. We are dedicated to providing clinically proven products of the highest quality and backed by extensive documentation. By integrating biology and biomechanics, our products and services are designed to support functional and esthetic solutions that last a lifetime. We believe these aspects and considerations matter for the peace of mind of our customers and for the satisfaction of the patients whom they serve.
DENTSPLY Implants: what's in a name?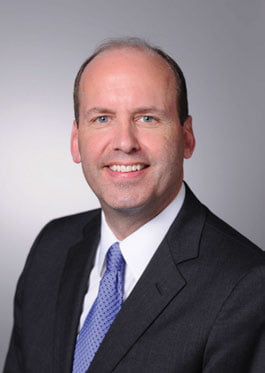 For many, the name "DENTSPLY" resonates and is associated with all different aspects of dental supplies and solutions across the lifecycle of a tooth. Founded in 1899, DENTSPLY International Inc. is a leading manufacturer and distributor of dental and other consumable medical device products. For over 115 years, DENTSPLY's commitment to innovation and professional collaboration has enhanced its portfolio of branded consumables and small equipment. Headquartered in the United States, the Company has global operations with sales in more than 120 countries.
However, for just as many, the story behind DENTSPLY Implants may still remain one to be discovered. While the name "DENTSPLY Implants," was first introduced to the market beginning only 3 years ago in late 2012, DENTSPLY Implants is a culmination of over 40 years of expertise, knowledge, and experience in all relevant fields and technologies of implant dentistry.
Comprehensive solutions
Today, DENTSPLY Implants is a leading provider of premium solutions throughout all phases of implant therapy that allow for optimal and long-term, individualized results. While many companies make a similar claim, what makes DENTSPY Implants truly unique is the comprehensive breadth of each product line within every category of treatment phase from computer-guided implant treatment (SIMPLANT®), to hard bone and membrane regeneration (SYMBIOS™); from three choices of implant systems, each with its own distinguishing features and benefits (ANKYLOS®, ASTRA TECH Implant System™, and XiVE®), to patient specific restorative solutions for cement-, screw- and attachment-retained implant supported prostheses that go beyond CAD/CAM (ATLANTIS™). These solutions are further supplemented by over 500 educational opportunities annually in North America and practice marketing tools.
Scott Root, President of DENTSPLY Implants North America, says, "By providing solutions for all aspects of dental implant therapy needs, we are able to offer one stop convenience for our customers. In addition, continued product developments are designed to connect all the solutions together so that dental laboratories, clinicians, and their patients can further benefit from improved efficiency in treatment process, experience enhanced communication and coordination with the confidence of successful, long-term outcomes."
A tradition of innovation
DENTSPLY Implants began as the union of two successful and innovative dental implant businesses, DENTSPLY Friadent and Astra Tech Dental. Collaborating with universities, dental professionals, researchers and industry leaders all over the world, the Company has always been at the forefront of market trends and customer needs while maintaining the highest level of quality product and solutions.
DENTSPLY Implants' legacy in implantology dates back to 1974 with FRIALIT®-1 — the first root-analog dental implant developed by DENTSPLY Friadent (former Friedrichsfeld AG) and professor Dr. Willi Schulte from Tübingen University, Germany — with the first immediate implant placement protocol that revolutionized implant dentistry. More advanced treatment protocols such as immediate loading procedures followed.
Astra Tech Dental began development of the Astra Tech Implant System™ in the early 1980s, and the evolution continued with innovations such as Conical Seal Design™, Connective Contour™, TioBlast™ surface, and MicroThread™. In 2004, OsseoSpeed™, the first chemically modified implant surface, was launched. The unique combination of these key features is referred to as the ASTRA TECH Implant System Bio Management Complex™, well documented for its long term marginal bone maintenance and esthetic results. In 2011, OsseoSpeed TX Profile launched as a unique, patented implant that is anatomically designed for sloped ridges.
ANKYLOS was developed by DENTSPLY Friadent in 1986, with a unique combination of tissue stabilizing features called the ANKYLOS TissueCare Concept. The progressive thread design allows for excellent primary stability, while the subcrestal implant placement protocol helps provide an optimal emergence profile and supports bone on the implant shoulder for long lasting esthetics.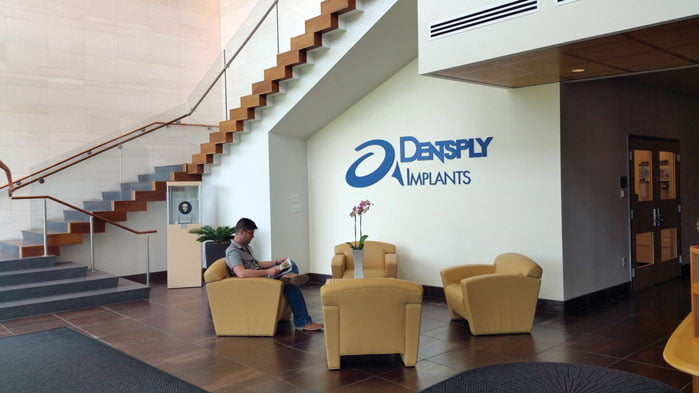 The launch of XiVE in 2001 was based on a foundation of more than 25 years of experience in implant dentistry. Prosthetically, XiVE is fully compatible with FRIALIT, offering a well structured line of color coded abutments that already set the standard in the 1990s.
In 2007, Astra Tech Dental acquired Atlantis Components, an innovative dental CAD/CAM company providing patient specific abutments. With the patented ATLANTIS VAD™ (Virtual Abutment Design) software, abutments are uniquely designed from the final tooth shape for a more natural esthetic result and optimal mechanical properties.
As a result of the union of Astra Tech Dental and DENTSPLY Friadent, the three implant systems, ATLANTIS patient specific abutments and SYMBIOS regenerative solutions were brought together within the product portfolio.
In late 2013, Materialise Dental, another company owned by DENTSPLY International, was merged into DENTSPLY Implants in order to fully integrate all solutions supporting implant therapy under one roof. With that came the SIMPLANT digital treatment planning solution for guided surgery, developed by Columbia Scientific Inc., a U.S. based company that specialized in the design and development of dental application software using CT data and Materialise, a global leader in rapid prototyping technology utilizing CAD and other 3D file formats. With the launch of innovative products, such as Immediate Smile™ featuring ATLANTIS Abutment and guided surgery for ASTRA TECH Implant System EV, SIMPLANT has continuously proven to be the market leading solution for digital dentistry and guided surgery.
Today, over 1,200 DENTSPLY Implants employees worldwide represent market companies in 26 countries, and additional presence through distribution channels in over 40 countries for a total access to 95% of the global implant market.
Some things never change: a commitment to science and documentation
Changes both big and small have continued to shape and define DENTSPLY Implants' offering. Yet a firm dedication to research, documentation, and clinically proven products has remained unchanged. Since clinical efficacy and quality is a core focus of DENTSPLY International, it is understandable this value can be found in all its business units. The combination of decades of experience in the area of science and research through the companies that have been brought together to form one DENTSPLY Implants allows the Company to deliver the highest level products across all areas of digital planning, regeneration, and surgical and restorative implant therapy.
Most DENTSPLY Implant products are put through several years of development and verification before they are even introduced to the market. Documented research is essential in the development of products and solutions. Their research and development focuses on all aspects of implant treatment, including more demanding, compromised cases, and treatment procedure simplification and extensive pre-clinical and clinical studies. In fact, a comprehensive study program includes over 1,550 published scientific references.
The Company proudly stands behind its products by providing one of the most comprehensive warranty programs within each product category for added peace of mind.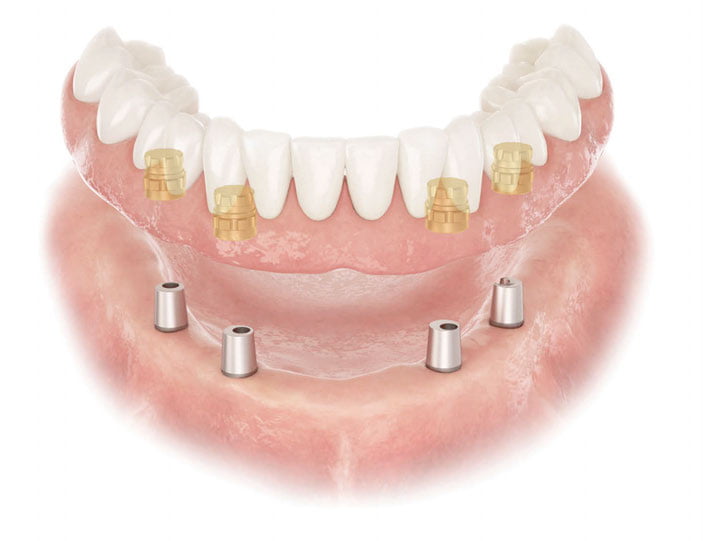 Market-leading developments
In today's world, technology enhances the ability to provide a personalized approach to patient care and helps support communication and collaboration among treatment team members, which is a critical aspect of dental implant therapy. Leveraging technology helps in visualizing the clinical situation and treatment planning. Products designed specifically to accommodate a patient's particular anatomical and clinical situation are also able to provide improved function and esthetics over time.
"There is an old phrase I learned early in my career that says, 'Change does not necessarily equate with progress, but without change there can be no progress,'" states Matt Gassel, Director of Marketing, DENTSPLY Implants North America. "Innovation is the key to driving implant dentistry forward and helping more patients benefit from the therapy. The market demands constant improvements in order to meet their practice, business, and patient needs. At DENTSPLY Implants, we continually strive to make our solutions and the customer experience the best possible. Many of our innovations come from just listening to our customers."
DENTSPLY Implants' innovations are designed to support the varying demands from simple to challenging cases, as well as alternative protocols for increased patient comfort, reduced treatment time, and simplified procedures, as illustrated through the recent introduction of OsseoSpeed Profile EV and the ATLANTIS Conus concept.
OsseoSpeed Profile EV is specially designed for efficient use of existing bone in sloped ridge situations. The sloped design of the implant neck allows for implant placement level with the bone in the existing anatomy, which may be in a lingual-to-buccal or even mesial-to-distal slope, preserving marginal bone and supporting soft tissue 360° around the implant. In addition, the implant design can help to reduce the need for bone augmentation.
OsseoSpeed Profile EV is an integral part of the new ASTRA TECH Implant System™ EV and is supported by the unique ASTRA TECH Implant System Bio-Management Complex™, well documented for its long term marginal bone maintenance and esthetic results.
Available for all major implant systems, ATLANTIS Conus concept is a patient specific overdenture solution that provides a friction-fit, non-resilient prosthetic restoration for fully edentulous patients. The solution consists of a uniquely designed, conical-shaped abutment with corresponding caps that incorporates an implant-borne prosthesis while being removable like an overdenture.
Your implant patients look to you to deliver the best possible treatment outcomes
Do you want a company with a strong history of experience, expertise, and documented success? Would you enjoy the convenience of a one-stop-shop for comprehensive solutions for all your implant needs? Are products and services of the highest quality important to your practice success and your patients' satisfaction?
Tens of thousands of dental professionals from around the world rely on DENTSPLY Implants for implant-supported solutions from root to crown that are as individual as their patients. In addition to products of the highest quality, they also provide access to the support and tools you need for developing your business further.
At DENTSPLY Implants, they believe that simplicity you can trust, uncompromised quality, and service beyond products matter for restoring happiness to their customers and the implant patients they treat. If you agree, visit www.dentsplyimplants.com, call your local DENTSPLY Implants representative, or the Customer Service department at 800-531-3481 to learn more.
This information was supplied by Janie Shen, Director, Corporate Communications, DENTSPLY Implants.
Stay Relevant with Implant Practice US
Join our email list for CE courses and webinars, articles and mores