Catherine Cheshire, SPHR, discusses the importance of keeping employees informed
Most of us go to great lengths to manage communications with patients and referring dentists. Nurturing your internal messaging for your practice team is mission-critical too, especially during times of growth and change.
Regular, transparent, and considerate messaging keeps your team engaged and keeps your practice's culture thriving. Especially if your crew is growing, or some kind of organizational change is afoot (such as adding a satellite office or new employees), it's time to get strategic about internal communication.
In our technology-filled lives, every day, we live and breathe the power of messaging. So we take note of the immediate impact and the on-going ripple effect communications have within our own workspace. If any lesson rings the truest during times of growth and transition as well as in an everyday well-run practice, it's that communicating any kind of change, and keeping communication constructive when you grow, requires a good and proper plan.
Three company culture steps are needed to be sure that your team is ready to receive your messaging.
1. Align your leadership … and gather intel
You need buy-in from your practice team, both the office and the clinical associates. Make sure you have a connected team that gets the "why" behind the changes. Support your leaders, and show them their place in the practice's future. Your team is critical to the success of your communication strategy. You need them to be ready to reinforce the practice's internal messaging and to embody the company culture. Integrate their experience and opinions about your operation and communications — they will be critical in helping you with the next step.
2. Create a culture of communication
You already have a communication culture in your company. But is it a good one? When you bring a message of change to your team, is your message going to be received from a place of established respect and openness? It's time to assess where your communications stand. Take a look at how communication flows through your practice. Break down your info-share into "bottom-up" and "top-down" methods.
Bottom up: Is there a stronger tendency for your team to communicate upward the owner/clinician or the office manager, rather than the other way round? For example, do you have feedback programs or open-door managers always ready for questions and employee feedback?
Top down: Does most information filter down from the top to the team? For example, internal emails from management and clinician/office manager intranet updates?
Ask your team what communication channels are working, which aren't, and which are missing.
Will your current methods continue to work in your new world order? This includes, a move, addition of a satellite office, or expansion of a current practice? And are those pathways and communication styles constructive? A practice with an organic and non-formalized communication style might find itself stuck when a new hierarchy is introduced or new folks are added to the mix. You might be consumed with new patients and new hires, with a mess of crossed messages, yet-to-be-written processes, and good intentions.
You need to identify how your messages will be best communicated to your team, and create a proactive schedule that preemptively answers questions you know are coming. And then you need to be ready for the questions you didn't foresee.
3. Give your team a voice
Sounds elementary? Most of us who are into employee engagement in the modern era assume that our team is heard. The truth is that is not always the case. Consider those personalities who don't speak up — ever. Consider the workplace whirlwind. As you grow, or there is a period of uncertainty, make sure you are ready to hear your team. Set the importance of team input and feedback as a culture priority.
And remember to prep your leaders to foster an atmosphere of openness and real communication (you might need to source some coaching!)
You want to make sure that information is being shared from the top effectively, and that your team's valuable inputs are heard and acted on. There's a recent trend for companies to turn top-down communication on its head. Many company-wide meetings are taking on the traditional townhall approach — a short leader-led presentation followed by ample time for questions and comments from the team.
The result? Cohesive, high-morale, high-functioning companies where ground-level business intelligence is making its way to the top, and making them better.
Be patient while everyone adapts
Establishing new behaviors takes time. It can take months for your team to get the hang of asking questions, especially if they are not used to doing so. If it feels like a slow start, stay the course! Be consistent. Encourage feedback — and provide different communication pathways for different personalities. Follow up on that feedback. Act on it, fast, and always reply — as you would for a patient.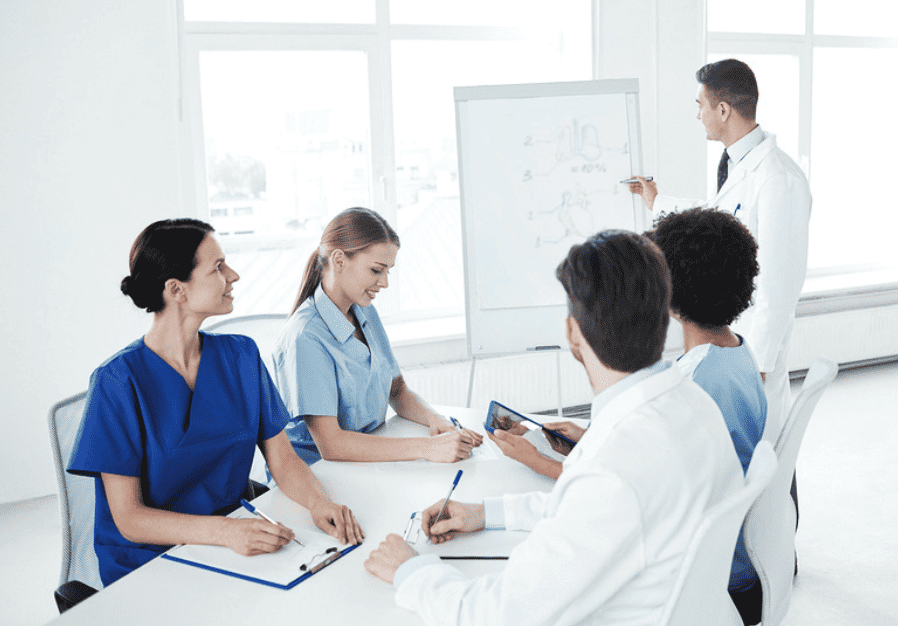 Key traits to develop your communications

Know yourself and your goals.

What are your practice's core values? What are its goals? Integrate what will remain the same, or how the changes reinforce and support the company mission. If there is a culture change afoot, explain how things will be different and why.

Be considerate, meaningful, and genuine.

Ask yourself and your leaders what impact your team members experience as a result of the changes — operationally, financially, personally, and interpersonally. How will teams and individuals fit into the changes? Note those impacts, and address them in your communications.

Deliver clarity and transparency.

People are more likely to get onboard if they are treated with respect, and they see the reasoning behind the decisions. Share your business intelligence and clarify how that information links to your mission. What are your expectations of the team? Provide (and communicate) structure and support your people for success.

Make updates regular and timely.

Foster the expectation that you will be forthcoming with updates and feedback. Surprises are for birthdays, not for major life changes. Put your team communications on a schedule, and hold yourself or your office manager to it. Your people will come to know they can expect an on-going stream and trust you all the more for it. Think about the timing of the information you are sharing. Are you prepared to follow up with updates or lack of updates, and to handle the questions that follow? Are you being transparent while at the same time taking care not to overburden your team with too much information?

Say thank you.

Recognize the challenges, the sacrifices (family impacts, disruption, comfort zone bursting). Share the tangible results and accomplishments that result from the team's rally. Who has been instrumental in your recent positive change, or who has helped you go through the challenges — whether it's teams or individuals, take time to recognize those contributions in a way that is beneficial and meaningful to them.

Loop it back!

Feedback is your friend. (Constructive) feedback/rich environments are where truly cohesive teams emerge. Establish a means for the team to ask questions, share information to you from the ground. You'll gain critical insight, and your team will be heard — it's a base requirement that is directly related to performance and positive associations.

Communicating uncomfortable change can be hard. Positive change can come with challenges too, especially if there is confusion from half-baked communication, or parts of your team are going to meet new challenges without the support or resources they need.

The good news is that a people-first communication strategy primes you for better understanding between you and your team, and the opportunity to course-correct as you receive feedback.

And the ultimate result of people-first communications? A practice team that understands and buys into your mission, stronger engagement, and a vibrant, intact corporate culture.

Here's to your growth!
Originally published on Bigsea.co.
Stay Relevant with Implant Practice US
Join our email list for CE courses and webinars, articles and mores