Continuing Education (CE)
The continuing education article below is available to Implantologists and general dental practitioners who perform implants.
In order to earn continuing education credits with our publication, you must be a paid subscriber of Implant Practice US and complete a short quiz about the content of the article.
Earn up to 16 online dental CE credits per year! Purchase a subscription now.
Drs. Paul Tipton and Bernd Siewert look at a new material for framework fabrication and consider processing methods, pressing versus milling, and the long-term findings
Polyetheretherketone (PEEK), the high-performance polymer, has proven successful in many areas of medicine for a number of years and is also gaining an ever-increasing number of advocates in dentistry thanks to its good physical properties and chemical resistance. CAD/CAM processing of PEEK also opens new options.
Educational aims and objectives

This article aims to demonstrate the possibility of milling polyetheretherketone (PEEK) in the CAD/CAM procedure from industrially manufactured material blocks and present long-term findings of a case involving treatment of bruxism.

Expected outcomes

Implant Practice US subscribers can answer the CE questions to earn 2 hours of CE from reading this article. Take the quiz here. Correctly answering the questions will demonstrate the reader can:

Garner more information about PEEK high-performance polymer.
Identify some positive aspects of the injection molding technique.
Recognize some advantages of CAD/CAM bridge frameworks
In the following article, the authors demonstrate the possibility of milling PEEK in the CAD/CAM procedure from industrially manufactured material blocks (Juvora™ Dental Disc, Juvora) rather than injection molding and present long-term documentation of a case involving treatment of bruxism by means of a prosthetic restoration.
Injection molding technique
If industrially manufactured elements are used for an implant-borne prosthetic restoration, they can be overmolded (thermo-press system) with PEEK. This eliminates the need for additional adhesive retention, which can be of particular advantage where little space is available, for example, in the anterior region. Furthermore, the injection molding technique requires lower financial investment than CAD/CAM fabrication of PEEK frameworks.
The entire fabrication process of wax-up, investing, and finishing is time-consuming. The procedure with the thermopress system was not fully developed technically. In some cases, visible voids and cracks were produced in the framework due to the familiar problems of injection molding. In these cases, the complete fabrication process had to be repeated.
It was not always possible to maintain the surface contours of the wax-up exactly due to adjustments to the surface that were occasionally necessary. This is counter-productive, in particular with fully anatomically designed bridge frameworks.
The transition to the plastic phase (heating and subsequent cooling) impairs the material-technical properties, especially with high-performance polymers such as PEEK. There is the risk of changes in the crystal lattice structure. Despite these factors, which may result in a reduction in quality, no problems with regard to crack formation, material fatigue, or even fracture have occurred.
CAD/CAM bridge frameworks
Industrially manufactured blanks with approval for permanent restorations have recently become available (Juvora Dental Disc, Juvora). This material has no additives — it is therefore pure and has been used in medicine for many years (PEEK-Optima, Invibio™).
The advantage of CAD/CAM-fabricated bridge frameworks is that the material is not adversely affected during the fabrication process, provided it is used correctly. Bridge frameworks, milled from a high-grade, industrially manufactured block (Figures 1 and 2), undergo no physical changes during the fabrication process and exhibit the same or possibly better material/technical properties (Figures 3 and 4).
Advantages of CAD/CAM:
High-quality bridge frameworks with no material faults
Precise manufacture
Reduced manufacturing time
Easily reproducible fabrication process.
The reworking required is limited to high-luster polishing, provided a correct CAD/CAM chain is employed. This guarantees that the shape contoured during software-supported fabrication is retained exactly.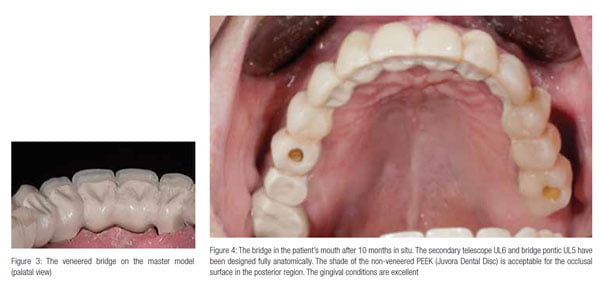 Bruxism in patients
In the authors' opinion, the ideal method and materials have yet to be found in the search for an optimal prosthetic solution for bruxism patients. Acrylic teeth have a damping effect but are subject to abrasion. Metal or all-ceramic restorations are at risk of fracture and do not provide any shock-absorbing effect to prevent overloading of the patient's natural teeth and the implants.
Prosthetic restoration
A 55-year-old female patient was referred to the practice for implant treatment and prosthetic restoration (Figure 5). She had previously been treated via a bar-supported denture placed on four implants (Figures 6-9).
After 13 years of use, the overdenture was damaged due to severe bruxism and was no longer sufficient. It was replaced by a fixed, operator-removable, horizontally screw-retained bridge (Figures 10-12). The chrome-cobalt-molybdenum alloy telescope crowns on four implants and two molars were adhesively retained in a bridge framework fabricated using PEEK (BioXS, Bredent).
After 3 years in situ, the occlusal surfaces (veneers) had been abraded completely in the posterior region, and later, the veneers split off tooth UL2 due to the bruxism (Figures 13 and 14). A remake of the prosthetic restoration was unavoidable. The BioXS PEEK framework material was completely intact. Following abrasion of the acrylic teeth, the framework surface was in direct occlusal contact, and there were only minimal signs of wear. No cracks or decementation were observed basally. Neither the implants nor the molars with the cemented primary crowns showed any clinical anomalies (Figure 15).
What appeared to be clear was that the composite bridge design of the PEEK bridge framework is also sufficiently resistant to withstand enormous masticatory forces, but that the acrylic teeth in the posterior region are the weak point in patients with bruxism.
Second prosthetic restoration
It was then decided on CAD/CAM-supported fabrication of a fully anatomical bridge framework for the remake of the prosthetic restoration. The material used was unfilled PEEK (Juvora Dental Disc), which can be used for fabricating highly precise restorations.

The basal region was designed fully anatomically in a convex shape (Figures 16-19). The buccal aspects in the visible areas from premolar to premolar were veneered. As both the protrusive and lateral excursions were to be on the PEEK framework, no prefabricated laminate veneers were placed in this area but rather custom-milled composite veneers (Figures 18 and 19). The occlusal surfaces and guidance pathways were not veneered.
An occlusal screw-retained restoration was fabricated, as horizontal screw retention in combination with the telescope principle can be problematic from a hygiene point of view.
To ensure that the bridge fitted passively, the four implant copings in the mouth were adhesively retained and then the new restoration fitted.
The non-veneered Juvora Dental Disc is barely noticeable as an occlusal surface material. The gray-brown shade of the occlusal and oral sections was accepted by the patient without any problem (Figures 20 and 21).
In such cases where bruxism is a problem, the focus is on producing a durable, functioning restoration. The shock-absorbing properties of the new design should protect the implants and the patient's natural teeth against the destructive forces of bruxism.
Juvora Dental Disc PEEK material is completely free of additives (such as barium sulphate, for example) and is therefore not visible on an orthopantomogram; a detail that one has to become accustomed to
(Figure 22).
Discussion
PEEK-Optima (Invibio) has been tried and tested as a material for implants in the medical field for more than 10 years. Its high biocompatibility has been proven in several clinical studies (Siewert, 2013). The low specific weight, bone-like elasticity, metal-free character, and toughness, combined with virtually nonexistent material fatigue, make it an ideal material for use in pros-thetic dentistry.
The CAD/CAM-supported processing of PEEK opens up new possibilities. The physical properties of the material described allow approximately the same design dimensions as those of metallic materials. To date, approval of the Juvora Dental Disc covers removable restorations, implant-borne prosthetics, and crowns and bridges. This means that cast-metal denture bases, secondary units, superstructures with fixed/removable restorations, implant-supported, posterior full crowns, and (as demonstrated here) operator removable, screw-retained bridges can be fabricated using the material described.
In the past, long-term clinical results were achieved in patients with bruxism and heavy pressing using a gold alloy on the occlusal surface. A material is now available for these indications, which has the effect of damping masticatory forces and, due to its grayish shade, can also be used for occlusal contours — metal-free and biocompatible.
Conclusion
The positive clinical experiences, using fully anatomical PEEK bridge frameworks fabricated using the injection molding technique, can be transferred to CAD/CAM processing. This enables frameworks to be fabricated in a reliable, reproducible production procedure. Consistent, optimum material quality is also guaranteed.
The chemical properties of PEEK do exclude any transparent versions. However, it may be possible in the future to add inorganic dyes to reproduce the shades on the Vita shade guide. Full crowns made from this material could then be used with confidence, including with regard to esthetic parameters.
A material has therefore been found that builds on the clinical experience of gold.
References
Siewert B, Parra M (2013) Eine neue Werkstoffklasse in der Zahn,edizin. PEEK als Gerüstmaterial bei 12-gliedrigen implantatgetragenen Brücken (A new material class in dentistry. PEEK as a framework material with 12-unit, implant-supported bridges). Z Zahnärztl Implantol. 2013; 29:148-159.
Stay Relevant with Implant Practice US
Join our email list for CE courses and webinars, articles and mores