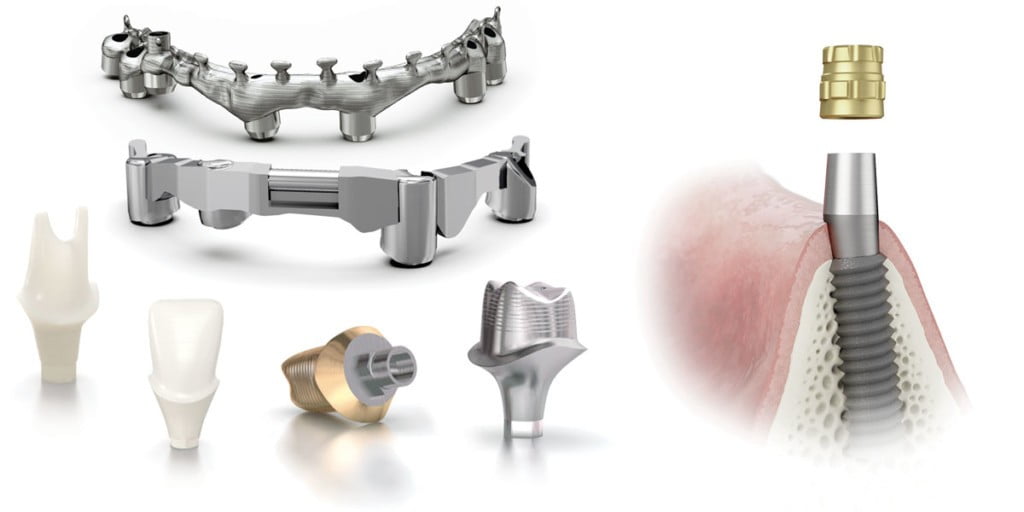 As a part of its comprehensive solutions offering for all phases of implant therapy, DENTSPLY Implants provides digital products for all major implant systems that promote increased efficiency and streamlined workflow for all implant-supported restorations.
ATLANTIS™ patient-specific solutions
Designed from the final tooth shape using ATLANTIS VAD™ (Virtual
Abutment Design) software, ATLANTIS abutments are available for cement-retained and single-tooth, screw-retained restorations and in your choice of titanium, gold-shaded titanium and up to five shades of zirconia. In addition, ATLANTIS ISUS,* a full range of bar, bridge, and hybrid suprastructures for fixed and removable implant-supported prostheses, are also available.
As one of the latest innovations in implant-supported prostheses, ATLANTIS Conus Abutment – overdenture provides a friction-fit, non-resilient prosthetic restoration for fully edentulous patients. The solution consists of uniquely designed, conical-shaped abutments that are designed to fit SynCone caps, minimizing gaps and micro-movement.
Designed for practice success
Simple restorative procedure —
take an implant-level impression and send it on to your laboratory of choice with a request for ATLANTIS
Anatomically designed for each individual patient for excellent function and esthetics
A comprehensive warranty for your peace of mind**
New ATLANTIS Abutment Insertion Guide
One of the latest additions to the ATLANTIS portfolio includes the ATLANTIS Abutment Insertion Guide, a precisely crafted, 3D-printed device that holds an ATLANTIS Abutment securely at the correct angle and orientation for faster and more precise abutment placement. The insertion guide is available for use with cement-retained abutments for single- and multiple-unit cases.
By using the ATLANTIS Abutment scan data generated from ATLANTIS VAD software, ATLANTIS Abutment Insertion Guides are designed to perfectly match the abutment margin(s). The guides are also provided with an oriented access channel for each abutment, making it easier to find the screw access hole for simpler insertion of the abutment screw, and a loop allows for a piece of dental floss to be attached, ensuring predictable handling. For added convenience and easier identification, the last digits of the case number are engraved on each guide.
Case report: precise and reliable abutment placement for long-term esthetic results
Courtesy of Dr. Julian Osorio, DDS
Private Practice Boston, Massachusetts, and Exeter, New Hampshire
Fabián Gallón, MDT
FG Dental Laboratory,
Stoneham, Massachusetts
Clinical situation
A 65-year-old male patient presented in the dental office with a fractured central incisor below tissue level. He requested an esthetic restoration that would not damage the adjacent tooth No. 9. Tooth No. 8 was extracted, and the socket healed within 14 weeks. Four months after healing, an OsseoSpeed™ TX 3.5 S x 11 mm implant was placed.
Treatment plan
An ATLANTIS Abutment in gold-shaded titanium was placed using an ATLANTIS Abutment Insertion Guide (DENTSPLY Implants), 4 months after implant placement. The final restoration with two all-ceramic crowns on teeth Nos. 8 and 9 recreated a nice esthetic outcome, performed with a simple and reliable restorative handling procedure.


For more information, contact your local DENTSPLY Implants representative or visit www.dentsplyimplants.com.
*Not all products available in all countries.
**Subject to full terms and conditions.
This information was provided by Dentsply Implants.
Stay Relevant with Implant Practice US
Join our email list for CE courses and webinars, articles and mores