Editor's intro: Want your patients to understand your procedure or treatment process? Let demonstration models from Kilgore International take your ideas and turn them into reality!
Do you find yourself discussing the same procedure multiple times a day, every day? One of the most common complaints we hear is the time it takes to explain a procedure or treatment process, after which the patient still does not fully understand. Established in 1955, Kilgore International is proud to bring you the finest dental models and medical-related items used in the training of future health professionals, case presentations, and in-office staff training.
What we offer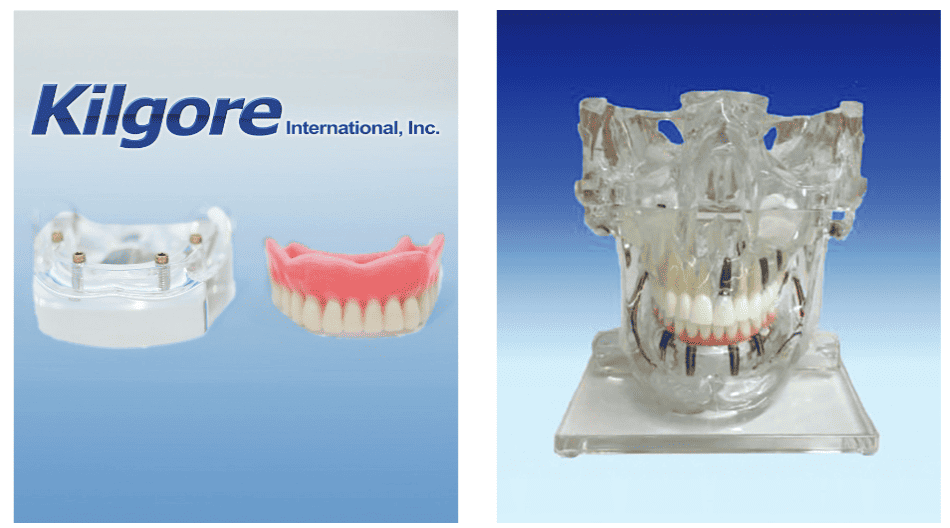 We offer a wide variety of demonstration models. Our patient education models were all designed and created by the needs of the doctors. We take ideas and turn them into reality for doctors who wish there was an easier way to describe a procedure or treatment.
Our patient education line includes models for:
Implants, single tooth, or overdenture
Periodontal disease
Cracked teeth
Crown and bridges
Orthodontic
Endodontic procedures
Why our products work
Allowing the patients to visualize and hold the model in their hands will give them a better conception of the procedure or treatments. Our demonstration models will not only save you time but will also leave the patients feeling more comfortable by fully understanding what procedures will take place. Treatment presentations are the most important conversations you will have with your patients to increase your acceptance rate. Our patient education models will allow you to fully optimize your case presentations!
Overdenture model customization
In 2017, Kilgore International, Inc. purchased Dental Models & Designs of Garfield, New Jersey. We moved all operations to Coldwater, and we now manufacture all of our own dental implant training models, as well as surgical models for patient and student education. We specialize in custom implant models for patient education. We have the capability to customize the perfect implant model to meet your needs!
Visit our website at www.KilgoreInternational.com. Go to the patient education section to see our wide variety of models. If you have an idea for an implant model, contact us, and we can customize to your needs.
Our offer to you!
Use the coupon code IMPLANT10 at www.KilgoreInternational.com to receive 10% off of your entire purchase. This offer is only valid for our patient education models.
Our guarantee
All of our products are sold on a net 30-day payment period. We send you the model to evaluate and play with. If you don't like it, send it back at no charge. We do this because we guarantee you will enjoy our models. Our demonstration models will pay for themselves the first time you use them in a presentation!
Contact us today!
If you have any questions or would like to see any samples, please contact Logan Graybill at [email protected] or 517-279-9000 any time!
This information was provided by Kilgore International.
Kilgore International's demonstration models help patients understand dentists' explanations of procedures, and Dr. Abdah uses different types of models for accurate treatment planning. Read "Problem Solving" and see how he does it here.
Stay Relevant with Implant Practice US
Join our email list for CE courses and webinars, articles and mores