New software from 3Shape combines the best technologies for prosthetic driven implant planning and surgical guide design. The solution improves turn-around time for treatment and dentists can get all restorative components before surgery. Implant Studio™ comes in various configurations for optimal use in both clinics and labs.
Copenhagen, April 23rd, 2014 – 3Shape, a leading innovation company for 3D scanners and CAD/CAM software solutions, released its new Implant Studio™ software to the European market. The solution is designed for use in both clinics and labs, and 3Shape is offering Implant Studio™ in various configuration packages to match the different needs of both.
All in one solution
The market can now look forward to a solution that finally brings together the latest technologies within implant planning into a single smooth workflow. 3Shape's solution provides:
A complete digital workflow for dentist and for labs.
All the restorative components can be provided to the dentists before surgery.
Easy Implant Planning with intuitive tools that merge the benefits of planning in both 3D and 2D.
Virtual Crown functionality – optimal implant placement in combination with the intended prosthetic design.
Surgical Guides – Design cost-efficient surgical guides ready for local manufacturing.
3Shape Communicate™ integration – makes it easy to receive 3D surface scans – from TRIOS® and from 3shape desktop scanners, and send approved implant positions for designing abutments and crowns in Dental System™.
Open software platform – Implant Studio™ supports open DICOM CT scans and STL surface scans as well as implant systems (libraries) from major implant manufacturers.
"Implant Studio™ is the accumulation of our dental technology expertise and industry knowledge, and that is what makes it stand out among existing solutions, says Flemming Thorup, President & CEO at 3Shape . "We brought together digital impressions, CBCT scans, and intuitive CAD design-workflows to form a unique solution. Implant Studio™ provides optimal results for implant placement and prosthetics with high esthetics, while opening new service options for both clinics and labs that include the provision of full treatment packages to patients."
3Shape Dental System™ integration – After completing the planning, labs can directly manufacture restorations and implant components in a smooth and integrated workflow, e.g., temporaries, crowns, abutments, and more, and provide dentists with the complete treatment package.
Released to the European market
Implant Studio™ has recently passed the rigid regulatory process required for market launch in Europe. 3Shape expects to obtain regulatory clearance in the US and other selected markets during 2014.
Implant Studio will be available through 3Shape resellers. Actual availability to end-users will depend on the specific system configuration. Please contact your local 3Shape supplier, or visit www.3shapedental.comregarding reseller information.
For more information, please visit www.3shapedental.com/implantstudio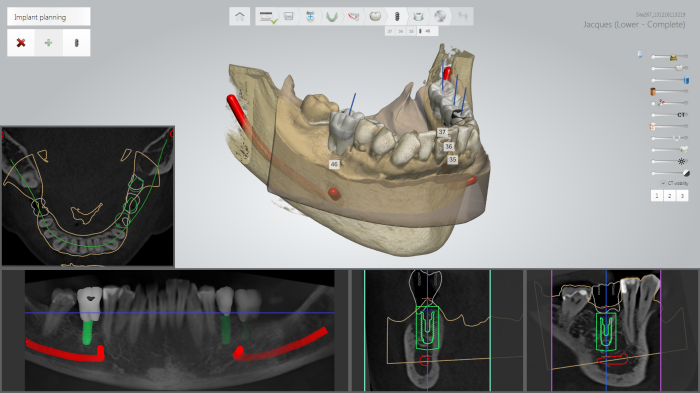 About 3Shape
3Shape is a Danish company specializing in the development and marketing of 3D scanners and CAD/CAM software solutions designed for the creation, processing, analysis and management of high-quality 3D data for application in complex manufacturing processes. 3Shape envisions the age of "full digital dentistry," and its 400 employees, including more than 175 developers provide superior innovation power toward reaching this goal. 3Shape's flexible solutions empower dental professionals through automation of real workflows, and its systems are applied in thousands of labs in more than 100 countries worldwide, putting 3Shape technologies at the peak of the market in relation to units produced per day by dental technicians. With TRIOS®, 3Shape now brings its vast expertise and innovation power directly to dentists. 3Shape boosts its first-line distributor support network with a training and support force of over 50 in-house experts placed in 6 support and service centers strategically located around the globe. 3Shape is a privately-held company headquartered in Copenhagen, with the market's largest team dedicated to scanner and software development for the dental segment based in Denmark and Ukraine, production facilities in Poland, and Business Development & Support Offices at several locations in Europe, in North America, Latin America and in Asia.
For further information regarding 3Shape, please refer to www.3shapedental.com. Visit us on www.facebook.com/3shape, or view our mobile site on m.3shapedental.com
Stay Relevant with Implant Practice US
Join our email list for CE courses and webinars, articles and mores