It's a new day for same-day dentistry
Planmeca's CAD/CAM solutions, driven by E4D Technologies, provide every-thing clinicians need to deliver better dentistry. Create and design digital models with Planmeca CAD/CAM. Share cases with Planmeca Romexis Cloud. And bring designs to life with the precision of the renowned Planmeca PlanMill 40.
Planmeca PlanScan™
The world of CAD/CAM dentistry has been evolving for 30 years. Now it's time for a leap. Introducing the Planmeca PlanScan, driven by E4D Technologies – the innovative, technologically advanced, ultra-fast intraoral CAD/CAM system for restorative dentistry.
Super easy
Everything about the Planmeca PlanScan makes restorative dentistry quicker and easier — from intuitive computer-guided image capture to plug-and-play technology that gives dentists the freedom to scan at multiple Planmeca PlanScan workstations. And, of course, it's powder-free.
Super accurate
Planmeca PlanScan is the only intraoral scanner in the world with blue laser technology. Its smaller wavelength (450 nm) is more reflective, resulting in sharper images. Its ability to capture fine details allows for more clinically precise prosthetics.
Super fast
With video-rate scanning and Thunder-bolt™* connectivity to the Planmeca PlanCAD laptop, Planmeca PlanScan captures and processes data almost as quickly as you move your hand – even with full-arch cases.
*Thunderbolt is a trademark of Intel Corporation in the U.S. and/or other countries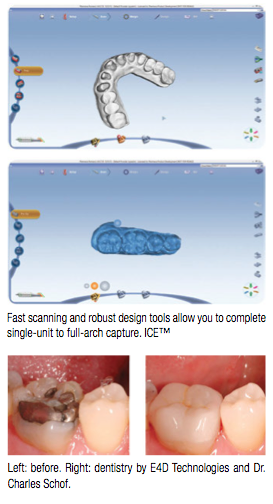 Planmeca PlanCAD™
Planmeca PlanCAD guides the practitioner through the process with rich graphics and easy-to-follow navigation. The system automatically positions and shapes the selected tooth template to match the central grooves, cusp heights and marginal ridges of the actual proximal dentition. The Planmeca Scan and Design Center is a complete restorative design system with laptop convenience.
Super intuitive
Planmeca PlanCAD® software creates a custom restoration for every patient.
Planmeca PlanMill 40™
Super convenient
Add same-day crowns, inlays, onlays and veneers to the menu of services and fabricate restoration designs quickly and conveniently with the PlanMill 40, featuring wireless connectivity and Smart Mill touch-screen operation.
Dual spindles simultaneously mill the latest metal-free materials (by leading manufacturers) on both sides of the restoration, with custom milling paths calculated for micron-precise accuracy. What's more, the automatic tool changer selects the appropriate bur and replaces worn burs automatically.
Planmeca Romexis®
Super modern
Together with Planmeca Romexis software, the system supports an ideal digital treatment workflow. The open STL file format enables the clinician to seamlessly integrate and collaborate with other systems as well as export case files to any third party for review or completion. Scan the upper and lower jaw and buccal view, and send the case easily to a partner lab through Planmeca Romexis Cloud service. The scan software is included so it all comes together with Planmeca Romexis.
This information was provided by Planmeca.
Stay Relevant with Implant Practice US
Join our email list for CE courses and webinars, articles and mores