Editor's intro: Dr. George A. Mandelaris discusses optimizing positional accuracy by using technologies available as a result of CBCT imaging. Read about his plan for reducing the risks for peri-implant disease.
Dr. George A. Mandelaris discusses key tools to optimize positional accuracy and to avoid complications for patients with implants
Peri-implant disease is quickly emerging as one of the most problematic inflammatory conditions in clinical practice. Depending on the study, the prevalence of peri-implant disease is anywhere between 2.7% to nearly 47%.1,2 Doctors understand that risk factors for peri-implant diseases include a history of periodontitis; poor plaque control; smoking; diabetes, and genetic factors such as a positive interleukin 1 gene polymorphism (Figure 1). Interestingly, Monje, et al.,3 reported on 36 clinical cases of anterior implant positioning from an esthetic point of view. The esthetic outcomes were scored by a panel of periodontists with more than 20 years of experience. It was concluded that nearly 41% of the implants evaluated were determined to be in "too buccal" of a position compared to the ideal. We have known for a long time that facial implant positioning influences esthetic outcomes, so this is nothing new. What is new is the thought that such an off-axis position may in fact be considered a "trigger" to peri-implant disease. In the right environment, facial implant positioning can lead to unfavorable crestal bone remodeling/loss and subsequent gingival recession, which can trigger peri-implantitis. Therefore, the dirty little secret, which hasn't been historically published as a contributing factor in initiating or facilitating the process of peri-implant diseases, includes iatrogenic factors that can be prevented in the surgical setting — namely, the implant positioning. If that's the case, cone beam computed tomography (CBCT), virtual planning, and guided surgery are key tools that can set up doctors and patients for success to optimize positional accuracy and to avoid complications.
CBCT imaging
If cases of peri-implant disease are influenced by improper placement, then it's safe to assume the first step in avoiding this complication is ideal placement. Optimal implant positioning, however, is the result of proper imaging, excellent treatment planning, ideal surgical execution, and proper prosthetic contours. Right from the start, three-dimensional imaging, such as what the CS 9600 CBCT system (Carestream Dental) (Figure 2) provides, can give doctors a better understanding of the extent and location of remaining bone, the position of vital structures, marrow quality and vascular potential, as well as other regional anatomy characteristics paramount for surgical planning. From there, the implant team can make better decisions regarding the timing, sequencing, and overall treatment-planning strategies (surgical and prosthetic) to reduce the incidence of peri-implant disease. Alternatively, when peri-implant disease is diagnosed, CBCT imaging can help plan surgery to resolve the disease, to regenerate hard/soft tissue structures, or to finalize strategies when/how implants should be removed and replaced.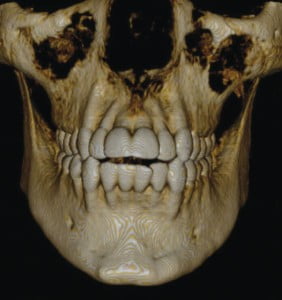 Prosthetically directed virtual planning
Although it's becoming best practice to use CBCT when planning implants, most are still placed freehand. A CBCT scan may guide a doctor's planning, but there are different factors on the day of surgery that can affect the placement. Therefore, once a 3D scan is captured, prosthetic-driven implant planning (PDIP), such as what can be accomplished with the Prosthetic-Driven Implant Planning Module (Carestream Dental), should make ideal treatment outcomes even more predictable. The key tenet of PDIP is ensuring implants are positioned in the ideal prosthetically directed position as possible. (Figure 3). Depending on how the prosthetics are planned, this infers an emergence trajectory through the cingulum so that a screw-retained prosthesis can be accommodated. PDIP optimizes conditions so that modifiable triggers that happen iatrogenically, such as implants being positioned with too facial of an axial inclination, are negated as best as possible.
Surgical guides and dynamic surgical navigation
Finally, doctors should implement their virtual plan on the day of placement with the aid of either computer-generated surgical guides or via the use of dynamic surgical navigation technology to optimize positional accuracy. Adopting guided-surgery protocols and/or dynamic surgical navigation — which allows for real-time verification and validation of positional accuracy and on-the-spot surgical transparency — can ensure that implants are placed in the best prosthetically directed position possible minimizing esthetic or peri-implant related complications (Figures 4A-4D).
Even with today's advantage of advanced digital technology for our patients, there is no substitute for an accurate diagnosis, well thought-out interdisciplinary treatment plan, and clinical expertise to deliver optimal results. Furthermore, instituting regular implant maintenance protocols in the post-restorative phase of treatment is more important than ever before. Properly contoured prosthetic restorations, high levels of self-performed plaque control by patients, and critical scrutiny in evaluating the key indices of inflammation by dental professionals at every visit are the basic principles that must not be compromised to ensure our patients enjoy long term peri-implant health.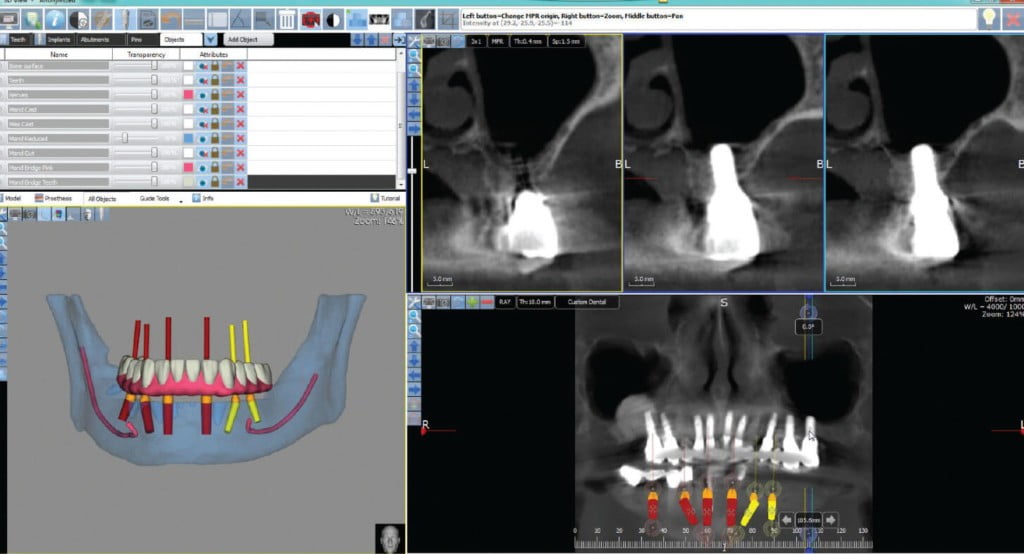 With today's population living longer and wanting to enjoy function and esthetics longer — i.e., maintaining a healthy smile, being able to eat the foods they want, etc. — the utilization of dental implants is on the rise. Through 3D imaging, proper planning, and thoughtful execution, doctors can do their part to ensure that the incidence of peri-implant diseases doesn't rise as well.
1. Lee CT, Huang YW, Zhu L, Weltman R. Prevalence's of peri-implantitis and peri-implant mucositus: systematic review and meta-analysis. J Dent. 2017;62:1-12.
2. Monje A, Aranda L, Diaz KT, et al. Impact of maintenance therapy for the prevention of peri-implant diseases: a systematic review and meta-analysis. J Dent Res. 2016;95(4):372-379.
3. Monje A, Galindo-Moreno P, Canullo L, Greenwell H, Wang HL. Editorial: From early physiological marginal bone loss to peri-implant disease: on the unknown local contributing factors. Int J Periodontics Restorative Dent. 2015;35(6):764-765.